this fantasia injury is great news. for somebody? somewhere?
i'm here for balance. that's all.
Disappointing for us and more so for Raz.
Question: who will they bring in ? after watching the VFL Saturday, no one inspired me re coming in for Raz.
I know it's too early for Irving but someone like him would be good. Fantasia brongs a lot of run and spark and pace to the side. He also knows how to kick a goal - both set shot and on the run. That's the type of player we have to replace.
Yep, but I didn't see anyone like that Saturday re a replacement.
I like Mozzie, but he is miles and miles from it.
Raz will be our until the bye week, 4 weeks.
Logically Ham stays in the side and Joe returns
Also Bags didnt play VFL but is going to be available I'd imagine
This club has to learn how to win without him.
He really has a 10 games a season ceiling.
SAD
In 2016, 2017 he had an excellent run with games.
Did he have injury issues in 2014/15, or was he in the "just drafted and getting into the side phase"?
Last year he had issues - from a footy report it said " relatively minor knee, adductor, and hamstring injuries". His biggest block was 7 games from rd 8-15, then missed 2, played 4, then missed the last 2.
He had that finger injury in pre-season - which was just bad luck. I can't recall if he had anything else in pre-season.
This year he missed the previous two weeks due to The Virus, so not injury related. Otherwise he played the first 5 games from round 1.
So 2018 he a run of injuries and now this one. The stats do not suggest he is cooked kind of guy, but last year may have made it feel that way to us and heightened our sensitivities. How he comes back from this quad and how durable he is may indicate if there is an issue with him or not.
Daniher has the same feeling around him, but besides last year he has been very durable. As @Chris_1993 said, Orazio has put on a fair bit of weight and he may need to adjust to it.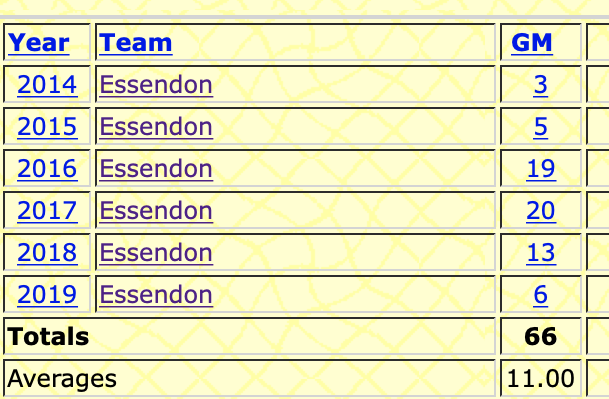 In 2014 Raz played 14 VFL games.
2015 he only played 7 so he must have had some injuries that year
Apparently nicked his quad with his first kick of the game.
There's something wrong with fitness preparation/ warmup if you're having players like Mutch and Raz going down with soft tissue injuries at the start of games.
WTF
He still kicked 4 goals and was our best player.
Why don't we just pick him if that's how he performs with a torn quad.
Nick his other quad, I'd suggest.
Leaving Saad out of it, and I don't really like hindsight recruiting. But 3 kids available at the three picks.
Jack Higgins
Tom McCartin
Zak Butters
I'd be happy with that.
That fantasy selection has no basis in reality. May as well say we should have picked Whitfield, Gaff and Stephenson.
Well other than we couldn't have drafted your names, yep it's very similar.
Well we are getting lots of practice at it.
If Orazio could play a whole season he could kick 50+ goals no problem. They need to do every thing they can to keep him on the field. We need to pay the hawks fitness guru whatever he wants to get him over to tullamarine.
Hopefully we'll start to get good at it at some stage.