Would be shocked if he's not AA this year.
In fantastic form.
I love him. I think he's been my favourite player for a long time. Last night I thought he made a few mistakes which took the gloss of his high possession otherwise high impact game.
Hurley and Hooker are a good example of 1+1 = 3. Add in Ambrose and it's 1+1+1 = 5. Now I feel guilty I left out the 3 smaller defenders but the math was getting too big for me.
Didnt get many votes, but he was in the elite category last night.
I really didn't think he was that great.
He will gather disposals and spread the ball around but his disposal is light years off what it used to be and he does 2-3 things a game where you are just like: "just didn't want to put in an effort there or?.." (Halftime siren just watching a Puopolo shot for goal fall about a metre short and still score a goal when all he had to do was put an arm out)
He is nowhere near AA for me but he is working well with Hooker and Ambrose who I think are the key pillars down there now.
Would be leading the B and F and in contention for AA.
Never seen a guy who can't hit a target under no pressure 30 metres away. Rarely hits those targets, it's bizarre. And the occasional brain fade near the goal square.
Other than that he has been great as usual. Really settles the backline down and controls a lot of the play.
The love affair continues…
Defensively he was very good apart from the abomination at halftime time.
His kicking is absolutely terrible. He shouldn't be taking the kick outs anymore, and when doing the switch he shouldn't be anywhere near the ball
His positioning is elite, as is his ability to quickly get to the right spots. … that's everything for a KPD… disposal be damned as long as he can dish off to a team mate nearby. He's well and truly in AA contention
Sure the post-siren goal square thing wasn't great but at least he had the presence of mind to be there. Where were Hooker, Ambrose, or Bellchambers?
It was bizarre all round.
Yep, you get taught in under 12's to put the ruckman and multiple players on the goal line in those circumstances.
Or Hurls could've just climbed the post and copped a $1000 fine or whatever King Kong Rampe got
Essendon star Michael Hurley credits backline teammates for playing best footy of his career
Essendon star Michael Hurley says consistency of personnel in defence this season has been a key factor in helping him play some of the best football of his career.
Hurley was again one of the Bombers' best against Hawthorn on Friday night, gathering 26 disposals and 12 marks.
The 29-year-old ranks elite among key defenders this season for disposals (21.6 a game) and metres gained (385m a game) and rates above average for intercept possessions (7.3 a game) and intercept marks (2.6 a game).
SUBSCRIBE TO THE SUPERFOOTY PODCAST
"I feel like this has probably been one of my more consistent years," Hurley said.
"I probably haven't had the outstanding games I've had in previous years but (I've been) really consistent. The system we're implementing helps that. I think the back six or seven that we've pulled together throughout the year has been really consistent. The continuity has helped. Obviously getting 'Hooksy' (Cale Hooker) back is fantastic. He's probably the leader down there. And then Patty Ambrose and all the other guys are chipping in and doing really well."
REPORT: MERRETT MASTERCLASS KEEPS DONS IN HUNT
PINCHING: CALLS TO STRIP STRATTON OF CAPTAINCY
ANALYSIS: PINCHING IS 'NOT FOOTBALL AND NOT ON'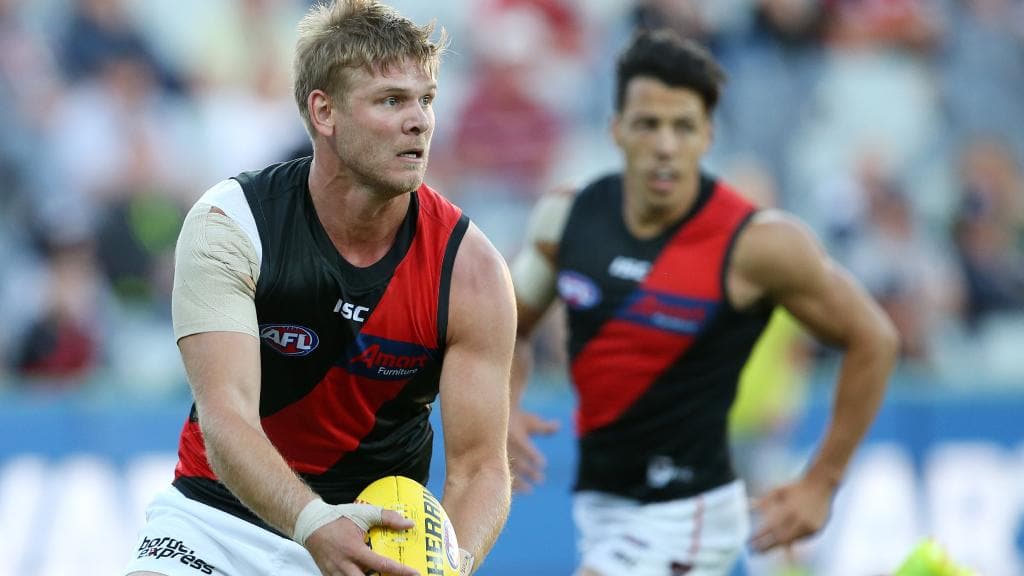 Michael Hurley is in great form. Picture: Michael Klein
Hurley said a steady defence for Essendon was showing in the scores, the side conceding an average of just 66 points from their past nine games.
The consistency in defence has been a stark contrast to the Bombers' forward line, which has been decimated by injuries.
"We've probably rolled nine blokes throughout our back half and probably 15 through the forward line," Hurley said.
"So it's made it really hard for the forward line guys. If you play week-in, week-out with the same guys you create that bond and you know how each other plays and help each other out.
"It's been hard for the guys in the forward half because it's been a bit of a revolving door."
You could say that the siren went during his run up so why would anyone be on the goal line
He's in All-Australian form this year. But his career best form was in 2015.
He was an animal that year. Amazing one on one, and his disposal was better.
Guelfi figured it out in time. A pity one of the big gorillas didn't.
To get a hand on it at least.
Anyone who thinks this bloke is an AA needs to go to AA.
I love Hurls, but any chance he can put his arms up when his opponent is having a shot at goal?
Two things hurley struggles with, playing interstate and playing one on one against a genuine key tall.