kinda
and what has my neighbour been saying to you?
Your neighbor wants their ride on lawn mover back
Doesn't know why you even needed to borrow it with all that concrete you have
They were also 3-3 at this time last year. 3-2 after ANZAC day then lost to Richmond the next week.
I think they lost to Geelong a week or so after so were 4-4 at best too
Sausage maker returned.
Oh, and your other neighbour wants this back…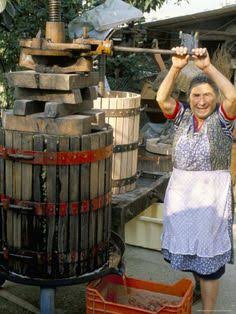 ha - when dad made home made wine (which became home made vinegar 12 months later) we did borrow il torchio from a friend. Always returned it though.
I remember my dad using it when I was a child.
Friggin hell he made some strong wine with that thing !
yep, they liked their wine strong - it had to knock your socks off and send a shiver down your spine.
PLease don't boo me for going against the majority .
Things are NEVER as bad as they seem.
In successive weeks we tested ourselves against the 2 "top" teams in the comp.
We were found wanting OK but they were always going to be difficult games to win.
We are not going to improve by playing ■■■■■ teams although it helps to win premiership points and get yourself into the 8.
As to the Geelong loss. 36 points . Yes. But in reality we only needed to fix a couple of things to beat them.
We won clearances. We are one of the top clearance teams now.
We need to improve I50 efficiency, and find a number of different ways to score. eg. the big big coaching blunder yesterday was not leading enough and not lowering our eyes, relying too much on Joe to take contested marks against the Geelong defence.
We now have a run of winnable games and we have learned from the last 2 that we can be competitive with the best teams. But those games against top teams will have sharpened our skills and pressure.
I will be Lid off until ( if) Essington comes out and we lose to a poor team.
Should have lost by more yesterday. Super flat performance but the positive is that we have played the top 4 already and another top 8 team so arguably had the hardest start (besides Geelong)
That's a short wait. Friday it is.
Won't lose another game for the year.
I think the margin was about right. We didn't get disgraced or blown out of the game. We had chances to make it challenge them more but we didn't nail them, which happens to all sides. At half time I was asking "are we in this or are we just hanging in there and about to get thumped?" Turns out it was neither.
When we are on and have our ball movement working as it should be then we are sharp and dangerous. When we are off then we look poor and struggle to make an impact - a lot of the time it's our fault and we make it hard for ourselves.
Pretty much where I'm sitting at the moment too.
Strap yourselves in, going to be a wild ride.
Can't see it playing out any other way.
You been drinking from the same kool aid that Malthouse had at Carlton haha
FK THE LID.
EFC FLAG 2019
EFC POTUS 2020
Bombers by 10 goals tonight.
Might as well lock this for 2019.
To reach 13 wins and scrape into the 8 we will require a further 10 victories from our remaining 13 matches.
We done.
How is this thread still going?