Fk off Richmond
Blicavs is tall and athletic
Port have belief, form, and perhaps more importantly won't fear Richmond.
The home ground/crowd factor to get them over the line, by 1-2 goals.
Danger will be the difference in the other game.
Just a feeling but i think port comfortably tonight.
the way I see it, us Vics want non-Vic teams to win
I have been completely uninterested this season (rare for me), but I would actually watch the hell out of a Port-Brisbane GF.
Don't like either Port or Richmond, so whoever wins through to the GF out of that match I hope loses next week. I'm on the Cats to win it all. MEOW!!!
I am so so so so damn sick of Geelong winning all the time. Hope they get destroyed.
FARK THAT!
GO THE TUGGERS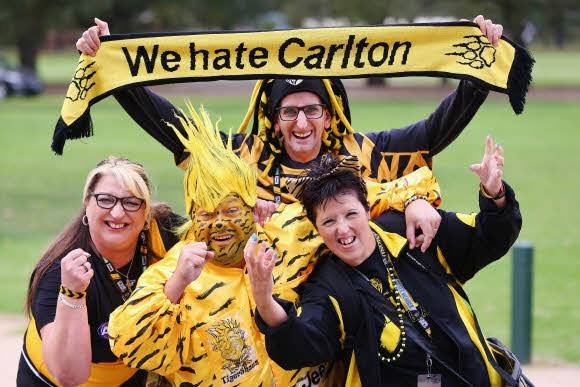 Grown men who dress like that voluntarily.
Oh boy
I think I want a Port vs Cats GF
With Port winning as horrified as I am to say since have hated them post the Ryder stitch up
Absolutely no to Richmond getting through
Brisbane we need to be shut down from scoring / taking marks so they pay right up for JD trade wise as matter of necessity.
Cats I actually don't mind as a team but just for the Chris Scott self destruct that should go on would be preferred. Although look I couldn't be entirely upset if they got up, def respect there for them.
I'd just rather an interstate team so I don't have to hear about it.
I just want someone to turn around and twat Lynch right on the jaw.
■■■■.
Richmond to win in a thriller, Brisbane to smash Geelong
I'm all over it. Having a prelim dinner party tonight. Everyone has to dress in power colours. For me, this is like an early Halloween party.
I can't stand Richmond and never have, simply for the fact my brother follows them and he's by far the worst football supporter I've ever met.
l don't mind any of the 4 teams playing, but l am a bit peeved by the Tigers talk of being tough. To me it sounds like they are trying to talk themselves into a belief they are invincible. False bravado? Scare tactics? Lynch starring as the Tigers version of Iron Man? Lynch is a cheap shot artist, a sniper who takes his shots when opponents are prone or have their backs turned. If the Tiges want to see a real tough man in action, they could do worse than take a close look at Charlie Dixon. l fully expect Port to answer fire with even more fire power. Lynch won't have things all his own way, he has painted a decent sized target on his own back, while Grimes will want to dive and dive again. Even if the Tiges win, the will be sore, and cop injuries.
In the other match it looks like the Cats are on a real mission, and are better able to follow their game plan than the Lions who are prone to be a bit undisciplined at times, plus they also have the issues with their accuracy in front of goals, especially Hipwood. If Brisbane wins, more power to them. Really looking forward to watching these couple of games, they offer two very different approaches, but are tantalizing prospects.
I want to see the epic tears when the only Interstate GF ever is contested by 2 Vic sides
what's a "Finals Week 3"? i thought this was a covid-19 and NAB AFL TRADE WEEK discussion forum website
I want to see Port and Geelong go down by a point, due to controversial umpiring decisions, just to see Koch and Scott do an Eddie.
Who exactly is going to care about that? It's the VIcs who cry when none of them are in a GF.