It's back for season 2020! The tipping competition with a difference. No need to pick your tips week by week - you pick them all before the season starts!
Now in its 14th year, From Long Range (FLR) is a competition available exclusively to all Blitzers. Originally conceived and run by Mero, FLR provides you with something to do in the off season, as well as an interest during the season no matter how the Bombers are going.
Past winners include:
2007 Sloots
2008 Mero
2009 swoodley
2010 #11
2011 Red Rover / Plugs
2012 WindyDill
2013 Paddyl90
2014 Ivan
2015 Quietachiever
2016 CrazyBomber
2017 Paddyl90
2018 Klawdy
2019 swoodley, samwoods, Cyberbomber
Last year's prize was a Joe Daniher signed jumper which @swoodley won on a countback.
This year's prize has once again come from the BomberMcVeigh memorabilia dungeon and I think it's a ripper. A team signed (circa) 2003 jumper! It's brand new and XL in size which will suit a larger bodied Blitzer and will lessen the need for winter diets and slimming regimes. There are some very famous (and infamous) signatures on this one - who wouldn't want to win it?
(I am sure there is a keen eyed Blitzer who is going to tell me which year's list has signed it - I just can't be bothered working it out! )
In my opinion, aesthetically this is the best jumper that Essendon has worn - the perfect sash perhaps? It has been kept in a frame up until recently so it's in pristine condition.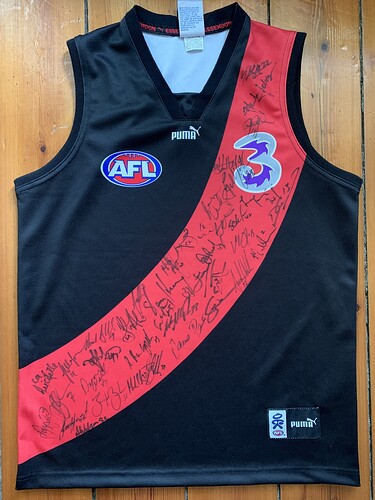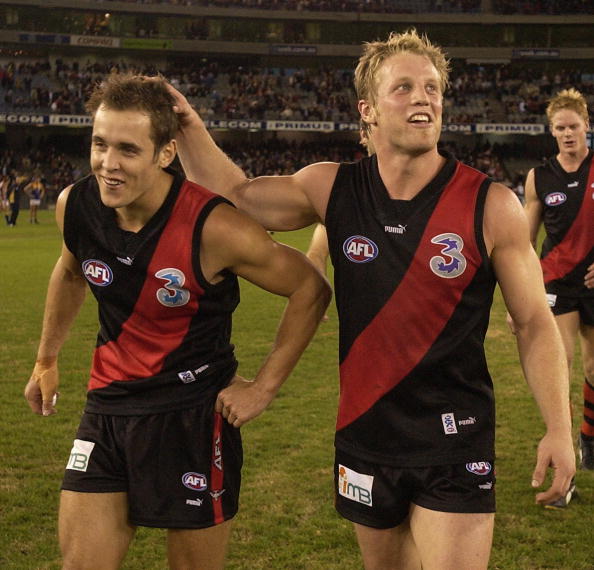 Most of you know how it goes, but for those who don't, here are the rules and instructions:
You must be a BomberBlitz member to play.
Download the entry spreadsheet from here FLR 2020 - Your Blitz Name.xls
Rename the file with your BomberBlitz name.
Select the predicted winner (or draw) for each of the 198 matches of the season. Note: You may have to "Enable Editing" to be able to make your picks.
Email your entry to BomberMcVeigh @ Gmail.com (without the spaces). Give it about 24 hours to be processed as I'm not checking that inbox too often.
You must do all of this BEFORE Thursday 19th March 2020, 19:25 (start of the season) Any entries received after this time will be ignored.
Any games that you don't select a winner for will be assumed to be the AWAY team.
Only one entry per Blitzer, including those with multiple personas.
In the event of a tie, all winners will be recognised in the honour roll however due to the uniqueness of the prize, there will be a countback for the prize winner with the tipper with the most "9"s, "8"'s etc. being the winner.
Darren Bewick
Any complaining or correspondence will probably be ignored.
Entries will be recorded in this opening post as they have been processed.
Anybody who wants their "ladder" can request that in their entry email.
Progressive results will be published after each round in this thread.
That's it. Any other rules I have forgotten will be made up as required.
Go for it! Last year we had 63 entries - let's hope we can do better this year! Who knows, it may be the last year of this comp …
2020 Entry List (41)
aboods
Acorn
AnnStBomber
Blakey
BLOODSTAINED_DEVILS
BomberAbroad
BomberMcVeigh
Borneo13tk2
brem06
Captain Jack
CyberBomber
Fairybread
frankston_bomber2005
Gorgo
HurleyBurley
Jackman7
Kj_11
Klawdy
Koala
long_haul
Mackster
Muriel_St_Bomber
nickers
No.10
Paddyl90
percebushby
PHBomber
Quietachiever
redbull
riska
Samwoods
Scorpio
Scotty21
sweatyman
swoodley
TREVORBIX
Vince_Black
Windyhill
Wrighty05
Yossarian
Zimmer