Just a horrible team with a horrible coach
the worst part of it all is, the opposition teams seem to know the gameplan better than what our side does.
not just tonight but how many times did richmond outnumber the ball drop aroudn Wright, ot get infront of him to take a mark.
opposition teams can literally figure out the too hard a gameplan our players can't.
A predictable result. There is nothing good about this football club. Nothing.
Who's gunna kick all this he goals?
Saved from a huge hiding by the Tigers' inaccuracy, just like last week.
Expect Port to kick 22.5 to 7.10 next week
Hahaha yep
Ess get ball
Hold ball
Long kick down the line
Win free kick 70m from goal
Slow down and hold ball
Long kick to Top of squareish
Rinse and repeat
Yes @Sameolds2010 @sameolds1967 we seen one of you. Fair play you got your 15 mins of fame😂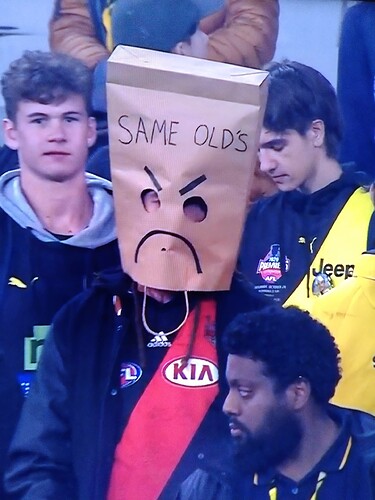 That's insulting to garbage.
Absolute shocker of a game to watch. Didn't threaten at any point in time. Outnumbered both up forward and down back.
Effort was there, structure wasn't. It's a really tough watch at the moment.
Something has to give here.
Not good again.
But before anyone carries on about us not deserving the Dreamtime game, remember that Sheeds thought of it as Essendon vs Richmond because of the red, yellow and black combination of the jumpers which obviously correlates to the Aboriginal flag.
Funny how everyone is just over EFC everyone is just numb and had enough.
Seriously I hope less and less people go to the game.
Those that do turn your backs on the team everytime there is a coast to coast goal
Have we Essingtoned Martin already? Worse game so far for him.
All the bashing in the the media,the tough training session they had and they still put up a rubbish performance. Richmond did it easy in the end and were never threatend once since the first qrt
Inspid footy team Essendon can gafg
We just can't clunk.
With no Jones and no Stringer we only have one option. And when he doesn't fire we have nothing.
When was the last time we saw a lead other than from Wright in the forward half
Alright. Time to tee off.
So… Let's break this down. Last week we play like absolute garbage, with ■■■■ all effort and get flogged. Indigenous round comes around and we can't find ONE BLOKE to drop for Wanganeen, who fills a desperate need as a quick small forward. So we name him sub… and give him 5 ■■■■■■■ MINUTES. When he needs as much experience as we can pump into him as fast as possible. We had the opportunity to sub him in when Perkins tweaked an ankle. Nope. What about when Shiel (WHO SHOULD HAVE BEEN DROPPED FOR WANGANEEN IN THE FIRST PLACE), hurt his knee? NOPE. ■■■■ giving a kid time to learn and develop. Nah, give him 5 minutes of game time, during which, I might add, he applied some decent pressure and nearly kicked a goal.
If we weren't planning on subbing somebody out earlier during the game, he should have been playing in the VFL.
■■■■, this club is just so unbelievably stupid.
I try to be positive, but I just can't tonight.