The only thing this kid is going to have to battle next season is expectations. He has set them so high that it will be a let down just matching what he did this year. If he matches his 22 form I will be extremely happy.
Don't see any reason why Nic can't be our BBM

Definitely does not shy away from contact combined with how slick he is, could be a real beast.
I think the one knock on him is that he's not real keen on the physical stuff.
He's more Bont /Pendlebury like, doesn't initiate physical contact but matrix weaves around it. I still think he goes when he needs to.
Hobbs is our bash and crash player.
Off-season reminder
Nic =
Stumped his toe on his bedside table during the middle of the night and the vibrations permeated into his hip and is undergoing surgery for a hip replacement as we speak.
Out: the Pendles-like will o' the wisp,
In: the lamp-post
More on that bodymajic work he has been doing.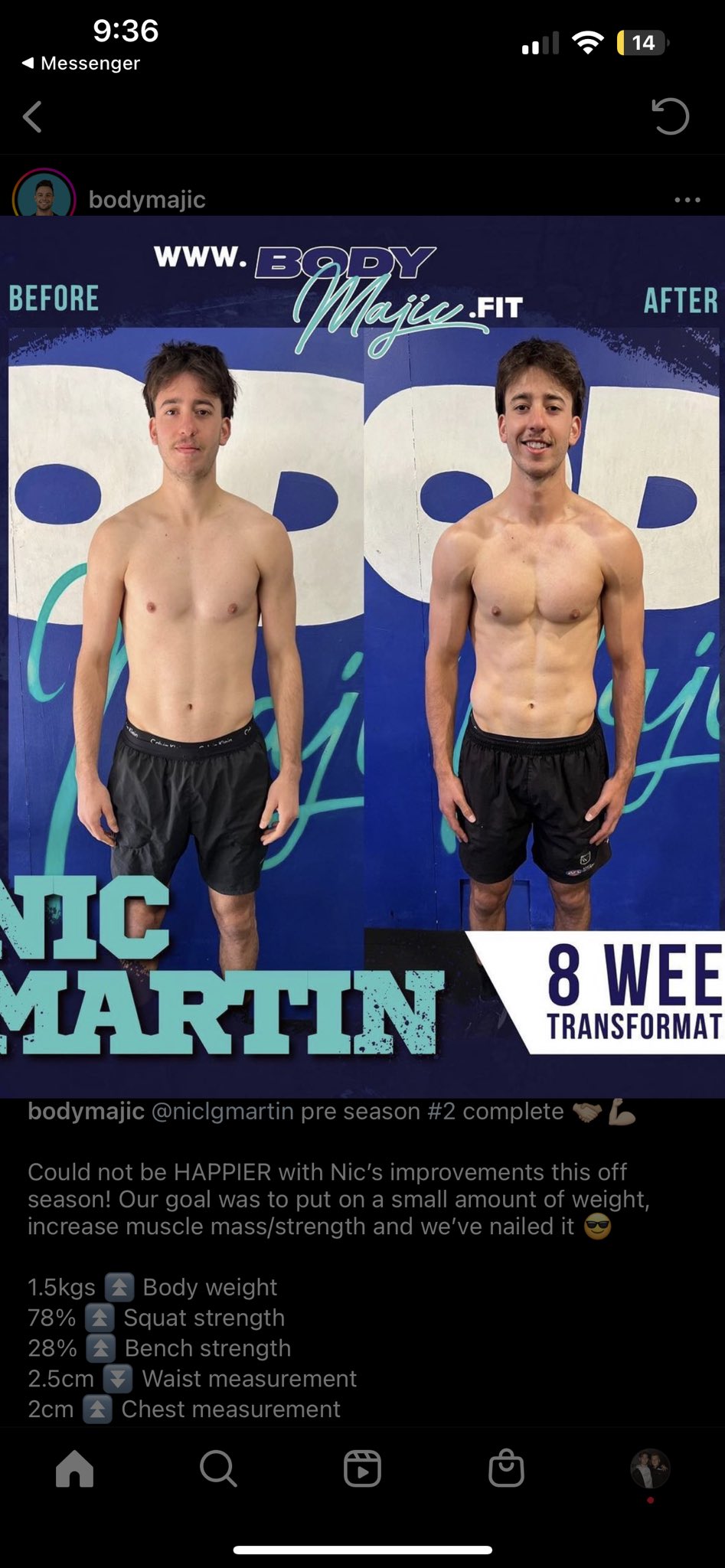 I'd expect he'll be more physical once he has the body to absorb the punishment.
Hes getting ripped for Stereo bruzzzzz
And to be more able to stick a tackle.
Love how he celebrates his goals, definitely loves the club.
Get guys like Jones,Reid,Cox on this program
Fly the trainer over from W.A. !!!
For all preseason.
Do not show this to Gerard Healy
Martin ready to attack first full pre-season
A big off-season has Nic Martin primed.
Nobody knew of the immediate impact Nic Martin would have in his first AFL season.
In round one, Martin lined up on the wing after earning a dream debut mere weeks after being signed as an SSP selection.
Wasting no time, Martin burst onto the scene, gathering 27 disposals and kicking five goals, earning the round one NAB AFL Rising Star nomination.
Fast forward 21 games, Martin has established himself as a mainstay in the Bombers' best 22 and a dependable week-in week-out player.
While the off-season presented Martin with the much-deserved opportunity to be able to return home to Perth, the 21-year-old hasn't missed a beat in preparing for 2023.
Eager to improve, Martin sought the help of a familiar face in social media sensation and personal trainer Gerard Majda, the creator of Body Majic.
Mixed in with several other AFL-listed West Australians, Martin said the training program has helped him prepare for his first full AFL pre-season.
"Incredibly excited to get the opportunity to get a full pre-season under my belt, obviously last year I missed the first block pre-Christmas." Martin said
"We (Majda) worked together a bit last year and he got me in pretty good nick, so I thought it would be good to go around again.
"We had a big crew down, a lot of the boys I played with like Luke Jackson, Jake Pasini, Trent Rivers and Trey Ruscoe, mixed and matched with them and it was good to train with some different boys as well."
"There were some gruelling sessions, but by the end of it, you feel really good and as if though you have gained an advantage."
Being in his home state had some other perks for Martin, with taking the opportunity to spend quality time with his family.
"This off-season, I headed back to Perth to see family, friends and of course to refresh." Martin said.
"They only really got to come over for my debut and that is all I really got to see of my family throughout my first season."
"Staying back home was interesting, after living out of home for a year you sort of become accustomed to a different way of living." Martin said.
"Mum's cooking dinners was definitely nice though."
As he enters his second AFL season, Martin has found it important to reflect on the whirlwind year that was 2022.
Martin said he felt humbled after taking out the Lindsay Griffiths Rising Star Award, an accolade which has been won by current players Archie Perkins, Matt Guelfi, Dyson Heppell and Andrew McGrath.
"Going in you might be a bit naïve about how the season is going to go, I probably didn't expect to play 21 games, but I am incredibly grateful that I did," Martin said.
"To receive that award is incredibly humbling, a lot of great names before me have received".
Heading into his first full pre-season, Martin is excited and ready to take forward the same mindset he had heading into 2022 as an unlisted player.
"I had some reflection about going into preseason as a listed player with a contract," Martin said.
"I'll look to maintain the same mentality of performing at a high standard every training session that I had last season as I feel that set me up well."