How did we get him, rookie draft?
Has Crazy Vossy been taken?
More blue collar. This is great
If we get any more blue collar our players will be hurling urine bottles at John Setka
Ambrose. Almost identical in all aspects.
Less injury prone?

Here's 40 seconds of Voss pumping out push ups. Riveting footage…
I am now utterly convinced he will win a Brownlow.
He doesn't look very tall in the video, could just be the grass though.
Wait, did we actually pick up a BIG BODIED MIDFIELDER?
Yes, but he can only run in a straight line.
Big lad, likes running into blokes and has no agility…
All I'm hearing is BIG SAMMY MICHAEL.
Well maybe his slightly smaller cousin or something.
Hope he breaks Finn Callaghan so bad he decides to move to Argentina to harvest soy beans
yes!!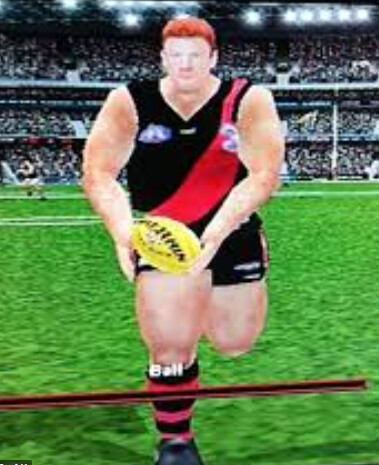 so… I read this as "he can't kick and can't bend down below his kness" FFS

Sounds like our Patrick Ambrose replacement
Why no small fwd?
fck me dead we are cactus if Tippa or Snell get injured
Rookie pick: Patrick Voss
Tall utility Patrick Voss arrives at the Bombers.
1 hr ago
Essendon has secured tall utility Patrick Voss via pick No.9 in the 2021 NAB AFL Rookie Draft.
The 194cm prospect arrives at the Bombers from Oakleigh Chargers and the GWS Giants Academy.
A physical player who looks comfortable in all thirds of the ground, Voss is set to bring a sharp competitive edge, strong marking and aggressive tackling in the red and black. He's an athletic type who possesses a booming kick.
Hailing from the Riverina of NSW, Voss was a part of the GWS Giants Academy this year, but spent the season playing for Oakleigh Chargers and attending Wesley College.
He impressed for the Chargers in seven matches this season, averaging 14.7 disposals and 5.6 marks.
More to come.
PATRICK VOSS AT A GLANCE:
Position: Utility
Team: Oakleigh Chargers/GWS Giants Academy
Height: 194cm
Weight: 84kg
DOB: June 29, 2003
Key strengths: Booming kick, physicality, strong marking