It is taking a long time isn't it
Lets hope he will be fully fit again when it matters
I'm a Marty fan. His 2017 season was terrific. A development success story for the club.
So cruel to be injured on the cusp of the 2018 season, and to be out for the entire season. Apparently he is still not ready to get into it full bore.
I don't want to worry, but …
Another 'yes, butter.'
As in, ' yes, l agree, but… ' really l don't agree.
I'm all in on Marty. He will be back, better than ever.
I reckon he'll need to be better than ever or he won't picked in the 1's
If it turns out to be the case, it means we are in good spot.
Essendon defender Martin Gleeson soaks up hole-in-one experience in Warrnambool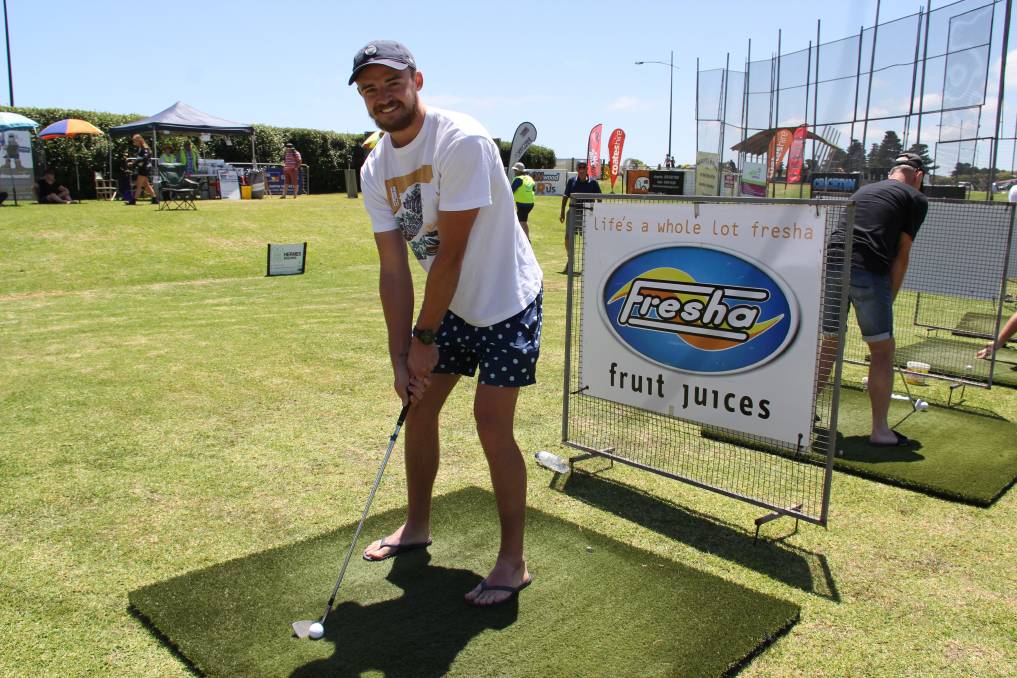 Essendon's Martin Gleeson sunk a hole-in-one at the Rotary Club of Warrnambool East's challenge on Tuesday.
A bit of sunshine, $200 cash and a hole-in-one – you could say Essendon's Martin Gleeson enjoyed his Tuesday afternoon in Warrnambool.
The Koroit export was back home over the Christmas break and took the chance to have a crack at the Rotary Club of Warrnambool East's annual hole-in-one challenge.
And it only took a short warm-up before Gleeson nailed it.
"I was lucky enough to skinny one in, which was a pretty unreal feeling," he said.
"I'd already been through a bucket of 30 balls and was probably on my 40th or 50 hit when it went in.
"I think there was a bit of beginner's luck involved, but I've been getting into the golf lately with a few of the boys – it's a great game.
"Don't be afraid to spend your money and have some fun, because you never know what could happen."
WARRNAMBOOL STANDARD Marty Gleeson hole in one
Share
Play Video
Gleeson said while he isn't one for new year's resolutions, he hoped this golfing success marked a "good omen" for the upcoming season.
"We got Dylan Shiel and Zac Clarke in the trade period, as well as a few younger guys coming in, so there's a good feeling around the club at the moment," he said.
Rotary president Maggie Dwyer said it was exciting to have Gleeson at the hole-in-one.
"We've had fabulous weather and all the money raised goes back into the community," she said.
Warrnambool's Andrew Meade, 26, also sunk a hole-in-one on Tuesday.
It must have been the thongs that gave him the edge.

You would have to admit , the moon boot cramped his style somewhat.
He's doing all the right things to slot into halfback. Has taken up golf, but I won't be convinced of his progress until he starts smashing over bowls of pretzels.
He's not a skinny little kid anymore.
Doesnt look like someone who is about to retire?
There were rumours floating around on Twitter that he was going to retire…
On Twitter eh.
Solid source.
Gets even better.
Source on Twitter was Ricky Deadsh1t Nixon
Wouldn't surprise me tbh if he retires hasn't played footy in over a year and is still not traning fully. The ankle must be worst than first thought won't be the same player unfortanley.
Total rubbish.
First off - he is one of many players every year who go through this without retiring.
Secondly, he has been running and kicking for a while.
Thirdly…what am I doing…ffs