Everyone's favourite AFLW player is now a Bomber!!!
Finally we got one you were going on about!
(Prespakis doesn't count, Blind Freddie could pick that!)
January 2020
By Josie Fielding on Jan 22, 2020, 10:22am
Brisbane Lions AFLW player Jessica Wuetschner is recovering well after a workplace incident that took place in the early hours of Sunday morning.
Wuetschner was working on a ship in a crib, which was held up by a crane, when lightning struck a pole she was holding in the crib.
She was transported to hospital and discharged later Sunday morning.
The 27-year-old sustained no physical injuries and is resting at her home, supported by her mother, Club staff and teammates.
Wuetschner attended training on Tuesday night and is looking forward to life returning to normal.
"Physically I am A-OK, but I'm still processing things mentally," she said.
"I am feeling a bit flat physically so will be resting my body.
"I was very lucky and I'm feeling very fortunate.
"The doctors have given me the all clear to return to training, so I'm looking forward to getting back to footy, getting back to normal.
"Thank you to everyone for their care and concern."
Lions AFLW CEO Breeanna Brock said the team are supporting Wuetschner in every way possible.
"We are just so thankful that she is alright," Brock said.
"A moment like this put things into perspective, that's for sure.
"We'll continue to work with Jess and our team here at the Club to make sure she has everything she needs to get back to normal."
The Club would like to thank everyone for their concern and ask for Wuetschner's privacy to be respected as she recovers.

Jess Wuetschner in action for the Brisbane Lions. Picture: lions.com.au
Brisbane Lions star forward Jess Wuetschner only took up football at 16 and now she's one of the AFLW's biggest names.
The Tasmanian talks about her journey to the AFL Women's competition.
Jack Hudson: You grew up in Tassie but didn't play footy until you were 16 – how did you take it up?
Jess Wuetschner: I used to go and watch my dad play and kick the footy around when I was younger, there was no women's football around anywhere for young girls to play in Tassie.
Until 2008, there was no women's side then I started the year after when a friend told me about it.
JH: How frustrating was it growing up with no sides going around?
JW: I didn't really know any different to be honest.
It was just the way that it was, I had hockey which I played and I loved, but once I found football as a game to play rather than just a kick with friends, there was no turning back.
JH: Tell us about your time with East Fremantle.
JW: I wanted to play in a better competition at the time and I moved across to Perth.
I didn't have a club lined up or anything, but when I arrived there I got in contact with the club and they said why don't you come down and have a crack with us.
I spent three season there and it was a lot of fun, a lot different to Tassie footy for sure.
JH: Then the AFLW was born, so how excited were you to see you may be able to play at that level?
JW: I didn't think it was going to happen, and I think everyone was saying it was going to occur in 2020, and if it happened this year it wouldn't have been ideal.
I was obviously really excited about the announcement, and I hadn't had the best year in football myself, so I wasn't sure if I was going to get an opportunity to play.
It was really enticing to get better and play better to get on an AFLW list.
JH: The 2016 AFLW Draft, what do you remember about it?
JW: Probably a months prior I had a call with Craig Starcevich, saying if I was open to a move to Queensland.
I said I live in Perth, but I'm not staying here so that's an option.
I went up for a trial day up there, I had an issue with my foot so I couldn't really do anything, which was a disappointment, but he saw enough in me in the exhibition game for the Bulldogs and called out my name.
JH: You debuted in round one the next year, how did it feel to be a part of that?
JW: It was amazing.
It was a thrill and such an incredible feeling.
I think there was about 5000 people there that day and it felt like 50,000.
The energy that everyone had was just amazing.
JH: Later that year you were a part of the first ever AFLW Grand Final, how did that feel?
JW: I just remember the whole week leading up to it, we didn't know where we were going to be playing it.
I guess it was just trying to focus on footy and training but there was that in the background of not knowing.
It was so new to that semi-professional lifestyle, we were trying to sort out our family and friends as well and focus on footy.
The lead up was crazy but the day was just amazing, just 25,000 people into Metricon Stadium.
It was one of the best days I've ever had…minus the loss, of course.
JH: The next year you took your goalkicking to another level with 13, what do you remember about that year?
JW: I remember I got myself a lot fitter and stronger in the off-season
That allowed me to play better footy, but as a club I think we took our game to another level as well, even if it only came down to the last round for us to get into the grand final.
I thought as a whole the competition was a lot stronger and so were we.
JH: Another grand final, this time against the Bulldogs. What did you do differently if anything?
JW: I couldn't tell you if we did anything really differently.
It was a different state which had the travel and the overnight stay where as beforehand we were at home, but, I don't know if we necessarily learned from the year before.
I think we had opportunities we could've taken early in the game to put us in a better position.
JH: All-Australian selection that year, what did that mean to you?
JW: Apart from the best and fairest, it's one of the highest honours you can get to say you're in the best company in that spot that you play.
Getting appreciated for that was pretty amazing.
I have my trophies right here in front of me in my bedroom.
JH: At the end of the year the expansion clubs joined the AFLW, so how hard did they come after you?
JW: North Melbourne did, and it was probably a little bit too much at the time, and they were quite respectful of that as well.
As soon as I told them I was happy at Brisbane and that's where I wanted to stay, that was sort of the end of that.
It wasn't too overwhelming, I was always going to stay at Brisbane.
JH: At the beginning of this year you had one of the most scariest experiences, being struck by lightning, what happened?
JW: I was working my normal job at 2.30am on a Saturday night.
It was a big storm and we were working outside while we probably shouldn't have been, and I was holding a pole and it got hit.
It was a very strange feeling and I was in shock after that, so I don't remember too much.
JH: 2020's Brisbane side had been knocked out of the finals before the season was cut off, how do you think the group is developing?
JW: I think that we came together really well through to the pre-season and the year this year.
I can't imagine our list changing all that much come next season as well, we have a really good bunch of girls on and off the field.
It was probably one of the more enjoyable pre-seasons and seasons to be a part of, minus my little hiccup personally, but the group absolutely love each other and can't wait to go a bit better in 2021.
JH: Did you agree with the decision to call of the season, rather than postpone it?
JW: I think yes.
I think they had to make that call, it's a very strange time and I don't think the girls could've been put on hold to finish off the season for a couple of months after that.
JH: How are you preparing for next year?
JW: We're lucky up here, we're able to play club football and we have our first round this weekend.
At the moment I'm just trying to get more football in and developing my game.
We've been really lucky at Brisbane to still have guidance and access to our coaches and stuff through this pandemic which has been really valuable for us to get ready for next year.
JH: Are you excited to get back out there this weekend?
JW: I am, I am, yes.
There's no place I'd rather be than on a football field.
Obviously it's hard for the rest of the country, especially for Victoria right now, I feel for them, and we need to appreciate we can play up here.
I send all my best wishes down in Victoria.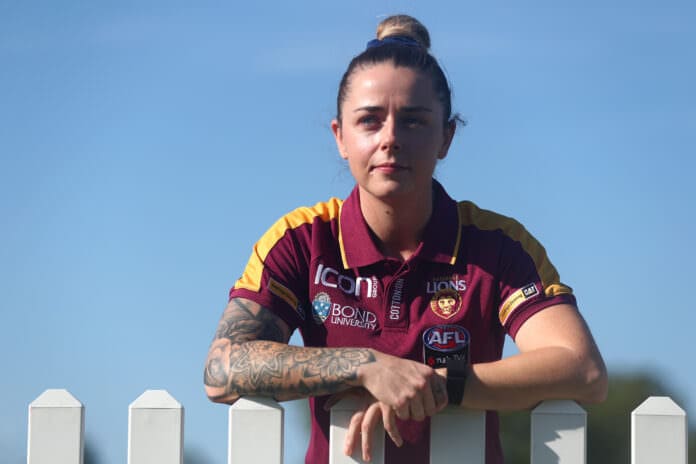 BRISBANE, AUSTRALIA - JANUARY 29: Jess Wuetschner poses during a Brisbane Lions AFLW training session at Leyshon Park on January 29, 2020 in Brisbane, Australia. (Photo by Chris Hyde/Getty Images)
Premiership Lion Jess Wuetschner has opened up the mental health battle that has kept her away from featuring in the AFLW in recent months.
While continuing to train with the club throughout this season, Wuetschner has been absent from the Lions' matchday duties since Round 4.
The 29-year-old revealed she has placed her mental health and wellbeing as a priority throughout the season, hoping to eventually step back onto the field with her teammates in the future.
"I've needed to focus on my mental health for a while now," Wuetschner said, via the club's website.
"Football has been a huge part of my life for a very long time, so it was incredibly hard to make that decision.
"I've already made great progress in the last six weeks. Thank you to those that have reached out, I look forward to getting back out and playing football when I am ready."
Wuetschner has been a stalwart in Brisbane's successful AFLW era, booting two goals in all three of the club's grand final appearances and winning her maiden premiership medal in 2021.
The Lions star has played 38 games for Brisbane since making her debut in 2017, booting 37 goals to rank seventh on the AFLW's all-time leading goal-kickers leaderboard.
"I've always been super transparent on any mental health battles that I've had, so again I will be," she wrote to Instagram on Friday.
"I am not sad I am just scared, my fight or flight has been heightened and overactive for quite some time which has made it difficult for me to leave the house or participate in life.
"The anxiety this has caused has made my quality of life pretty sh*t. But I am currently doing EDMR therapy to work through some contributing factors.
"I'm feeling better than I have for a while."
The Zero Hanger team extend their support to Jess, a friend and contributor to our team, through this period.
JESS Wuetschner has spoken for the first time since being struck by lightning in an incident at work, describing "white bolts" travelling up her arm.
The Brisbane forward is a stevedore on the docks, who often works night shifts and was caught out when lightning hit a pole she was holding during a storm on January 19.
She was briefly hospitalised and has been recuperating at home, sitting out Brisbane's practice match against GWS and only taking part in her first kicking session on Wednesday night.
"As soon as it happened, I went, '■■■■, I've just been electrocuted'," Wuetschner said.
I just saw the white bolts go up my arms and up the pole as well

Jess Wuetschner
"I didn't pass out or anything, but it was quite shocking. I can't remember too much from that point until I calmed down a bit.
"[I was] pretty much just trying to do my job on the wharf and just happened to be in a storm. I was holding onto a metal pole and that was hit by lightning. I threw up my arms and next thing I knew I was hunched on the ground.
"[I was] pretty excited to find an ambulance at that point of time. It felt like forever. Apparently, the time it took me to get down from the crane to the ambulance was about half an hour, but it felt like hours.
"Once I got to the paramedics, I felt a lot better and a lot calmer, they were fantastic. Once I got to the hospital, I had a few tests and was out in a few hours."
The incident has left Wuetschner – who was in a crib held by a crane about 40 feet above the ground – very shaken.
The 27-year-old described the sensation as "feeling literally buzzed" and a "very short, brief pain".
"I [felt I was] lucky to be alive and still be here, but still scared about the fact I could not have been here," she said.
"I'm quite an anxious person generally, so that kicked me in the guts, then I felt a little bit of anger about why I was there in the first place, in the storm.
"At the end of the day, it (the storm) did seem like it came out of nowhere, so you never really know what's going to happen, so now I'm just really grateful."
For now, Wuetschner is working towards returning to normality. She is hoping to return for round one but is taking a wait-and-see approach.
"It's not something I'd want anyone to ever experience, but everyone has their things in life which might shake them to this degree, and mine just happened to be being struck by lightning," she said.
"It did really shake me for the first few days, I didn't really know what was going on or if I'd come out on the other side better or if I was injured. The doctors said I was fine, but I didn't really believe it. How could I be?
"I think the support I've had, having my mum up here (from Tasmania) and the club have put me in good stead to come out on the other side."
Most of all, she's looking forward to having a kick with her mates.
"I trained in the gym last night (Tuesday), but this is my first session out on a footy field," Wuetschner said.
"I do feel a little rusty, even though it's only been a week and a half, two weeks, so I think it'll be a good opportunity for me to just get hit and be fine and get back into it.
"I think it'll be a good chance to be where I feel I shine."
Miss a couple weeks and you're no longer a persistent top three goal kicker in the league?
Let's fix that situation.
She's a sensational pickup. Like Wow!
All the best Jess.
I'm gonna call it! If she stays fit & plays, we make the finals.