Even Womens.AFL dropping the hint "The Flying Dutchwoman" is coming to Essendon
Screw this, executive decision to go early(ish).
Here's some content I picked out earlier.
Pretty awful editing together of two clips, from a game prior to her becoming the #2 pick in the 2018 draft (between NINA Morrison and Maddie Prespakis).
At that time she was also playing U18 cricket for Victoria and Australia, with her home club being Essendon Maribyrnong Park Cricket Club. Was trying to get into Big Bash.
The Best In The Business, Willy, can be relied on to deliver articles and videos:
2018 AFLW Under 18 All Australian, 2018 TAC Cup Team of the Year, U18 State of Origin representative what more can we say about Sophie Van de Heuvel.

Having come from an outstanding season for the GWV Rebels, Van de Heuvel played her first game for the club in our first ever win against Richmond amassing 20 disposals and 8 tackles showing why she is so highly rated.

At the AFLW Combine Van De Heuvel finished second in the 20m sprint and was in the top handful of the yo-yo test showing off her endurance ability.

Vic Country commitments then took over where she was best on ground against W.A with 23 disposals to go along with 3 goals in a dominant display and was named in the bests for her other two games which helped her earn All Australian honours.

What Sophie achieved in her six games at Williamstown this season was just as impressive.

Upon returning to Williamstown, Van de Heuvel once again showed her class in our win over Essendon with 11 touches, a goal and 10 tackles against the Bombers capping off an impressive 2018.

Senior Coach Amy Catterall says that Sophie has the ability to play at any position.

"Sophie has the ability to play anywhere on the ground. She plays taller than she is and is a great over-head mark and accurate kick at goal with a natural kicking action.
(yikes looking at our 4-years-younger girls… and other players long forgotten!)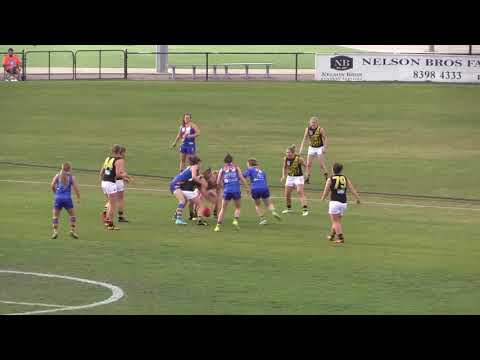 First and only (so far) AFLW goal!
Running victims down:
Earlier this year:
Stats and articles mentioning her:
You can read about her and her family's sporting background below, and in particular note the last two lines.
ONE OF US.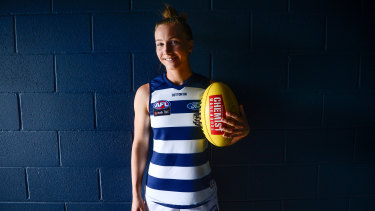 Talented half-forward and winger, Sophie Van De Heuvel. CREDIT:JUSTIN MCMANUS
Sophie Van De Heuvel had tried for years to get the number 27 on the back of her footy jumper.
When a recruiter for the Geelong Football Club came to her house in Ballarat, he noticed a framed number 27 guernsey hanging on the wall, marking her dad's 200 games for Sebastopol Football Club.
Three weeks later, her dad was waiting in the car for her after football training when the teenager jumped into the passenger seat with a grin on her face.
"Dad guess what," she said.
"They got me the number 27."
Mark Van De Heuvel, who runs a cleaning company in Ballarat, said he got "a little bit emotional".
"I'm just so proud," he said.
Sophie Van De Heuvel is the number-two draft pick for the Cats, who along with North Melbourne, is the latest club to join the AFLW.
Geelong play in the season opener against Collingwood next Saturday night at GMHBA stadium and Van De Heuvel says she has a nervous wait ahead of her.
"We haven't found out selection yet, but hopefully, fingers crossed," she said.

Dual sports star Sophie Van De Heuvel will play for Geelong.CREDIT:JUSTIN MCMANUS
There was a chance the 18-year-old could have missed round one altogether. As well as being a talented half-forward and wing player, Van De Heuvel is also a handy cricketer.
The 171-centimetre all-rounder represented Victoria Country in the under-18 national championships this month and did her hamstring fielding, but managed to dodge serious injury and was back at football training this week.
Van De Heuvel, who plays cricket for Essendon Maribyrnong Park Cricket Club, said she will be focusing on her burgeoning football career this year.
"The physicality of the game is what got me. I played netball as well, and cricket, but [football] is a bit rougher," she said.
She grew up surrounded by both sports. Her mother Melinda Brown, a paralegal, was a good netballer and indoor cricketer and her father, while clocking up 200 games at Sebastopol, played 330 games of cricket for Golden Point. Her 195 centimetre brother plays both sports as well.
Van De Heuvel started playing football in Auskick, but focused on netball before she pestered her parents to play with the boys in under-14s football four years ago.
"She was itching to play, but we didn't want her to get hurt," her father said.
"And then I thought she'd play under-14 boys, maybe play up until under-16s. But she started playing football again at the right time."
Van De Heuvel went on to star in the youth girls competition before being picked up by Williamstown where recruiters took notice of her speed and agility on the ground.
The former Loreto College student, who wants to study occupational therapy, said her one goal this year was just to develop her game.
"We are so lucky, especially with the facilities we have," she said.
Meanwhile, Mr Van De Heuvel said a family contingent will be in Geelong for the opener to support her, despite their allegiance to Essendon.
"Just don't expect me in a Geelong jumper," he said.
ONE OF US… ONE OF US… ONE OF US…
Confirmed.
Van De Heuvel, a lifelong Essendon supporter, arrives at the NEC Hangar after 31 games for Geelong, where she made her mark as a versatile half-back.
Hailing from Ballarat in regional Victoria, the talented all-rounder also played cricket at the national level before transitioning to footy.
Barracks for Essendon. Plays cricket for Essendon-Maribyrnong.
Inevitable.
Playing well in the back half.