Is that an official nickname? And if so, what crapper name does her sister have?
Considering Lucy plays for Hawthorn who are stuck on the bottom of the ladder…
Beached Wales?!
shes so tall and lanky and skinny i keep watching the games waiting for her to be bullied out of it, yet she just keeps cracking in and not being pushed around.
so good on her, well deserved
That's reward for sustained effort, not one flashy game.
Given she has less than two seasons of (not local) footy in her, and less than one as ruck, sky is the limit (and she's tall enough to touch it).
Flip noted explicitly as an assistant coach.
Also, new writer?
by Freya O'Donnell
One of the youngest members of Essendon's AFLW side is standing the tallest, both metaphorically in importance and literally in height.
19-year-old Steph Wales has quickly become an integral part of the inaugural Essendon AFLW side.
At 188cm tall, Wales' composure, athleticism and competitiveness has been a highlight in the Dons' inaugural season.
In just her eighth AFLW game, Wales collected 21 hit outs, seven disposals and seven tackles., backing up an exciting round three, three-goal, 10-hit-out and eight-disposal performance.
Wales' game in the Bombers' win over Sydney was rewarded with a NAB AFL Rising Star nomination.
All of this while playing in the ruck – a position she was never meant to play but has shone in after Dons' first choice ruck Jorja Borg suffered a season-ending injury.
As she continues to build in her first season of senior football, Wales was elated to have been recognised as the bombers' second rising star for 2022.
"It feels pretty cool to be recognised for my efforts over the season," Wales said.
"I feel like I've improved a lot in a short amount of time so it feels really great."
The position Wales finds herself in now as an important player in Essendon's best 16 would feel like a world away to where she was at the start of the year.
Wales started 2022 playing local football at the Oakleigh Dragons, before signing with Casey Demons in the VFLW. There, Wales had a breakout season playing eight games for Casey alongside her twin sister Lucy.
Her potential was noticed by Essendon, where she was selected in the 2022 NAB AFLW Draft with pick No.32.
Wales attributed her quick development to the environment surrounding her at the Bombers, with coaching staff and teammates alike providing a platform of belief.
"I haven't really played much footy at a high level, but I think (what's helped improve me quickly is the) quality coaching and quality teammates," she said.
"(Assistant coaches) Andrew Phillips, Brett Gourley and (senior coach) Natalie Wood have been great this year. Obviously I'm playing a role that I didn't think I was going to play with Jorja Borg out, so the belief they've had in me and constant feedback anytime I need a bit of feedback has been crucial."
Another facet Wales has enjoyed in her first season is coming up against her twin sister Lucy Wales, who was also drafted this year but by rival expansion club Hawthorn.
Amazingly, Steph made her debut in round one against Lucy in Essendon's first-ever AFLW game against the Hawks with the twins playing against each other in the ruck.
Wales said it's surreal to have her sibling in the same competition and even more special to receive a rising star nomination the week after her sister did.
"It was quite weird round one, obviously we were competing against each other which was a bit different, but we're really supportive," Wales said.
"It's cool because we can compare experiences, but also be a bit more individual than we probably have been in the past."
"We're both really happy for each other, it was cool that she got [nominated] last week, neither of us were expecting it when we got it at all, so that definitely added to the excitement."
With only two weeks left of the season Wales is continuing to set her sights on developing her craft.
If the first eight weeks have been anything to go by, Dons fans can get excited about the commitment Wales has to being the best she can be.
"I always go into weeks of training knowing what I want to work on. I think we can knock down our goals fairly quickly because we're always out there doing extras," Wales said.
"I really believe regardless of how I perform on the weekend, there's always so much more I can bring to the game, which probably helps with what I've been doing this season, improving each week."
Again for a 19 year old, shes pretty impressive. essentially went one out against 3 different ruckman today.
definitely someone you could build a team around.
And one of those women is arguably best in the league.
I think her point of difference as she develops is she is very good below her knees for a ruck - So much upside with Wales.
Anyone can post the below?
Stephanie and Lucy Wales have always done everything together.
They grew up as a competitive unit in a sporting household, choosing to team up against their older brothers rather than against each other, and were on the same teams (football and basketball) from childhood all the way through to playing VFLW for Casey.
But then everything changed earlier this year when they were drafted to famous rivals: Stephanie, or "Killer", to Essendon and Lucy, otherwise known as "Pendles", to Hawthorn.
The Wales twins: Lucy (left) and Stephanie (right).CREDIT:PAUL JEFFERS
"My identity my whole life has been like 'Oh, I'm a twin' and I do everything with Steph, and to now do things on my own, it's kind of funny," Lucy told The Age.
"It's weird that I had to tell people I was a twin - like people just didn't know [at the club]," Lucy laughed, adding that she doesn't mind her new independence.
The two young rucks, 19, still live together, work together and spend most of their days off together, but they say being at different clubs give them a chance to stand on their own.
Stephanie said being twins made a lot of things in life easier, including going into any new situation side-by-side. But walking into separate football clubs was a different experience, and one they've enjoyed.
"It was actually really good to be able to do this by ourselves," said Stephanie, with Lucy adding it allowed them to make their "own friendships and connect with different people."
Although many have asked the pair if their circumstances have ignited a new rivalry between them - playing on either side of the Essendon v Hawthorn divide - they say it's just made them closer.
"I think like the fact that we're going through our own experiences at different clubs, but then being able to relate has probably made us a bit closer [and] just being able to talk about things that we're experiencing, knowing that the other one has similar experiences," said Stephanie.
Lucy added that, as they both play for expansion teams, they are in "very similar environments", which is something they share together: "We're doing the same thing, so we can relate".
It's helped their footy, too, as the duo watch and study each other's games to see how'd they go against the same opponents.
"Let's say Lucy's already versed Melbourne, I'd look at the game against Melbourne because I know I'm similar to her," said Stephanie.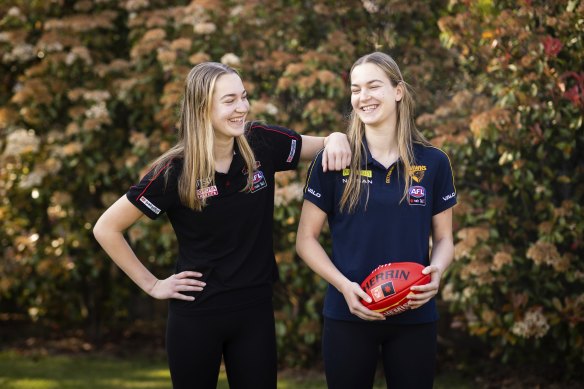 AFLW twins, Stephanie and Lucy Wales.CREDIT:PAUL JEFFERS
Lucy agreed, saying: "Because your role is obviously different to everyone else in the team, it's hard to judge where you fit in … we compare ourselves to each other because we're the same age, same position."
For example, Lucy said before she played against the Brisbane Lions, she researched how Stephanie fared against Lions' ruck Tahlia Hickie because they have identical builds and play alike. Although, Stephanie is four centimetres taller.
Despite how handy this is to learn from, Stephanie quipped, "When I watch [Lucy], I'm like 'please don't tell me I run like that'," she laughed.
Fittingly, they began their AFLW careers playing against each other in the clash of expansion teams and arch rivals at Marvel Stadium in front of more than 12,000 fans.
Stephanie finished the night victorious, as the Bombers claimed a 26-point win over the Hawks - with the pair each registering 12 hitouts - but says she didn't hold it over her sister.
"She already knows she lost, I don't need to tell her," Stephanie mused, while Lucy said it was just "really exciting just to be able to play against each other and be in the same competition".
Surely for Mad Monday, Steph shows up at the Hawks party posing as Lucy, and vice-versa