If anyone has good forwards they're willing to trade, hit me up
BBFFL#2 Round 11 Preview
redbull (9) vs Fogdog (17)
UF Prediction: redbull 1404 Fogdog 1220
Head to Head: Never previously met
Form: redbull WWWWW Fogdog LLWLL
Last week: redbull 1434 Fogdog 1168
Season Average: redbull 1382 Fogdog 1192
Come Back Hirdy (7) vs The Ant (13)
UF Prediction: Come Back Hirdy 1364 The Ant 1253
Head to Head: Never previously met
Form: Come Back Hirdy LWLWW The Ant WLWLL
Last week: Come Back Hirdy 1377 The Ant 1351
Season Average: Come Back Hirdy 1403 The Ant 1306
saladin (8) vs TrevorBix (14)
UF Prediction: saladin 1370 TrevorBix 1282
Head to Head: saladin 3 TrevorBix 4
Last time: saladin 1443 Defeated TrevorBix 1419 Round 19 2018
Form: saladin WLWWW TrevorBix LLLWL
Last week: saladin 1344 TrevorBix 1357
Season Average: saladin 1383 TrevorBix 1278
Birch19 (2) vs Stoops (15)
UF Prediction: Birch19 1568 Stoops 1313
Head to Head: Birch19 5 Stoops 5
Last time: Birch19 1406 Defeated Stoops 1300 Round 19 2018
Form: Birch19 WWLWW Stoops LLLLL
Last week: Birch19 1471 Stoops 1343
Season Average: Birch19 1486 Stoops 1267
Wezza (6) vs Crazy Bomber (10)
UF Prediction: Wezza 1417 Crazy Bomber 1242
Head to Head: Never previously met
Form: Wezza WLLLL Crazy Bomber LLWLL
Last week: Wezza 1256 Crazy Bomber 1261
Season Average: Wezza 1490 Crazy Bomber 1306
Vandrs (16) vs No. 5 (4)
UF Prediction: Vandrs 1266 No. 5 1355
Head to Head: Vandrs 0 No. 5 1
Last time: Vandrs 1085 Lost to No. 5 1156 Round 12 2018
Form: Vandrs N/A No. 5 WWLWW
Last week: Vandrs N/A No. 5 1348
Season Average: Vandrs N/A No. 5 1425
Ivan (5) vs The Melkman (3)
UF Prediction: Ivan 1323 The Melkman 1442
Head to Head: Ivan 0 The Melkman 2
Last time: Ivan 1254 Lost to The Melkman 1530 Round 15 2018
Form: Ivan WWWLW The Melkman WWWWW
Last week: Ivan 1288 The Melkman 1395
Season Average: Ivan 1293 The Melkman 1427
maxx (18) vs Aceman (1)
UF Prediction: maxx 1052 Aceman 1461
Head to Head: Never previously met
Form: maxx LLLLL Aceman LWWWW
Last week: maxx 968 Aceman 1466
Season Average: maxx 1140 Aceman 1420
Match of the Round
Don to Death (12) vs cafegerat (11)
UF Prediction: Don to Death 1371 cafegerat 1407
Head to Head: Don to Death 5 cafegerat 0
Last time: Don to Death 1386 Defeated cafegerat 1383 Round 14 2018
Form: Don to Death LWWLW cafegerat LWLLL
Last week: Don to Death 1405 cafegerat 1377
Season Average: Don to Death 1316 cafegerat 1333
Leaving Mason Wood's 90+ scores the last 2 weeks on the bench hasn't been my smartest coaching move.
Having a very poor weekend. Bowes early injury just adding salt.
Gotta be happy with the Adelaide v Melbourne game, 4 tonnes. Kelly averaging 70, not bad for a 3rd round depth pick.
Crap weekend of FF with not one player cracking a ton.
Lucky week for me. Had a busy week and forgot to update team line-up before cut-off and left with Tom Rockliff taking donut for me when I had Miles at UTL and plenty of bench, in addition to having Kennedy-Harris out of line-up completely who ended up playing, scoring 91.
Still managed 1521 with a donut, but peeved as could have cracked 1600 and made up ground on teams who have better aves than me. Take the good with the bad I guess…
Took down the Knights to finally break my extended losing streak.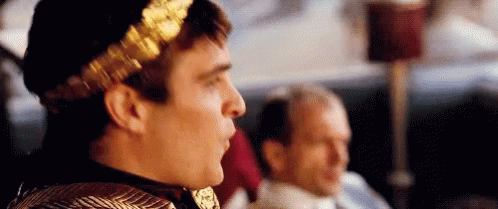 BBFFL#2 Round 11 Results
redbull 1421 Defeated Fogdog 1106
Don to Death 1230 Lost to cafegerat 1348
Come Back Hirdy 1501 Defeated The Ant 1174
saladin 1360 Lost to TrevorBix 1476
Birch19 1557 Defeated Stoops 1269
Wezza 1378 Defeated Crazy Bomber 1313
Vandrs 1307 Lost to No. 5 1468
Ivan 1213 Lost to The Melkman 1216
maxx 1047 Lost to Aceman 1425
Fark, left around 100 points on the bench, lost my ruck and lost by 3. Next time @The_Melkman next time
BBFFL$2 Ladder after Round 11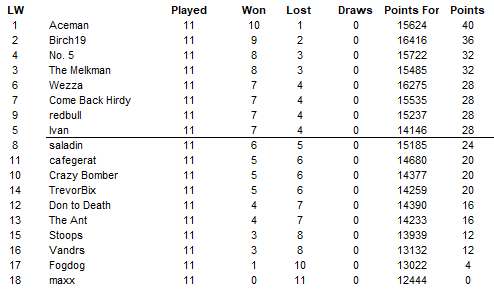 Aarrrgghh, cost me top 4 too,
Anyway, signing Dylan Clarke as an unrestricted FA when they named him as an emergency two weeks ago just paid off big time. Very happy about that
You were very unlucky Ivan.
The lead changed between us about 3 times in the final minutes of the Eagles, Dogs game.
Excellent score, Trev. Well deserved win.
Picking up regular injuries atm, which is making things awkward. I'd say I'll miss Bowes for three or four, quads are never minor. Might get Stringer and Raz back after Essendon's bye, which is badly needed.
Probably my first reasonable score for the year, you're very unlucky to cop it.
What are the rules for Bye Week?
Players with the bye score their season average, assuming they played the game before the bye.
If they didn't play the last game, they score 0