No one gave a sh*t, that's why
NEXT
So we don't have to worry about BT taking the ■■■■ out of our E Sports team ever again.
It seems you need to be "all in" for esports i.e. fully committed.
My guess is the club could not be bothered.
I think they should have persisted; here's why.
Its big.
Much bigger than most people think.
And getting bigger every year.
Some quotes:
In 2018, the eSports industry is projected to generate $905 million in revenue, reaching over $1 billion over the next two years.
What are they playing:

Fans buying tickets and merchandise will contribute $96 million. (compare to AFL gate receipts of $? - does anyone know this figure?)
Prize money is certainly comparable to more traditional sports. The National Basketball Association prize pool is $13 million, the Golf Masters is $11 million and the Confederations Cup is $20 million. eSports exceeds each of them with a total prize pool of $24.7 million.
Source:

Blitz should set up our own eports team.
There are costs that the club undertakes which give an intangible return on their investment. There's no way in hell this wil ever return a direct profit to the club. But just maybe we'll pick up some attention and flow on supporters.
How big is esports, you ask?
Richard Tyler Blevins , aka Ninja, speaks to the crowd at the start of the 2019 Fortnite World Cup Finals - Round Two on July 27 at Arthur Ashe Stadium, in New York City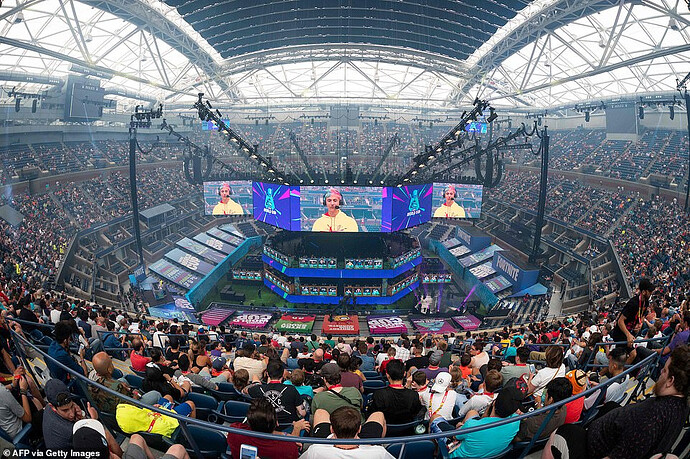 Regional differences. In regions where esports is successful there has been a longer competitive video game heritage, much larger populations and population densities, (better talent pool, wider audience, more sponsor exposure to help grow the industry etc) and decent internet connections (which are vital for effective training and ultimately success, which feeds back into growing audiences and sponsorship etc.)
Australia is only just starting to catch up with the rest of the world in terms of internet connection quality (and we still have nothing on Europe or SEA,) but we still lack the population. We're still very much an emerging region, and we're essentially watching the industry unfold live; and comparing ourselves to the rest of the world who has about a 20 year head start on us. This image is like asking "How big is footy?" and showing a picture of the MCG on ANZAC or GF day, then wondering why footy isn't a big thing in a country like South Korea.
Counter strike - I remember playing that game as a teenager
That it where it should stop… yep if you are an adult wasting away hours on computer games. Stop
So glad the club pulled the bandaid
Because you should spend that time in-game wisely, and not be wasting it.
Well, yes. Conserve ammo, don't constantly sprint… that kind of thing.
What the hell am I meant to do with my spare time if I can't waste it on a game? Next you will be telling me to talk to my family. Sicko.
As long as you don't waste hundreds of hours on endless arguments on footy forums!!
There is always the Melton Club
Notwithstanding comments above, eSports would have been a huge cash cow for the club. The club envisaged this when they got into it. The Board had even envisaged revenue streams from eSports would one day allow them to exit the gambling industry. What a shame.
Exiting the business had little to do with regional differences.
There is a magnificent sense of irony on people that denigrate gaming but post on a football forum incessantly.
Hmmm…maybe we got rid of our eSports team a couple of months too early.
In light of the current situation I can imagine a fair percentage of the sport loving world will turn to esports; including gamblers.
Based on this thought process, how does one go about buying shares/investing in esports?
I have never dabbled in the world of shares so please type slowly with your replies…if any.
Cheers
Beat me to it, I'd probably watch them play Oil Panic pretty soon.