Let's start by fixing the title to Problems
How many threads did Truck get?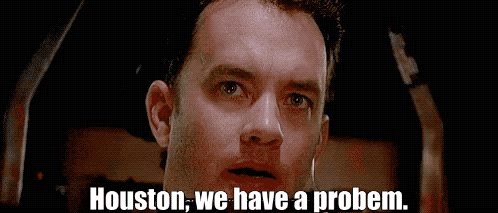 I think this belongs here.
It's hard to be calm when you seemingly lose control.
But, somehow, Brad Scott was a picture of pure calm when faced with a chaotic situation.
This is Essendon. We are used to impassive coaches after the cardboard cutout Woosha years.
Such a reasonable article given all the crap that's written about us - either super positive or hyper negative. I don't know if it leads us to success, but it's a sensible way to play.
Ball retention is the best form of defence.
Pfft its easy being calm. If he wants us to remember him, BS should try talking into a phone upside down.
Or even better still, east a salad sandwich while watching his side demolish the opposition.
Not sure about some of the accuracy of the sentences…
Former captain Dyson Heppell had just missed a shot on goal with two minutes left against North Melbourne on Friday night, with the Bombers leading by a slender three points.
Heppell kicked backwards to Andrew McGrath standing alone in the corridor, finding one of the club's best ball users.
Having said that…
It's a very good article that does try and delve into what we are doing.
There were some stats in there that were interesting. I didn't know about the conceded scores from a turnover in our forward half.
I knew our coast to coast defence looks better, but all I've heard is stats relating to we don't defend the transition well.
Yep. Worst pressure team in the AFL and easiest team to move the ball against. These areas of our game were poor last year under Rutten and clearly haven't improved this season. I'd be seriously scrutinising Scott in what's going on here, but also the players. Are they incapable of applying full ground defence and stopping ball movement?
The thing I'm worried about Scott is that he's falling into that habit of previous coaches saying that it will take time for us to be good. I'm tired of waiting personally.
I just want Scott to say that certain aspects, like inability to defend are unacceptable. I expected him to set some standards but I'm worried that things are very much the same.
If that's all you want, no worries.
It's been done
After one of our more ignomious thrashings, our then overlord Peter Jackson announced that was unacceptable.
So the announcement has been made. Of course Essendon has never been able to get the AFL to unaccept that offering - the record books still showed that loss he didn't want to accept was, well, accepted by everyone else.
And EFC has continued to make so very many unacceptable performances since then, despite what PJ tried to make everyone believe.
If there is anything that we could have learned from the last twenty years it is that it is not enough for various figureheads to sound tough in public. They should be doing something realistic to make real changes in the woeful culture and management of this entire organization
Im not sure this is true. Heres the pressure act differentials. I think the "pressure rating" or whatever can be a bit different to just pressure acts but its not publically available. Our high uncontested marking game style means our pressure acts are low but so are our opponents.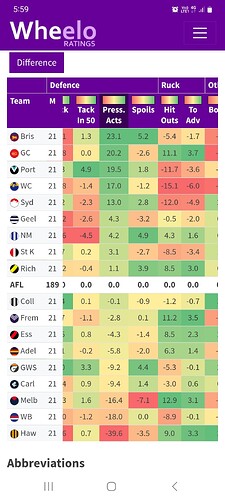 Problems to sort out:
List balance
We need to trade out some of our key backs (Ridley, Reid, Lav, BZT, Baldwin, Cox, Hayes, Weideman, McBride), especially if we're getting McKay, and reinvest in the forward line and midfield. Midfield depth that can provide selection pressure, a CHF and dangerous smalls the key targets.
The VFL program
We need experienced AFL veterans from good programs who can provide game day leadership on every line and keep the team competitive so that we can actually develop forwards at VFL level rather than watching them do unrewarded shuttle runs.
Brittleness of our list
We need to find a way to get the majority of our list fit at the business end of the season rather than hobbling into September looking like a hospital ward. We need to get our young players on the park consistently.
Team defense
We need to be ruthless with any players who won't play defense first, team first, hard at the pill football. Players who are routinely underperforming on pressure acts, contested ball, ground ball gets and tackles are not going to get us there. If they won't change, then trade them regardless of how talented they are. We need to build a culture before we build a team.
And if anyone can pick a correlation between rating high on that chart and being any good…
I don't know why people get hung up on what coaches say Vs what they do.
In broad strokes, this is a return to Woosh's mindset and (taking out the rubbish) Hird's before that. Play your best side all the time, build the gameplan around them.
Which means yes there's standards and yes we're competing, but that's not going to change the world. Just like it didn't in 2018 or 2017 or 2013 etc etc etc
The 22 & list as a whole isn't very good. With a strong tailwind, everything falling into place, we could top out at 6th.
Changing one coach from another isn't going to win us a flag.
The club leadership - from the top down - need to set the direction here.
The most interesting bit might be hawthorn, they clearly don't rate pressure acts