I'm callin' it early [and annually]
you're a pelican simmo.
All depends if they can keep brining Geelong kids home.
Henry and Bruhn, good gets.
Maybe they will come hard for Sean Darcy, Idun & Walsh.

The Coach will be on Gettable on Sunday.
Sunday, November 19 – 5.30-7.30pm AEDT
Ralphy needs to pipe down
Yearly Essendon hype article. Heard it all before
Essendon best 23 2024: AFL draft, trade period, why Bombers are quality | Herald Sun
Brad Scott can finally sweep aside the list cloggers and project players.
As he shifts the magnets on his whiteboard to assess his round 1 side the influx of new talent at Essendon guarantees absolutely nothing.
A 7000-day finals winning drought should be the ultimate reminder after so many rebuilds, rejigs, post-ASADA list retools and false dawns.
But whether Adrian Dodoro is the messiah or just a naughty boy, he at least has given his coach options in this year's trade, free agency and draft period.
On Monday night 193cm power forward Nate Caddy arrived via the draft, joining Ben McKay (North Melbourne), Xavier Duursma (Port Adelaide), Jade Gresham (St Kilda) and Todd Goldstein (North Melbourne) as Essendon's new faces.
All will hope to be in Essendon's round 1 team next year along with players who missed the round 24 slaughter against Collingwood.
Where will Essendon finish in 2024?
They include Jake Stringer (foot), Harrison Jones (back, ankle), Zach Reid (back), Dylan Shiel (foot, ankle, knee), Jordan Ridley (quad), Matt Guelfi (hamstring).
Gone from that round 24 team are Anthony McDonald-Tipungwuti (retired), Andrew Phillips (retired), Will Snelling (delisted) and Brandon Zerk-Thatcher (traded).
So the round 1 team will be vastly different, but will it be significantly improved?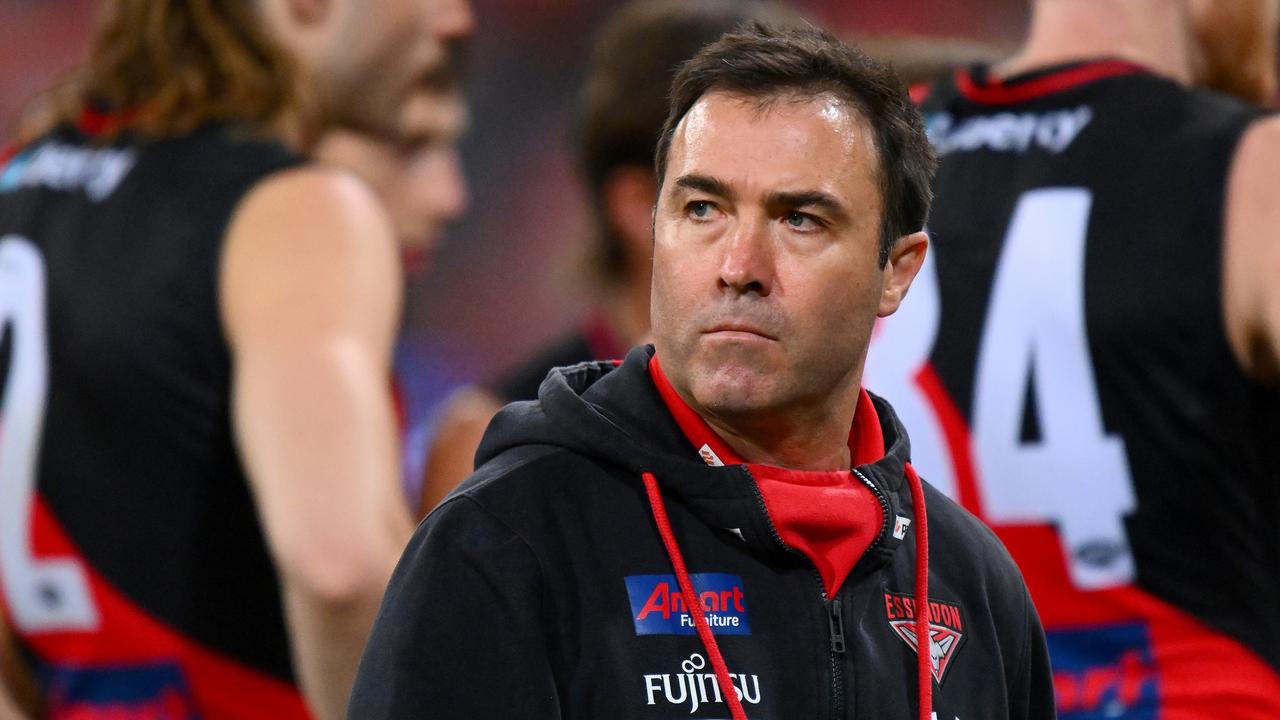 Brad Scott has some options for his Rd 1 team. Picture: Getty Images
What attempting to find Essendon's best 23 on paper does is illustrate that the Dons finally have depth.
Not just across the squad but in multiple positions of need.
Essendon not only has its big key full back (McKay) and athletic interceptor (Ridley), it will have a frantic battle between Jake Kelly, Jayden Laverde and Kaine Baldwin to fill the third defensive post.
If Nik Cox wants to play the aggressive rebounding role he was trialled in for the round 24 Collingwood clash, he might have to displace former captain Dyson Heppell.
If Jake Stringer is fit, he plays.
But suddenly Essendon has Langford, Stringer, Gresham, Sam Durham and Archie Perkins as dangerous half-forwards who can be thrown into the centre square.
And if Nick Bryan wants to play in round 1 - with Brad Scott keen to play two rucks all of next year - he needs to get past an All Australian in Todd Goldstein with the most hit-outs in AFL history.
Dons fans might quibble, but there isn't room in this team for Cox, Elijah Tsatas, Nick Hind, Matt Guelfi or Will Setterfield, with Caddy only squeezed in as the sub.
ESSENDON BEST 23
B: Andrew McGrath, Ben McKay, Jayden Laverde
HB: Jake Kelly, Jordan Ridley, Mason Redman
C: Xavier Duursma, Darcy Parish, Nic Martin
HF: Sam Durham, Peter Wright, Jake Stringer
F: Archie Perkins, Kyle Langford, Jade Gresham
R: Sam Draper, Zach Merrett, Dylan Shiel
INTER: Ben Hobbs, Jye Menzie, Todd Goldstein, Dyson Heppell
SUB: Nate Caddy
OTHERS: Jye Caldwell, Nik Cox, Elijah Tsatas, Nick Hind, Matt Guelfi, Harrison Jones, Zach Reid, Will Setterfield, Kaine Baldwin, Sam Weideman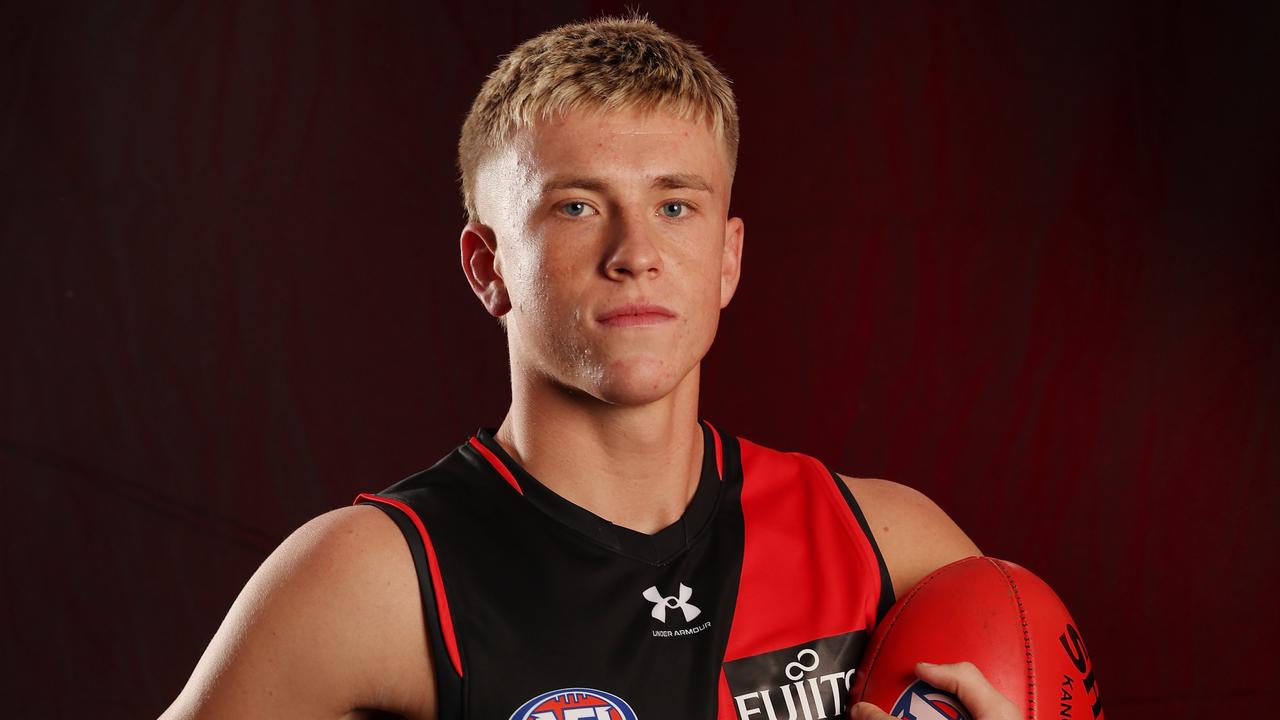 Nate Caddy in his new Essendon colours. Picture: Michael Klein
SEVEN SIGNS ESSENDON WILL BE A SERIOUS TEAM BY ROUND 6 NEXT YEAR
1. Nate Caddy won't be able to find a spot in the round 1 best 22.
Let's hope he is Essendon's new great white hope.
Let's hope he has a massive summer to knock down the selection door.
But his selection at pick 10 on Monday night should light a spark under Perkins, Stringer, Gresham, not to mention Tex Wanganeen, Matt Guelfi and the Davey twins.
Stringer, Perkins, Wright and Langford are locks, and Duursma's acquisition means the Dons want to push Durham to half forward with some midfield time.
Caddy averaged 16 possessions and 2.8 goals in nine Coates League games but if he plays round 1 he must deserve it instead of being handed a game on promise.
Surely Essendon is past that phase of its development.
2. Xavier Duursma develops a weapon as Essendon's new wingman.
Duursma has what it takes to be an excellent AFL footballer.
He runs harder than anyone, he is strong overhead, he kicks the ball well.
But since his breakout 20-game debut season he's played 15, 11, 11 and 16 games kicking seven, three, six, and six goals.
Scott needs to decide if he is an elite defensive runner like Carlton's Blake Acres, who averaged 4.7 intercept possessions playing such a key finals role helping his back six AND kicking 10 goals across the year.
Is he an offensive weapon like Josh Daicos - 16 goals, 439 metres gained, plus 3.2 intercept possessions this year?
On the opposite wing Martin had a nice blend - 17 goals, 3.5 intercept possessions, 2.7 inside 50s.
Right now Duursma isn't elite at anything - he has never averaged more than 20 touches or 300 meres gained - but a defined role under Scott can help him out.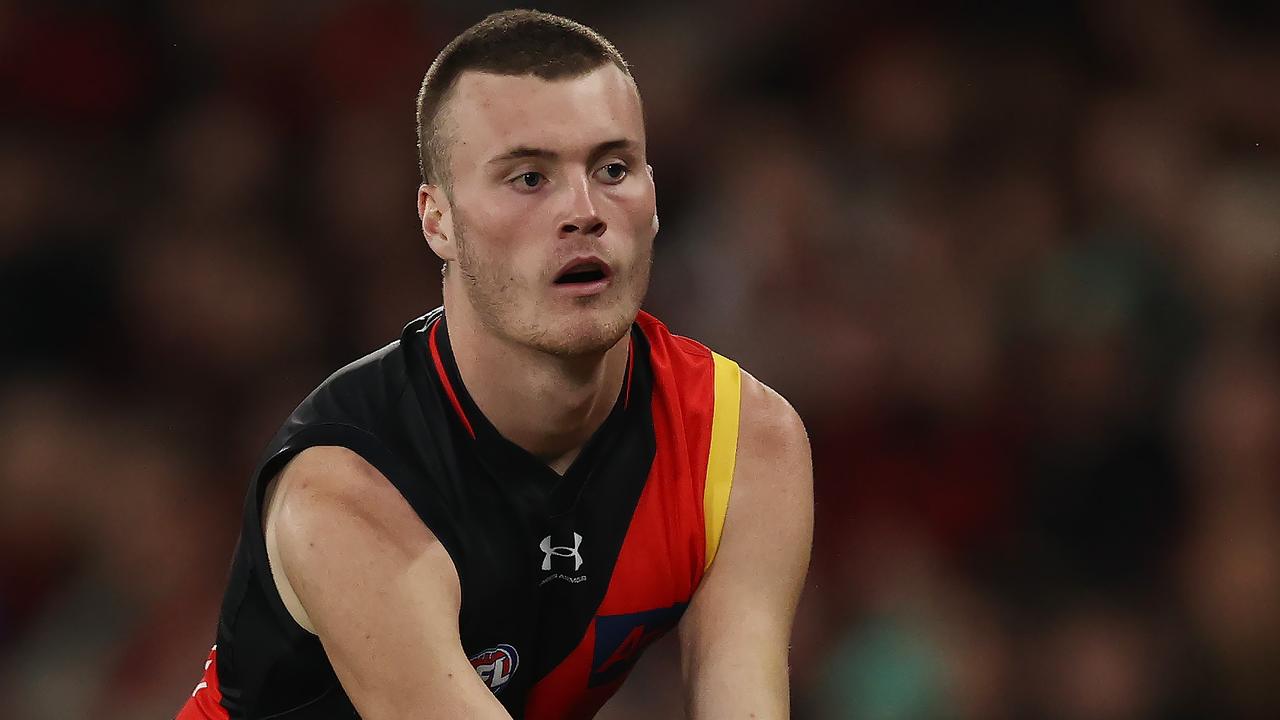 Nik Cox needs to bounce back to his debut-season form in 2024. Picture: Michael Klein
3. Nik Cox has to have forced an Essendon mainstay out of the side.
Cox arrived as an elite kick on both sides who could play anywhere and while his debut season was brilliant he still only averaged 13 possessions and was the unused sub in the club's final two matches of 2021.
With the wings settled the Dons hope he can play half back as a defender who uses his size to mark and instantly turn defence into attack.
Dyson Heppell's year just kept getting better after a rocky start_ above average in intercepts, disposals, kicking and intercept marks - so can he keep up that form to ward off the kids who want to take his spot?
Given Redman, McKay, McGrath and Ridley are locks, Cox must force Scott into some difficult selection decisions.
4. Essendon finds one over summer.
The club's value picks have been spectacular - mid-season picks Durham and Martin, Wright for a future fourth-rounder - so can one of the Davey boys break out?
Jayden Davey is coming off two knee recos but is a genuine fall-of-the-ball crumber who was ready very early in 2023 but instead rehabbed his body all season.
Will Snelling is gone, Jye Menzie broke out in 2023 (23 goals) and Matt Guelfi is a goal-a-game forward with above-average pressure (2.8 tackles a game in 2023) but can Jayden or brother Alwyn take a big step over summer?
Nick Bryan and Todd Goldstein will fight it out for the second ruck spot. Picture: Michael Klein
5. Nick Bryan trumps Todd Goldstein.
Sam Draper has a heap of rehab ahead of him after groin surgery, but the Dons hope he will be ready by round 1.
Who will play alongside him?
Coaches get frustrated at Goldstein who at times has been keener to amass possessions as a corridor option than a genuine down-the-line marking target with packs jumping on his head.
But they always play him because he's so consistent and racks up possessions and hitouts to advantage (9.8 a game this year).
Can Bryan realise his potential quickly enough to displace Goldstein?
The glass-half-full theory is that this year in eight games the 22-year-old was elite for hitouts and hitouts to advantage and won more contested possessions (4.8 a game) than uncontested (3.9).
He has a long way to go to be that second ruckman but it will be fun watching the battle over summer.
6. Kyle Langford proves he isn't a one-hit wonder.
Langford had to stand up in 2023 because no one else was there to help.
With Wright injured, Stringer lame and Guelfi often injured he emerged as a star with 51 goals, with daylight second then surprise packet Jye Menzie next best.
Can Wright and Langford coexist in the same team as dominant forwards both kicking 50 goals?
The signs after Wright's return were good - in 10 games together Langford kicked five goals three times in a row.
In one of those games against Sydney Langford kicked five and Wright four.
But both only averaged one contested mark a game, so the Dons don't really have a pack-crasher in the Tom Lynch or Max King mould.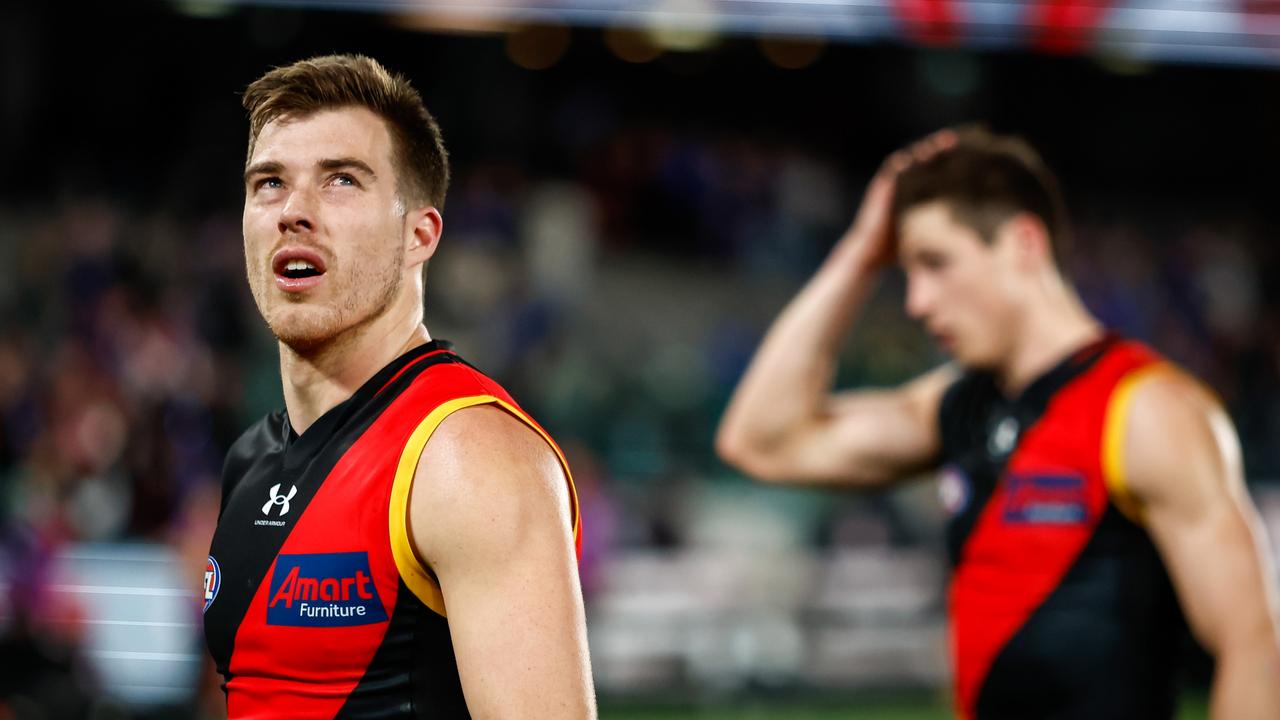 The Bombers are building a strong midfield group. Picture: Getty Images
7. Essendon starts bashing up opposition midfields.
In the first six weeks they face off against some up-and-coming and elite midfields - Hawthorn, Sydney and St Kilda, then Port Adelaide, the Dogs and Adelaide.
Scott is spoiled for choice if everyone stays fit - Draper, Merrett, Darcy Parish, Shiel, Caldwell, Setterfield, Ben Hobbs, Tsatas.
Tsatas and Shiel can explode from the stoppage and Merrett kills you with his disposal.
But where is Essendon's point of difference with its midfield? It's up to Scott to find one.
Finally he has strong-bodied mids like Setterfield, Caldwell and Hobbs who can impose themselves at the contest.
Right now their pace comes from whipping boy Dylan Shiel and while Tsatas will succeed him he too needs to show he can hit targets while on the fly.
Essendon needs a midfield identity. Can Scott carve one out?
This isn't one coming from us, it is merely Ralph doing his thing on clubs.
That's a fkg stupid article.
Picks Kelly in the best 23 at all. Talks up Setterfield, Caldwell, and Tsatas, and can't fit any of them in the best 22 either. Says there'll be a 'frantic battle' between Laverde, Baldwin, and Kelly for the third defensive post - and then picks two of them in the 23.
And who plays a fkg first year key forward as the sub?
Just poorly thought-out and edited word vomit.
If we have really good availability heading into round 1 (I know, I know) and BOTH Kelly and Heppell are picked then I'LL SPEW UP!
One is probably too many with a clean bill of health to be honest but I'll cop Hepp for 'leadership' as long as he's playing to a reasonable level.
If Kelly and Hep are healthy, Scott will 100% have them both in the team, sad but true
It's part of the media cycle.
Albeit they are starting very early.
Media will make a grand statement based on limited information.
It's all part of a setup so that when it inevitably fails, they then show how they were at the inflated height when they made the grand statement and that they have crashed so far.
It is done every year. Usually starts from pre-season games or after a few rounds of footy so that it hits the sweet spot at round 8 for all the 'what has gone wrong' articles.
The Essendon led hype won't begin ramping up until January. And it'll slowly ramp up into February as players finally get some continuity in pre-season training.
Ralph does this to us every year. Might as well offer him a gig in our marketing department.
A bloke who's not yet played a single game in the best 23. Right…
Kingy cranks the handle with his normal 'Bombers have to back up their talk' mantra in 2024. Probably because he like us "rusted on" fans, got burnt come that awful post bye and back end of last season.
But yep, he's right. So lets see what performances Brad can inspire and coach out of this refreshed EFC squad in 2024. And that selection and driving standards thing he likes to repeat.
Cant disagree he's right King