I so want this. More as memorabilia.
Id have thought boxy = straight panels = easier for smash repair given they are 4x4s and not SUVs?
Any blitzer smash repairists?
Ford came out and criticised the upcoming tesla truck for that reason. The panel beating would cost a fortune.
Ive seen a guy do that custom on a jeep here.
Would be fun.
Expensive cars in Australia though. (I think the RRP is creeping up in the US too but not to the same extent)
It looks and sounds more like a successor to Cosworth Sierra than the Mustang.
I have no doubt that it can out perform the other Mustangs, it just doesn't look enough like a Mustang.
Electrics have amazing performance but its the sound and rumble of the big v8s which make that video.
The electric car sounds like a blender
I have an EV and it sounds like a tram 'whoosh'. Very lame.
I have been to a couple of long distance LM /Sports car races in Zhuhai, all up 1000 km. Audi was dominant at the time in this particular branch of car racing. Ear plugs are a must and given out at the entrance gate. Now while the Lamborghini Gallardos with their V10 engine were screaming louder than anything else, the diesel powered Audis were whisper quiet. I puzzled over this phenomenon. Afterall l could hear the F1 cars in Melbourne quiet clearly going through the gears when l was in my parents backyard in Wickham Rd. Moorabbin, about 12 km away!
Someone told me that Audi had reversed the direction of their exhaust pipes, so that they faced forward under the car, muffling the sound as well as the actual gasses. I am not much of a rev head, but do love the sound of a decent V8, there is something primal about it, that no other cylinder configuration can match.
sound is such an important aspect of motoring.
Both the absence of it and the presence.
For those who are in the market for a Tesla Type 2 Wall Connector
There are a few for auction at Abbeys Auctions. Currently at $100.
Auction #2261 on Sep 1st.
https://www.interbid.com.au/abbeys/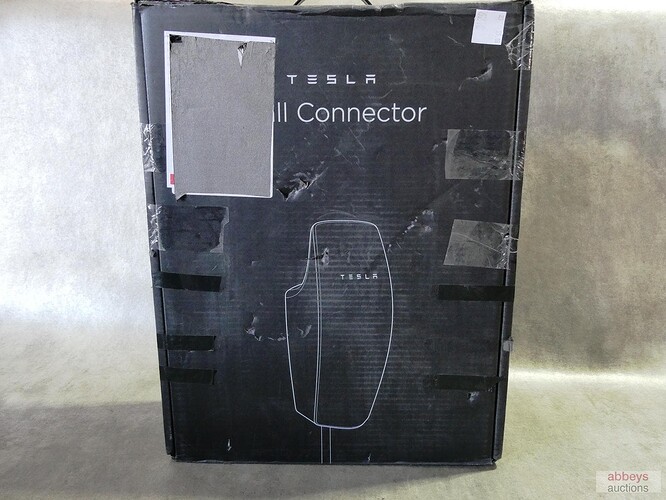 While we are here - if any Blitzers are selling a Holden or Ford ute could you message me please. Don't want something special just a car that drives well and is not yet another farking scammer!!
Not a ute, but how about a 2002 3.5 v6 petrol Jackaroo? Good nick for its age, 165k on clock. Going cheap.
Petrol motor, sorry. The diesel Jackaroo engines don't seem to have a very good reputation, but I don't know anything about the apparent issues.
Can anyone recommend a good set of car seat covers that are machine washable?
To fit a mazda(but universal probably will do). That can cold machine wash every now and again.