There are some great recipes on that site. I still think she has the best coq au vin and boeuf bourguignon recipes I've found.
She's spreading herself a bit thin at the moment. I seem to be getting an email every couple of days. Today it was roast potatoes, which are lovely but hardly a special treat. Not long ago it was a tuna sandwich that looked lovely, but far more trouble than I'll ever go to to make a tuna sandwich.
I made a similar tuna sandwich last month or the one before. It's definitely worth the trouble.

Well done. I was reading that recipe just today😂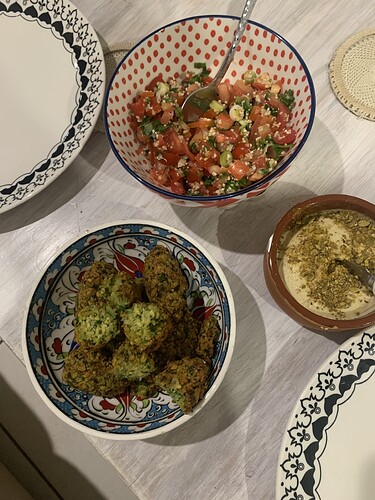 Had a crack at home made falafels tonight. Tasted good, but I had to add flour as they would not form into balls. I followed the recipe to the tee, almost, but they wouldn't form. Dry chick peas etc etc.
Maybe they were not dry enough.
Will try again soon when I have a couple a hours and a bottle of vino.
That's nearly every night mind you
Yum! I'm making some on the weekend!! Did you use Nagi's receipt?
I used this one I found on pinterest
Just looked up Nagi's recipe. I see she used flour

I will have some chick pea flour on hand next time if I need it. I'm on a mission now to see if I can do it without flour.
I have made hers many times and they have turned out great. Stop being silly and just use flour.
That's the spirit! Gluten-free shmuten-free! Although I have to admit I've never had a falafel that I've actually enjoyed. They always seem very dry.
I like the ones made from Nagi's recipe. With some good hommus they go down a treat!