Seven goal target met, the "easy" bit is debatable.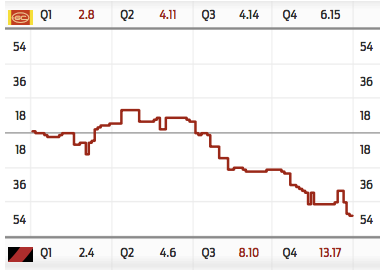 ■■■■■■■ terrible 1st half. Better second half but if we play like that next week we'll get smashed.
Did it in a canter.
Lol at y'all gloomers
Just as well it's this week then.
Tbh I thought we'd lose so they exceeded my expectation.
Other than that we're not playing finals and we've spunked a season of development up the wall.
And if we haven't got any kids to come in ti develop then the recruiters need to reassess what they're picking.
We won. Now let's never speak of that game again
That female umpire has amazing thighs though
Is it? New week starts tomorrow so it's next week
Ben McNeice isn't afl level atm. I really wish Redman wasn't injured.
If we could kick goals then we would win most games but we miss far too many important goals. The midfield did an enormous amount of work in the third to help us dominate but no one could kick a goal and the half forwards kept just bombing it to May who couldn't move from the 10 meter square.
Clean up that stuff and we start winning far better than we do.
Only decent thing about her, which puts her ahead of the rest of them
Got to play mutch, Clarke and Ridley.
This. If Ridley, Francis et.al are worse than this guy we are in a lot of trouble.
Surely now Guelfi has a NABS nod!
Just quietly, how is our interstate record this year?
But nah, no improvement.
Parish, Langford, McGrath, three of our top 5 possession getters. Again, no improvement at all.
Much better than Donnington's knod
If we played any other team tonight we would've lost. Including Carlton. So spare me this "bUt wE wOn" nonsense. If winning looks like this we won't do it often.
Would be a good story if we hadn't knocked off half the top 8 in recent months.