The master of the stiff arm, he is a forward who can also go in the middle or down back. He is a good mark and very strong.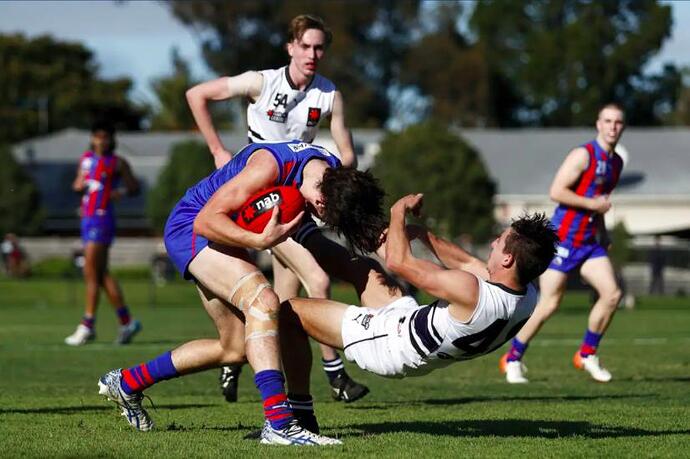 Your site had commented on how ferocious Hobbs & Voss are at tackling.
This is great news.
Very strong? Ambrose role sorted.
Lots of bandages. He'll fit right in.
So we have our Clint's Crazy Bargains version of Dunkley?

…and he's from Wesley rather than Xavier College!
Reminds me of another Patrick…Ambrose.
POSITION: Utility
SNAPSHOT: "One of the most physical prospects in the draft pool, Voss has proven himself as a marking threat at both ends of the ground."
Greater Western Sydney (GWS) Academy member Patrick Voss has impressed onlookers in his school and NAB league performances throughout 2021, making a name for himself with his physicality and ferocious approach to the contest. A tall talent capable of playing in all areas of the ground, Voss has found ways to bring his best traits in a variety of roles, none more so than his strength, making a habit of fending off opponents and laying heavy tackles.
STRENGTHS:
Contested marking
Strength/physicality
Tackling
Versatility
Reading the play
IMPROVEMENTS:
Voss has been plying his trade for Wesley College, where he boards for school, and Oakleigh Chargers when away from Turvey Park and the Giants Academy. He has been utilised in all thirds of ground, impacting consistently and using his size and strength to his advantage in the contest. Not one to shy away from showing that strength off, Voss made a habit of fending off opponents with devastating effect, rarely coming off second best when someone would try to bring him to ground. On the flip side, opponents rarely escape Voss' grasp as he applies terrific tackling for a player of his size - aggressively, too.
Perhaps as a product of his ability to consistently fend off opponents, Voss can struggle at times to get around opponents in open play, and finds himself trapped from moving up the ground. This lack of agility impacts his forward craft as well, when the ball is not delivered in front of him and he has to shift off the lead. Another area of improvement for Voss is his ability to hit targets by foot when moving at speed. While capable of big spirals, some of his rebounding plays are not as effective as they could be. This, however, does not translate as much to his set shots or kicking from a mark, which are usually reliable.
Where Voss does excel is in his marking, both up forward and in the backline. He consistently wins marking contests, even against taller opposition as he fights for front position and holds it well, nudging opponents away to protect the drop of the ball. His read of the play from defence means he can time when he drifts across perfectly and rarely gets spoiled, with his grip strong enough to handle the ball cleanly amid most contact.
DRAFT RANGE: Late - Rookie
SUMMARY:
Versatility and physicality are two key traits which Voss can win recruiters over with, able to bring a level of presence in each position he plays. Whether he be a marking target up forward, an interceptor down back, or a strong body in midfield, Voss has proven he has value on each line and is a terrific role player - true of the utility mould. He has some athletic attributes to work on and can add some finesse to his powerful traits, but remains a reliable figure who would be up for the rigours of senior football. He is tied to the Giants Academy and that may be his most viable avenue to the big time as a late or rookie selection.
Sounds like he gets the nickname Truck Jnr
GWS obsession continues…
Hobbs & Voss are going to crush some of our players during pre-season.
Feels like focus for 2022 will be improving contested possession and defence
Sounds like he'd rather a fight than a feed.
I like that.
So of our utility sized players who is he most like? I feel there's enough variety that he must be similar to at least one of them.
I don't see where he fits a need, and concerned on the agility comments. But welcome aboard Vossy.
It's a Voss. Sheedy would approve.
Maybe we have concerns about the 8 KPD's we have previously recruited.