If we're not 50-1 up early on, we riot.
So what is WOBS alter ego these days ?
I swear that's gon be the free kick count
umps walking into the stadium ready to stick it to essendon…
We gonna win tonight Walla?
AFL advises they have dispensed with Behaviour Awareness Officers in WA.
Everybody is already aware of the bad behaviour of WCE fans
Woosha after a big win in the post match presser
So, who will the WCE fans boo tonight?
I reckon it will be John Worsfold himself.
If Laverde kicks more goals than behinds we win.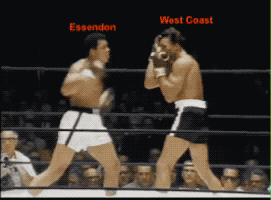 Ch7 news finished on comes this show. Its about the retirement village for ancient Australian soap actors. Fcs do they pay to appear on that show?
I am getting in early: we will lose…but then i am pretty sick so my gut feel might be slightly off.
Triple M covering the footy - Jay Clarke was saying there's a real sense of confidence coming from the Bomber camp about tonight.
It's unusual. We've rarely been perceived as confident going into a game. Hopefully the players will really flourish with it tonight.