BOOOOOOOOOOOOOOOO!
Sorry, wrong thread.
IN: Smack & Lav
OUT: JD & Bags
McKernan to fill the void

Essendon coach John Worsfold is confident returning key forward Shaun McKernan can fill the void left behind by injured star Joe Daniher.

Daniher will not be seen on the field for the remainder of the season due to osteitis pubis and Worsfold didn't hide his disappointment over the news that will see the goalkicker play just 11 senior games across 2018 and 2019.

"It's obviously really disappointing news that after a long rehab and rest period and working really hard to fix the issues that Joe had, as he's ramped up his playing load (the injury) is just lingering and still there," Worsfold said on Thursday.

"Our view is that it's not going to heal itself. We gave him plenty of rest and that didn't work, so we can't just think we're going to rest him for an extended period again this time and it will fix the issue.

"We need to explore how we intervene now and make sure that we give Joe every chance to overcome this and get back to full training and playing loads, and feeling comfortable doing that."

GM of Football Dan Richardson spoke moments ago about Joe Daniher's injury.


See Essendon FC's other Tweets


McKernan's return from a significant hamstring injury suffered in round three is timely and Worsfold said his addition to the side for the Bombers' Dreamtime at the 'G clash with Richmond on Saturday will be valuable.

"We absolutely think he can fill the void; he was in good form earlier in the year.

"His workloads over the last three weeks have been enormous. He was probably thinking he was ready to play three weeks ago, but he had to tick a few other boxes to make sure there was going to be no recurrence of that hamstring.

"He's match-fit and ready to go for us, which is great considering the fact that we haven't been able to consider Joe this week."

The Bombers will be buoyed by the return of Shaun McKernan this week. (Image: AFL Photos)

The second and final change to the team for the blockbuster is the long-awaited return of young forward Jayden Laverde, who replaces experienced Bomber Mark Baguley.

SEE THE FINAL TEAM FOR DREAMTIME AT THE 'G

Worsfold heaped praise on Laverde for his hard work getting back to full fitness in recent weeks following his own hamstring concern.

"He's worked really hard on staying at peak fitness level. With this injury he didn't miss too much running, he's kept his sharpness.

"He was knocking on the door for selection a few weeks back and (we are) really keen to give him a crack at it now."

Jayden Laverde will play his first senior game of the season against the Tigers. (Image: AFL Photos)

Baguley is a victim of a change in team structure this week according to Worsfold, who said the 32-year-old was unlucky to be omitted.

"'Baggers' brings a lot to the team and he's actually been playing his role pretty well, but we're having a look at a different structure this week," Worsfold said.

"We're working hard on getting the right blend of players. We haven't been able to have stability up there but with Laverde being a bigger player it gives us a different mix and a different look.

"It's just unfortunate for him that this is an opportunity for us to explore the way we think the forward line might function and he's the one who has had to make way."

The game will begin at 7:25pm at the MCG, following on from the VFLW Dons at Punt Road Oval at 12pm and the VFL Bombers at the same ground from 2:30pm.
Very impressed with the selection committee last 2 weeks. No more ■■■■■■■ around it seems. I thought for certain myers would come back in, kinda shocked that Smack and not Brown came in, but Smack is needed more as he can pitch hit in the ruck better, hopefully hes recovered. Lav in, if he can stay fit, and thats a big fit, will be a best 22 week in week out. When hes on i absolutely love him.
I see you with the copy paste
Hard agree with what you're saying though
Good changes, Bags has been treading water the whole season and has really struggled.
Happy to se Ivan Drago and Shaun back in the team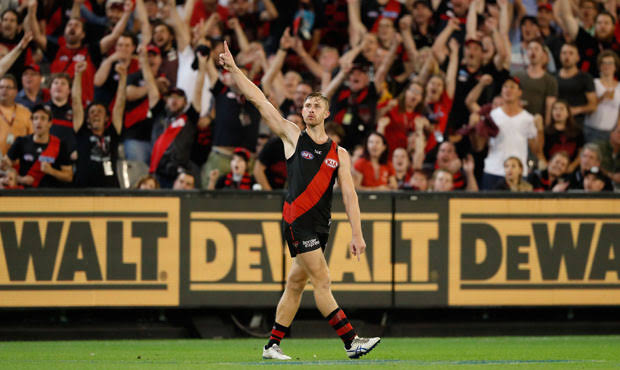 Sad about Joey but from what we have great changes
Exactly what I wanted to see.
Hopefully Myers and Bags are viewed as depth from here onwards
Tall forward line, very slow forward line so expect the ball to be coming out of the 50 very quickly.
Wet night
Cold night
Bring in 2 blokes straight back from hamstring injuries.
Sheesh
Do you like anything the club does at all, anything?
Smack and LAV in
and Bags out
and Myers still in the twos
Worsfold must be scared of Blitz's cannon.
We should get a quarter out of LAV.
LAV will kick 3 before doing his hammy again.
Those in show they've learnt nothing. Daniher out foe the season due ro mismanagement…
Lets bring in a guy straight off a 6 week injury , and alao lets bring in an injury prone player who breaks down in the vfl constantly.
Like the changes. Love Smack and now is time for laverde to show us he belongs.