Do we watch the Preliminary Final the week after?
The 1984 prelim?
Yes, yes we do
So I was at finals in 1989. I was 7.
I remember thinking during the prelim - what the hell is going on???
Above edited for no spoilers.
Tonight

Haven't watched a single second of this game before. Looking forward to this one.
Neither. And I won't miss this time.
I was looking forward to last week and spaced out.
I tell a lie. I watched a 4 min stretch in the 2nd quarter to check video quality
l am pretty sure l can be there for the game.
Money on Boris for a big one.
Last 3 weeks:
20 possesions, 2 goals v Melbourne
15 possessions, 3 goals v Sydney
27 posessions, 3 goals v Kangaroos
He's in great form right now, and he'll be too good for whatever slow plodder they send his way.
Great to see young Barnesy keep his spot too. Was good last week - 17 possessions and 7 marks. Plays well here, he'll make it hard for Fish to get back in. Reckon Barnesy could have a long and decent career with us.
Here's how the finals were formed: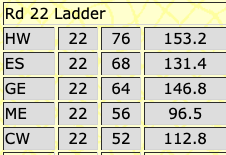 We had different types of final round games: we beat finalists Melbourne by a few goals, and Geelong destroyed perpetual wooden-spooners Richmond.
Will be at least 20 years before Richmond are relevant again