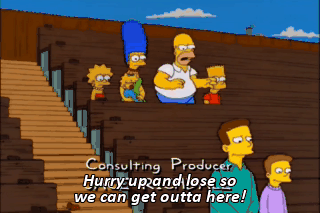 @Saucy soz, stealing your material
100 point loss, Franklin to kick thirteen… ThirRRRRTEEEEEEEEEEN
Meh, pass. Have better things to do on my Saturday than watch this mob. Hope we get thrashed anyway, can't bear to hear all the happy clappers come out of the woodwork if we win
Anything less than 60, the bin chickens aren't trying
Seriously, why are you even in this thread? If you're not interested, go enjoy your better things to do.
Been a while since we had a old fashioned 10 goal+ thumping, so today expecting a thrashing 66 points plus to swans, buddy to have a field day.
Will lose dont think it will be a thrashing reckon 20-30 points
Step aside losers, WE'RE GONNA ■■■■■■ WIN. YEAH LET'S DO THIS.
Team under the pump.
Coach under the pump.
Blow torches front, left and centre.
Tough questions being asked.
Some fans unhappy.
Some fans very unhappy.
It's one of those games.
At least we dont have to put up those annyoing clapping sound that the swans fans use
Hope stringer gives Parker hell. Smashes in all day
I've gone against my own advice of not attending any other games in 2022 (from about Round 4!) and am here.
Why? Why? Why?
Hoping for the best, but fully expecting the worst.
Heroic upset. Dons by 9. Lose to North next week.
Have North merged with Brisbane in the last day it so?
Play brisbane at the gabba next week