He is gone Ace.
Even if he is still in the building, he is gone and now irrelevant.
Question for AFL members…….do you prefer it to the club membership?
Tossing up if I should go AFL or club membership and just interested in the pros and cons from those who actually have them.
I have been AFL Member since it first started over 40 years ago. It used to be great, as you could rock up at the G and just walk in and get good seats, and you were guaranteed a GF seat.
But AFL got greedy, and now there are many, many more AFL Members than seats and we find trying to reserve seats at the G for Bomber away games to be crap. The top of the Warne Stand is a poor place to watch footy, so this is our last AFL Members year.
It costs me about $750, and for the few time we use it, I could buy better seats anyway.
We are High Mark Members have good seats at the G and Marvel for home games.
The only advantage to having a full Gold AFL Membership is Grand Final tickets. Regardless of whether your team is in it or not, you have a greater chance of tickets and get priority before club members.
There is probably a long wait for Gold Membership though. It was 8 years when I joined and ended up being 10ish. Might be longer now.
I'm still fine to hang on to both my reserved seats through the club with the AFL membership covering entry to ground.
AFL membership allows you entry to 40 games in a season. Any games in Victoria regardless of whether your team is in it or not.
High Market membership next year is $995.
A high price to pay for more misery!
I was going to upgrade my silver membership to one. Might hold off until we get a bit better!
By then it may be sold out, they're usually harder to secure in better years… You'd be getting a good seat getting in now when there's be a few seats available with turnover.
Just read this thread and got my renewal email, paying a lot more it seems for nothing extra. Not sure I can afford the renewal at the moment to be honest
I'll see how we are tracking end of next season. I'm planning on going to europe anyway in August. I'd imagine there would be a number of members scaling back in light of $$ increases and continued poor performance.
The key question is do you want to attend more than EFC games? If yes, an AFL membership is probably the better choice.
I regularly attend with my non-EFC partner, each other's games plus any others of interest. Week to week there's usually always an option to walk-up to an MCG or Marvel game.
From research I did a few years ago the higher end EFC memberships cost more than an AFL membership.
My renewal for season 2021 was $120. For the same seats and level of membership for season 2024 it's $197. How can they justify that big of an increase?
Just received e mail saying they will automatically deduct amt mid October. I now hold a digital membership only. Last year a one off Kayo offer was added and paid for. E mail just received saying they will deduct the same amount plus an increase not taking into account that one off Kayo was a bloody one off , to be deducted mid October. Just sent message saying no roll over requested and cancel everything until I contact them next year. I am really angry that they just did this without further consultation., let alone the amount was so much higher and incorrect . Not happy guys.
The four game went from $99 to $110. It's not a big difference, but it's funny how much it looks like one.
I'm just glad there are more options now than there were 15-20 years ago.
I didn't know where to put this but a big expose into AFL club engagement in the HS this morning. Shows how Essendon has really fallen away from our rivals when looking at how engaged our fanbase is.
The current generation of social media is Tik Tok and Instagram. Essendon is well and falling further adrift if other big clubs.
It proves two things I've been harping on about for a while:
Our fan base is disengaged
Our clubs social media and general fan engagement efforts are really poor compared to most clubs and this is exacerbating the lack of engagement. This is a challenge Vozzo will need to address, and it's not just about wins btw.
We are seeing a great example of what great engagement looks like. Collingwood's social media output and club / fan connectedness is becoming a thing to admire, they're 19th man.
The external review highlighted club realised fan engagement was a major problem and priority to fix. These stats show the scale of the challenge before them.
Winning games certainly helps but the general ineptness of our fan engagement and socials content is so in Essendon DNA and with membership prices rising 8-9%, there's lots to be fixed.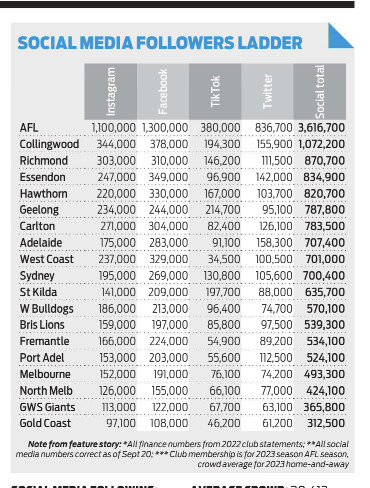 The Gold Coast team must be awesome; the only ones better than GWS!
Got my auto renewal email yesterday. I downgraded a few years back because I basically never go to games any more, but the auto renewal process is auto renewing me for an upgraded, significantly more expensive package. Time for yet another call to member services. And of course you can't fix it online because the AFLM 2024 membership options aren't even listed online yet.
(Also, I pay for my nephew and niece's skeeter fleet memberships, and holy crap you have no idea how hard the club finds it to handle one account paying for multiple memberships spread over different addresses. They stuff this up EVERY year)
Yep, ive gone from a 3 game membership for my son and i… 10 years later its become an 8 game membership cost 470… did i miss something?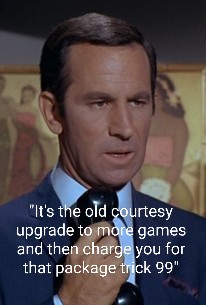 How much would have to do with fan base demographics? Does the lack of recent success mean we just don't pull in the younger fans' interest?
Yep, unless being brainwashed by their parents who the Fark under about 25 years old would willingly support us?