Are Steph Hird and Maekala Long in our VFL team?
Steph is development rookie and Michaela isn't on the list anymore.
Steph played last week in the intra-club after Collingwood pulled out. Kicked one of her team's four goals and had two other set shots from too far out — her kicking range looks to be only around thirty metres.
I wouldn't be surprised if she could handpass further with her tennis background.
This is cool. Hope she makes it.
Join Essendon VFLW PLEASE Sara.
We had a Texan, a Canadian and French train with us all preseason

Can't wait for the punchline.
Are tatt sleeves allowed at Essendon?
Cecilia McIntosh and Essendon are a perfect fit.
The recently retired Collingwood AFLW player is affectionately known in footy circles as 'C-Bomb' but at the Magpies, that nickname evolved into 'Bomber'.
And now the 39-year-old is one.
The Commonwealth Games representative (javelin) and Winter Olympian (bobsled) has signed with Essendon for the 2019 VFLW season, bringing a wealth of experience not only with the Sherrin but as a professional athlete.
Earlier this year, McIntosh told The Age how she worked in supermarkets while chasing her elite sporting dreams for the past two decades.
While her AFLW days may be over, McIntosh tells essendonfc.com.au she wasn't ready to call time on her career altogether.
"When I retired from AFLW I still wanted to play VFLW and I'd always hoped to go back to Melbourne Uni where I played my footy. I spoke to the club and they said I could come back but I'd have to play VAFA because of the points system in the VFL,'' she explains.
"I spoke to Collingwood about continuing with the VFLW side, I reached out to Hawthorn and it was getting cut throat a few weeks out from the season.
"The week before Easter I spoke to (Essendon footballer) Kendra Heil and asked what Essendon's list was looking like. She told me to email Ash Brown (VFL football operations manager) which I did on the Saturday and first thing Monday morning he replied and called me.
"Tuesday I went in for a meeting and spoke to Ash and (coach) Brendan Major and signed the next day. I was over the moon."
By Thursday, she was at The Hangar to meet her new teammates and train for the first time.
"I love it here. Knowing I was stepping down from AFLW I thought I might be taking a step back in terms of performance at an elite level but I've walked into the club and feel like I've gone up a level,'' McIntosh says.
"I want to help other players get drafted and with Essendon having such a young list and winning one game in their first year, I feel like I can contribute and help them grow.
"The club already has an AFLW feel the way they go about their coaching, the medical staff and also the direction of how we want to play football I've bought into already. At Collingwood, I didn't agree with what they were doing structure wise and the way they wanted to play, I don't believe that was the way we should have been playing but at Essendon I'm all in because I think this is the way footy should be played.
"The facilities are fantastic and the Bombers ticked all the boxes."
And while C-Bomb has embraced the Bombers, she in return has been welcomed with open arms.
"I've been used to knowing my teammates for a long time because I was at Melbourne Uni for 12 years then when I went to Collingwood I'd either played with, or against, three quarters of the team already so it was kind of easy,'' she recalls.
"Coming to Essendon, I knew a handful of people and it scared me a little bit that I was new. It was kind of daunting but as soon as I walked through the doors each of the girls welcomed me like I'd been there forever.
"It was really cool because I felt accepted straight away and like I was one of them already."
McIntosh says she's looking forward to seeing the list grow and program continue to evolve as Essendon becomes a destination club for women's footy.
"I want to be a part of continuing the culture, which is already spot on at this club, so players want to come across to play VFL but when the AFLW team gets going they want to play for the Bombers as well."
A hamstring complaint will keep McIntosh out of Saturday's season opener against Casey Demons at Windy Hill, but she is on track to don the sash in round two against Geelong.
And a new role awaits the veteran.
"The first thing Brendan (Major) said when we met was that he wanted me to play on a wing and that he felt my best footy is when I play free,'' McIntosh says.
"I played a shut-down role in AFLW, did pretty well and stopped my opponents from kicking goals but I didn't feel I played that 'C-Bomb' game I used to at Melbourne Uni - my trademark run and carry game. Hopefully I can get back to that and playing on the wing I'll get that freedom.
"I can't wait to get stuck in."
I think we might be alright for cult heroine replacements for Mackrill.
Arthurina 'Rina' Moreen (who designed the club's 2018 Dreamtime Guernsey), Jessica Stassi and Freda Puruntatameri will all don the sash this year to continue to strengthen the club's deep connection to the community, and Major said the new Bombers add unique talent to the squad.
"Those three individuals, I met them at the end of last year when I went up and did some football clinics at their school. They're exceptional football players," Major said on The Essential Listen .
"The football that's played up there is a little different to down here; it's not quite as contested.
"Their skills are exceptional, their speed of play is exceptional and they read the ball better than a lot of players that have grown up playing football in Victoria.
"They bring a real x-factor, they bring something different, they bring really specialised skill and speed to the game, and a slickness that we're really excited to harness going forward."
Major said while women's football may often be lacking in organisation on the islands, the Tiwi community's affinity with the game can be a huge advantage for the gifted trio.
"I know it's not as structured in terms of training, structures, expectations and things like that – it's not the same up there.
"But what they do bring is they're out kicking the footy all the time, so their skills (on their) left and right foot are just exceptional.
"That's the strength that they bring, that they see the game and play the game differently to what players in this area do."
The VFLW Bombers recorded just one win in their inaugural season last year, but the development of the young group was clear to see.
Major echoed his leaders in saying he has high hopes for further improvement this year as the side looks to produce an exciting brand of football.
"A lot of people have said to me that it was a tough year last year and it didn't really feel like that, because there was a huge amount of development on and off the field," he said.
"When you're creating a whole new program, it's going to take time. And yeah, we would have loved to win some more games.
"This year it feels like we're starting off at the 100-metre mark in a 400-metre race as opposed to the start.
"The players have returned in really good nick, we've recruited well, they're moving really well, moving the ball well, so we're pretty excited about what they're going to be able to produce this year."
The Bombers will be aiming to kick off the year with a win against Casey Demons at Windy Hill on Saturday and Major said the clash is a good early test of how far the Dons have come.
"I'm hoping to play an exciting brand of football, we've focused a lot in the pre-season on ball movement and we've recruited some athletic and some really fast players, so we're really hoping that that can shine through on the weekend.
"Casey, being an AFL-affiliated team, is going to have a really strong side, they'll be really well-coached, they'll be really well-drilled. I expect them to be strong, to be structured up really well and defensively to be really well set up.
"I'm really interested to see how we go against that level of competition."
The first bounce is set for 11:30am.
not to totally diminish this achievement, but it hardly counts when the afl and clubs are scouting anyone with a modicum of athletic ability that might translate to afl footy.
if the league was 100 years established then it would mean something?
Could go anywhere, but it's mostly the women. The videos are pretty nice.
Ugle helped coordinate a special photoshoot with the club's Indigenous players on Tuesday, following on from a brilliant cultural awareness session at The Hangar featuring the legendary Michael Long.
She said it was an honour to recognise the contribution of Indigenous people in the red and black and to help set up the huge week at the club ahead of the Dreamtime triple header against Richmond on Saturday.
"I helped coordinate it, because at this club we're very passionate and proud of the Indigenous people that we have had come through and the Indigenous people that have paved the way at the Essendon Football Club.
"I just thought it would be an honour to stand here with the Indigenous players that we have today and to represent our culture and this club altogether as one.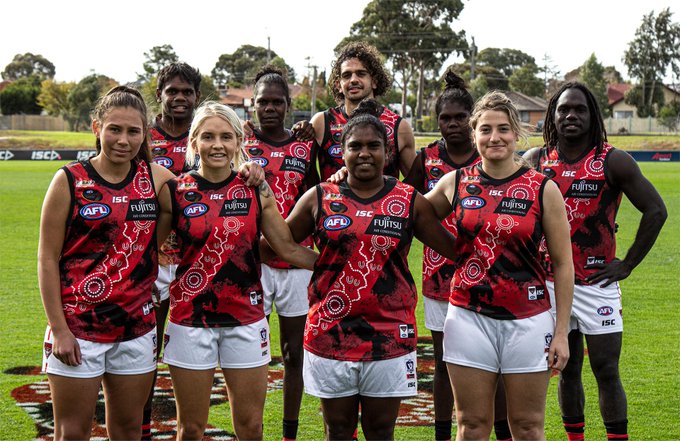 "I just feel right at home, especially when you talk a lot about our culture and embrace the rich history that we have, I think that's something that the Essendon Football Club does really well.
"To be a part of that makes me feel really good and makes me feel at home. I'm just really proud to represent my people and this club."
Ugle said Long's legacy lives on at Essendon in the way the club's Indigenous players are embraced.
"We all love Longy's story and I think it's a true testament to what he has done for this club and that shines through with the amount of respect and support that we, as Aboriginal people, do get at the club.
"Longy and the past Aboriginal players have definitely paved the way for that to be possible today."
The 22-year-old was named VFLW captain this year and while she is proud to take on the extra responsibility, she said it hasn't changed her as a person.
"I've always said that just because of that title next to my name, I don't want it to change who I am.
"Without that title I'm (still) very supportive and have genuine care for the players and it's just that extra special care that I have with the Indigenous players coming through, I kind of take them under my wing.
"If I can be their role model or someone that they aspire to be like then I wear that proudly.
"Being the captain, I don't want to change and I just want to stay true to who I am and hold my values up high, and hopefully that filters through the club."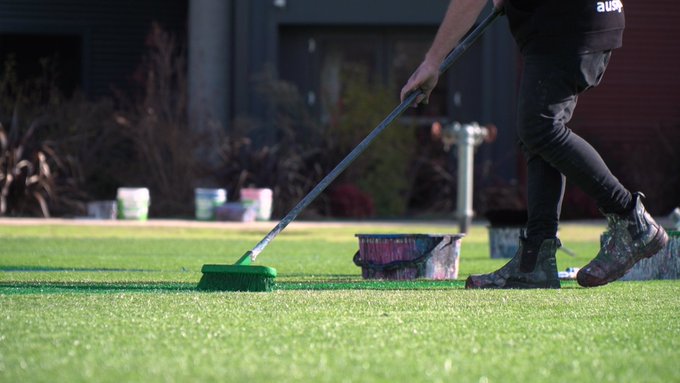 Ugle was full of praise for her Indigenous teammates Arthurina Moreen, Jessica Stassi, Freda Puruntatameri, Elise Muller, Krstel Petrevski and Ally Anderson (absent at the photoshoot), and said they continue to inspire and support her every day.
"These girls are the reason why I do what I do," she said.
"I love giving back, but also having these girls to lean on is good for me and I hope that I play a part in being good for them on their journey here.
"Being surrounded by the Indigenous girls makes me feel right at home here."
Ugle's side will take on the Tigers at Punt Rd Oval at midday on Saturday before the VFL Bombers take to the field at 2:30pm, followed by the senior team's Dreamtime at the G clash at 7:25pm.
Hayley Bullas is our special guest on the "Women's Australian Rules Football" mid-week show, tonight 6pm on RSN927's digital channel, Carnival. Also via rsn.net.au/digital-radio-2
Interview is at the start of the program and goes for 34 minutes.
I'll post here the link to the podcast version when it goes live on Thursday.
VFL website is funny. On the weekly stats summary they note Moana Hope as the story of the week with 39 disposals, 10 clearances, and 10 inside fifties (in a losing team and within 80 minutes)… and then just barely scrape her onto the interchange bench for team of the week.
Annoyingly, Jessica #1 Trend was top possession-getter in the team that beat Moana's Willy, and Bridie Winbanks topped the league hitouts and also laid ten tackles.
Our interview with Hayley Bullas:
The very brief summary of that interview is at:
ALLY Anderson is comfortable feeling uncomfortable.
Fresh from a brilliant AFLW campaign for the Brisbane Lions, Essendon's boom VFLW recruit has moved south for the winter to challenge herself.
The 22-year-old midfielder, who averaged 21 disposals a game for the Lions, says it was time to trek outside her comfort zone.
"The last few years I've wanted to give VFLW a go and try it. I said that to my manager (Alex Saundry who is playing with Essendon this season) during the AFLW season and she put it in the works. It was also a great fit because the Bombers don't have an AFLW team yet but they have an elite environment so there was no conflict of interest coming down here from the Lions,'' she tells essendonfc.com.au.
"I've played at Coorparoo (in QLD) for two years and it's the best club ever, it's so good, but I'm down here because I want to be out of my comfort zone.
"It's my fourth week here and it's been a bit of a challenge because the style of footy is different – back home I'm used to that Queensland style because I've played it for so long. I've played three games for Essendon now - the first game I played half a game, a bit more the second game and by the third I was starting to find my feet. It's definitely not comfortable yet which is a good thing.
Ally Anderson (kneeling, second from left) joins Essendon VFLW's fellow Indigenous players in a pre-game war cry against the Tigers. (Photo: Ben Johnstone)
"With footy, I've always had that approach. I was comfortable and liked it at Coorparoo but I came to the Bombers because I'm always looking to get better and I really think that's the only way you can get better – if you do things that aren't comfortable."
Anderson arrived in Melbourne last month and donned the sash against Geelong in round two.
"I got off the plane and went straight to The Hangar and had my first training session that night. Walking in for the first time, the facilities were amazing and the way everything is run by the staff and coaches it felt like going back into AFLW season with the Lions, it's the same environment,'' she says.
"I've been welcomed with open arms. The coaches have all been very helpful, involved and they're very passionate and that makes it easier because we're all here for the same reasons.
"The girls have been really good too. We've got some experienced players like 'C-Bomb' (Cecilia McIntosh) and others who have played AFLW and they're teaching me things and then we've got some great young girls and I find myself giving little tips here and there which is developing that leadership side of my game."
Anderson took her own game and form to a new level in the third instalment of AFLW, earning All-Australian selection and claiming the Lions best and fairest.
So, what was the secret to her 2019 success?
"I felt like I belonged. I'm someone who's always doubted myself a bit but going into season three I felt like I belonged and to then, at the end of the season, get reward for that effort was really exciting,'' Anderson explains.
"I remember going to the W Awards last year, everyone who made the All-Australian squad was invited but only half were picked in the team. I was one of the ones who didn't make the team. I was completely fine about it, I was rapt to be considered to be invited, but I remember sitting there and thinking 'that's my goal to make the All-Australian team'.
"After the first year of AFLW a goal of mine in the future was to get the Lions best and fairest so to achieve both this season was something I was really excited about."
Ally Anderson in action for the Lions during last year's AFLW Grand Final. (Photo: AFL Media)
Now, Anderson is focused on playing her role for the Bombers and adding more wins to the season tally while also working hard on her own game.
"My disposal efficiency and game smarts, that's what I'm really working on. Oh, and kicking goals, I'm not really that great in front of goal, I always pass it off, so I'm trying to work on it now so hopefully it comes off in AFLW."
And while a Melbourne winter has taken some adjusting, there's one important thing Anderson has quickly adapted to.
"The coffee here is delicious, I love it. I'm a massive brunch person too, I'd eat bacon and eggs every day,'' she laughs.
"The first week I moved to Melbourne I was having five coffees a day because I was so excited."
A mid-ish season summary of where we stand (or do not stand) in the individual stats.
Disposals: despite two dud games, Bullas is eighth with 101 (leader has 150, second has 121).
Goals: no one in top ten. Ex-Bomber Ponter is sixth.
Marks: no one in top ten
Tackles: Bullas has slipped from first last year to third (44), possibly because Audley is fourth (43) and Fogas is eighth (39). Leader has 54.
Kicks: Bullas is fourth with 75 (leader has 99)
Handballs: no one in top ten
Hit outs: Nalder is fourth with 129 (leader has 171, second has 140). Ex-Bomber Bridie Winbanks is sixth with 116.
A similar comparison is in the VFL thread.