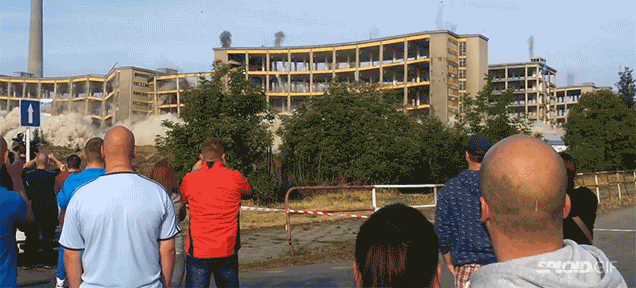 Another angle
https://www.youtube.com/watch?v=YMKriXeqU14
Man escapes being hit by stray rock from controlled demolition by inches

A video has emerged of what appears to be a flying chunk of concrete narrowly missing a spectator at a clothing factory demolition in the Czech Republic

This group of onlookers may have thought they were standing at a safe distance when they gathered to watch the demolition of a textile factory in the Czech Republic.
But as the OP Prostejov clothing building collapses in a controlled explosion and smoke begins to rise, a rogue chunk of rubble the size of fist of can be seen flying towards the bystanders.
One man ducks just in time as it whizzes past his head and almost hits the person holding the camera.
The close shave has been watched over 250,000 times since it was posted on YouTube on Sunday,