Here are updated Blitzcoin holdings and Rankings after R10 glorious victory over GWS.
These include best player bonuses - best players are highlighted in blue.
Click on any pic to open slideshow with larger images.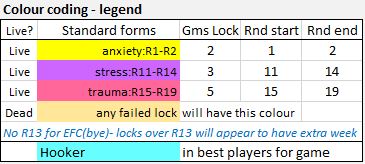 The new podium is @Kj_11 @Nocturnal and @Slowstu who all got a Trauma payment this week.
@Klawdy has 2 more weeks to ponder why a 100% Stress lock isn't the best option he could have made (and it isn't because Hurley wasn't selected).