Not enough love for Caldwell. He works his backside off and does a lot of heavy lifting. No one seems to notice him. And until I watched the replay I must admit I thought he played just ok. He is a very important cog in our machine.
Zerk landing 4 from someone it seems!

Hard match to review because the opponent completely capitulated after quarter time. I think that could be the worst AFL squad I've seen since us in 2016, chock full of kids and VFL players. Some of their skills were just woeful.
Some really positive signs for us after half time. We didn't allow easy transition, we had good forward half pressure, shape behind the ball seemed to hold.
I liked Merrett's renewed defensive focus, having him and Setters around the ball and really dumping blokes changes the dynamic.
Martin and Perkins were VERY good with ball in hand, hopefully that translates to better opposition. Some of Perk's kicking work in particular was sublime, see the Harry Jones setup in Q1 for a prime example
We covered Newcombe who tore us apart last year really well, and the tag on Merrett completely failed because Parish went berserk.
Half back line looks like it could be the best in the comp. I wouldn't be surprised if rids, McGrath and Redman kicked more goals than their opponents today
Negatives:
when they got on top of us in the first we really dropped our heads. Good on Merrett and Setters for massive tackles that reset the tone

poor defensive work and half arsed chasing let them get on top in the first. Each goal was the result of a clear error
BZT and Laverde spoil each other
Poor defensive running by Caldwell who slowed to a jog and let Amon sprint away from the contest and goal
Ball comes out too easily from the centre because shiel gambled on the centre bounce setup, 3 x missed tackles by rids, McGrath and zerk
Space left open to run into in the forward pocket (nothing ■■■■■ me more than this). Think Davey got sucked up the ground following a dummy lead and Parish/Merrett didn't react and guard the space
Really poor defensive running by Weed who jogs next to his man while Jiath sprinted ahead
if we have a patch like that against a good team it's a 5 goal break and then game over, we were able to turn it around against the hawks though
Just can't see it with Weed yet. 3 marks and 2.1 against the worst team in the comp isn't going to cut it, hope we see a bit more from him in the next couple of weeks otherwise I'm wondering why Voss or Baldwin isn't playing that role.
Alot of people on this forum have been banging on about wanting "Elite kicking! Elite kicking!"
I've never been hugely concerned with our kicking, but mainly our decision making…. Lowering the eyes, and stop bombing long to a 20 player contest on the wing.
But the new game plan is clearly about kicking long into space for a one on one contest, driving the ball forward at all costs, and being very aggressive with hitting kicks to the benefit of team mates.
I think we might get exposed against better sides…. Especially against teams who play man on man, and are better contested marking teams.
Funnily enough, this game plan is absolutely hand made for Perkins. Contested marking, aggressive kicking, driving the ball forward at all costs…. That's what he does.
wob's night? Sounds like it was very nice
just got home, zinger box and bed for me!
Very happy with the performance.
Granted, the Hawks look to be spoon contenders, but you can only beat what's out there.
Loved Merrett's captain's game. Did the hard stuff when the tag was on which made the rest of the midfield look better, then cut them up in the second half. A great game tactically: dragged the tag into uncomfortable areas, tackled with intent, and to cap it off made a real point of trying to find Tippa in the last. All canny moves that improved morale.
Setterfield had a great club debut. Thought our mids were more confident spreading from the contest when he was in there. This led to our clearances being cleaner than any in recent memory. I was reminded that we have some skilful users when they're not under immediate pressure.
Redman and Ridley are an awesome defensive pairing. Opposition is going to have nightmares trying to nullify them.
And then Perkins!!! What a player we have On our hands. Just a super destructive game. Could easily have kicked 5. Can't think of many defenders who could cover all of his methods of doing damage. As has been mentioned, his kicking to touch was sublime and he plays with such spontaneity and instinct. Think he relishes being the no 1 medium without stringer there. Interesting to see how they work together.
Parish was at his mechanical best - 3 votes for mine. Just doesn't stop moving, collecting, driving forward.
And finally a bit of speculation: Imagine a fit and confident Nik Cox getting in on a performance like yesterday's. It'll be ugly for whoever is on the receiving end of that transaction.
We'll have some good times this year after all.
GO BOMBERS!
Gotta love Monday nights. The 7-8 Essendon fan podcasts release their pods at the same time.
Come on guys! Coordinate yourselves!
Lol, I had the same thought
Essington won't be killed that easily. I feel there's plenty more Essington left in us this year.
On the couch showed footage from the weekend.
The effort from Essendon. The run and chase. Was fantastic.
Watching the replay.
Chad Wingard 1st quarter goal finishes with a white surpremest hand gesture.
Please someone put his c*nt in the bin.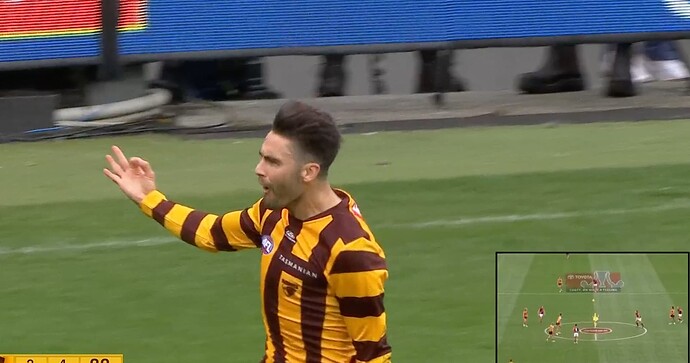 Yep! Massive belief of mine when you get a new coach.
Good example is pies and blues last year.
Main negative from me is we should have won by more.
So many easy shots for goal or easy targets inside 50 missed.
He's aboriginal so I doubt that's what he's doing.
Exactly that. And all you need is those few games to build momentum and self belief.
We have a similar opportunity with our early round draw - hope we can embed some confidence into the group over the next few weeks.
You're overthinking this one, mate.