Dons by 8 because after last week I've lost faith in our efforts
Fk me 2 hours between vfl and afl sirens
Essendon by 50+ points.
Wright to kick 8+ goals.
North are absolutely cooked.
Loved this one a few years ago.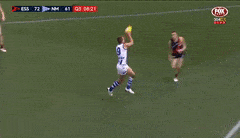 I'm a little too eager lol
The only clip involving north Melbourne was Hurley bulldozing through someone with Dempsey2ryder screaming BANG NAILS THE ■■■■
if we are going to feast on a thumping this season surely it has to be today
at the very least 4 qtrs of strong footy
I'm still ■■■■■■ off at zurhar for taking out hurleys shoulder
The ■■■■ I'm meant to do for 120 minutes, talk to my family?
North to be freshened up with a new coach and approach.
I am not at all confident that we will play well this arvo.
The later the AFL game, the shorter the wait afterward for the Herbatron video.
Nah what ever hope they had with the new coach was crushed last week by Hawks
Arrived at the ground an hour ago to go have lunch. Walked from southern cross to Docklands. I thought arctic park was bad. It is cold today. 2MP 8 goals. Bombers by 101.
Bombers should win by 50 points but I'm thinking it will be a 10 point grind
dont put undue pressure on a genius
isn't that why parents spend thousands on ipads?
4:40
What a horrible time slot waiting all day
It'll be a close affair and we will limp home with an underwhelming win.
Only good thing is your weekend isn't ruined by an early loss.