Not yet, we need some teams to finish below us
Why not bring in two Scotts? Brad and Burns.
Shall we exhume the Bon as well?

I didn't know of that one. Good get @JohnRain
Nick has retired and Jack is contracted.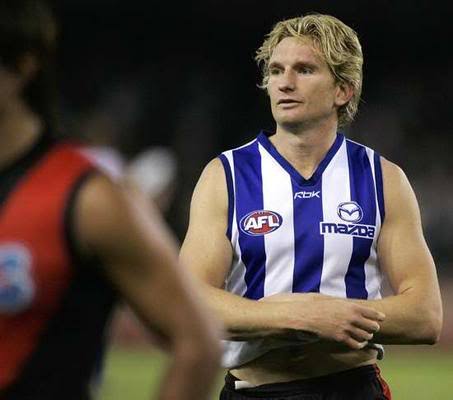 When did Jack Ziebell grow his hair out?
Also…

Arms too big, chest too small!
Boring team and boring coach parts ways in boring fashion.
That awkward moment when the best player to pull on your guernsey never actually played a game for your club.
Rhyce Shaw will be the caretaker until the end of the season. There's been some positioning with this announcement. Intriguing as to who is involved.
Its a bitter pill to swallow tbh, over the last 10 years a bunch of tin shaking types, whose inspiration comes from chopping up cows, have far more success than Essendon over the same period and then sack their coach, basically because he didn't win them a flag.
BSD won't stand for it; so you can forget about it.
I think this is probably a good move for both the club and Brad. Just the same, Brad seems a little too comfortable for what is pending. Maybe there's something waiting for him down the line. I'm not sure he's an extraordinary coach, but good luck to him if he can get another senior gig.
He's certainly not the worst coach.
And if he came to Essendon at least no one will complain about him not showing any sort of emotion in the coaches box
I can understand why norf supporters want a change. 10 years is a decent run for a coach. But the internet warriors out and about on here, who can't recognise how well BS did with an ordinary list - and these are warriors that go back to their primary schools and still can't get a kick in the playground against 7 year olds - are destined to being eternally ignored. Some posters need to recognise their limitations.