He has to be protected from himself if he wants to keep playing.
Heartbreaking to see.
I don't know why anyone would put themself through this? Your brain is clearly not coping with the requirements of footy. He has to give it up.
All the best in recovery to Paddy McCartin.
On another note, Fark Sydney.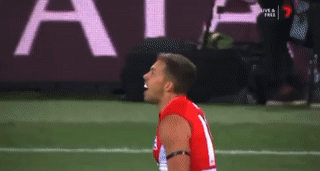 Enjoy!
Gave it a like, because it is so funny.
Jeer, Jeer the red and the ■■■■■!
Far out, there seems so little in that. Ground must be concrete.
Awful
Something about the AFL providing a safe workplace. They should copy our spongy floors. Far fewer concussions at The Hangar compared to other venues.
Just saw vision of the McCartin knock. It looked fairly innocuous, he barely touches the ground, and yet ended up concussed by some incidental close contact to the ground. He went down so easily, lights out. Very disturbing image.
One other thing. The Dixon kick back that missed the Lizard, paid a 50m. A couple of Blitzers in the game day thread, said Blakey should have just jumped up and grabbed it. Side on vision shows the ball goes way over his head by about 2 m. No way Blakey could just jump up and grab it. The 50m was definitely there.
could have just been a skill error.
punishment did t fit crime IMO
The umpires live in a strange world if they think a thirty metre kick or throw should land on the players chest.
he should never be allowed to play again. genuinely disturbing vision
Can't figure out how he has actually been concussed there. His head doesn't hit the ground with any force at all. If that sort of light contact is causing a concussion- he is an idiot to still be playing AFL
It doesn't actually require external contact. Concussion is basically the brain rattling around inside the skull and "resetting" itself. The "resetting" is what presents as the disorientation. A sharp enough change in momentum of the brain inside the skull can cause the brain to impact the skull internally and cause concussion (which is why helmets are of limited use.)
I know of a guy who played bass in a metal band. Although his head never made contact with anything externally, years of "headbanging" on stage and the associated momentum changes of the brain inside the skull meant his brain was constantly rattling around inside his skull, and now he has concussion issues. In theory an instance of whiplash can cause concussion, even if the head itself isn't externally impacted.
He is also a diabetic - I wonder if this has contributed to the outcome of this incident.
FRRRRRRRRRRANKLIN out injured this week. Probably a blessing in disguise, he's cooked.
C-O-O-K-E-D
Swans fans will be happy, many blaming him for last weeks loss.
Sydney are going to end up shortening McCartin's life with this nonsense. What a disgusting club.
I think they will end up with a mid season draft pick