"Hey mate, got a light? I fkn love a cheeky dart."
Now thats a cheeky chant i could get around
Misses handball.there by fox
I still remember the fans of stokes city chanting at Aaron ramsey( when he returned after suffering a broken leg against them)
"AARON RAMSEY, HE WALKS WITH A LIMP"
Or manu fans chanting "sit down you pedophile " at Wenger
People that get upset at a bit of booing, really need to settle down. Things could be way way worse
PA crowd sings Never Tear Us Apart, and it sounds fine.
Yeah, but it's not same as o/s, and you know it.
Mills and McDonald out for an "extended period"
Far out. They are absolutely cooked then. They are better than us, further ahead as a playing group but are going to have a stinker this year, get great access to the draft and then probably finish top 4-6 next year.
Yep. Struggling a bit.
But, you know, the upside is it provides an opportunity for others to make an impression. And by others, I don't mean North Melbourne.
Tell ya what, nothing like breaking a 4 game losing streak to a tanking charity case of a club due to an interchange infringement.
Not very good this year, not sure why though.
That being said, please beat FC next week
When JD is elite and Buddy is below average in all but tackles, you absolutely know Buddy played at least one year too long.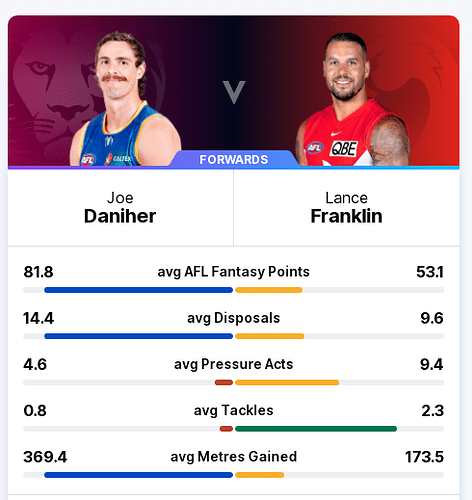 Watching him live on Saturday he is 4 levels of cooked
One of the few times I hope the chickens win this week.
Fark Carlton.
Spewed in my mouth a few times barracking for the bin chickens tonight, but I knew it was for a good cause.
Buddy was 3rd lowest ranked player on the ground in a team win on Friday night, its lucky for him that the focus is on Carlton. An incredible player, 1000+ goals, but he is no longer AFL standard and its an embarrassment, but, what the hell, he loves the game and the money, so I guess thats a quid pro quo.
Do something different Horse, move him down back, do something.
Sydney did try to get Joe.
Imagine if they did Buddy would have bid farewell.
This year surely his last.