I would divide the season into 3 stages, not 2 ( ignore the bye ).
First 7 weeks : Build a base of wins
Second 7 weeks : Consolidate the base.
Third 7 weeks: Prepare for playing in the finals.
The first 7 .games are key to a great season. A team needs to be ahead of the ledger at the very least.
5 and 2 would be fantastic, 4 and 3 just OK, anything worse than that is just making it really hard in the consolidation period around the middle 3rd of the season.
These are our first 7 games in what is a hard draw .
I would pencil in wins ( defacto at home) against Geelong, Adelaide Fremantle , Collingwood so, 4 and 3 seems the most likely scenario. Of the rest, Brisbane at Marvel is the one chance we get to play a team away from home
So we are a chance to go 5 and 2, because I do not like our chances against Melbourne or the Bulldogs. So far 4 wins
Next 7 games. Here we are on the road in 4 of the 7 .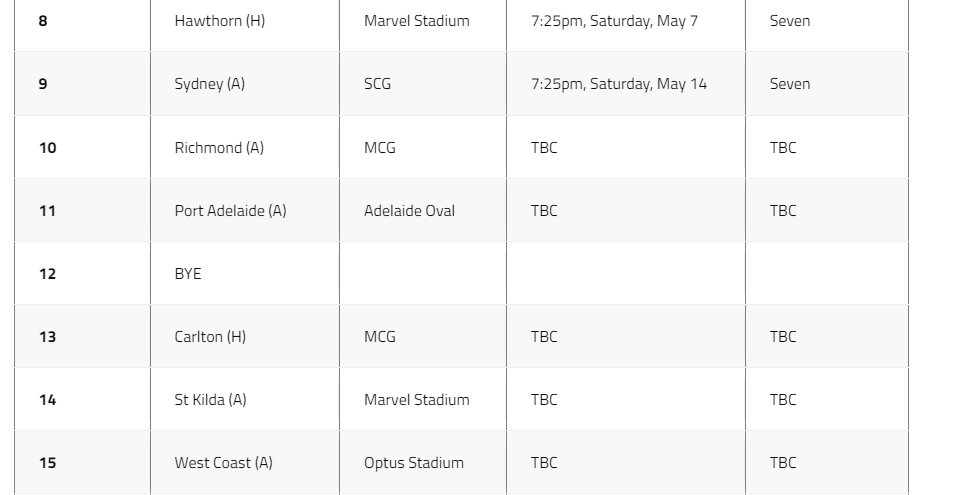 I am going to pencil in Hawthorn, Carlton St Kilda and West Coke.
So we are up to 8 wins.
Now we get to play more good sides and at this point we need to be beating sides above and around us to get to more than 12 wins.
I am pencilling in Gold Coasters, Collingwood , North and Richmond
So we are up to 12 games, probably the cutoff point for even getting into the 8
That means that we will need to beat some good sides that are notionally higher than us to get into the 8, like: Sydney, Brisbane, GWS, Port.
If we get to round 16 with 8 wins, the last 8 games will reveal to us whether we have grown enough to command a top six or top 4 spot.
But to me the first 7 games will set us up. We simply must hit the ground running and run rings around Geelong first up.