I'm sure it will be just like every other big home game at Etihad, full of empty reserve seats and a crowd of 44k.
you do realise you're setting yourself up for a fall right ?
least it's not the usual, oh we are guaranteed a win, you should bet your house on it type stuff.
but general when people post like this before a game, it's the game they usually go full essington.
Not saying they will lose, just saying how can anyone be confident of what will happen, in anyway shape or form.
reserve memberships are far too expensive for the club to expect anything above 40K for the average telstra dome attendance.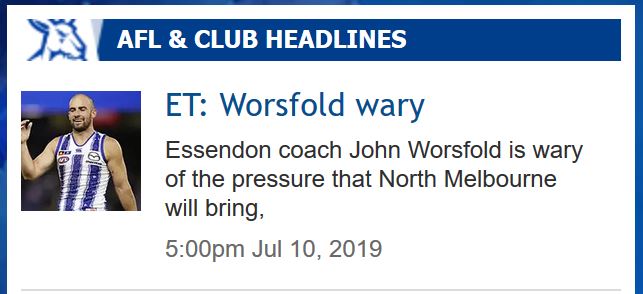 If anything, North are coming into the game well full of themselves after beating the Saints, a deplorably out of form and injury ridden Collingwood, the Suns and a Richmond decimated by injuries before the bye. So, two teams that are fading and two top teams that at the time were/are still struggling. Not saying we have done any better, or understanding that we have a few outs that will impact on our game with them, but North ain't some extreme task for us to overcome like some people on here and especially people on the North board are talking like.
Really don't see why everyone is talking up this insane pressure that North has all of a suddenly pulled out of their ■■■■■, and that if North play like they have the last month we'll get smashed. Rubbish.
They certainly didn't play amazing football last week against the Saints which would help in proving this point.
Just another team around us that we need to beat. Preferably by alot.
That's what I'm worried about…
Lest we forget… North for quite a long time had their way with the Bombers. Case in point, between 2011 - 2016 they played 9 games for 7 North wins. Yes, the Dons have won the last 3 but are severely hampered with missing personnel this time around. 50:50 game? Maybe? Reckon North are slight favourites based on their strong form and Essendon's outs.
Hurley to smash marsh mellows into sugar
■■■■ yes we know they will bring there smashing game and that pony tailed midfielder who tried to smash every player from North (that you go South to win games) ■■■■ them we will smash them back, ■■■■ South Hobart and their ■■■■■■ team.
Next time Cunnington does any biffo he will go staight to the tribunal. That might settle him down a bit. DClarke is a good match for Cunnington whose deficit in speed is made up for by aggression.
But it looks and sounds to me as though they are decorating the Myers window for him to come in.
From all my internet reading we have already lost the game.
Yep. It's a shame. I thought we were at least going to be competitive but it looks as though we got flogged.
I was thinking after the west coast thrashing this was a 50/50 game.
But now it's 60/40 in our favour.
We still should have enough talent to get the job done.
Would like a fast start and % booster.
But would take a tight match and a ugly win in the last qtr.
Don't know about you guys, but I'm really liking this new version of mattgmc87.
Nino, if you're out there, you too can change !
Essendon fans will get us over the line.
Especially if the players can show us some skilful passages.
i'm going to assume you've never seen any of my posts?
hint: i'm not the serious type.
My sauces in Hanoi (Nuoc cham & sweet chilli) tell me Hepp my not make it, but Stringer will be even better for the run.
And for every Cunnington Norf has, remember they also have a Polec.
If we're in it at half time, watch Rhys Shaw's head explode trying to work out a Plan B.
Go Bombers.