She is beautiful, l love those markings.
Maybe not a walk but a few ks chasing sheep.
Do what you know is the very best thing for her.
Do no harm, whatever she needs provide it for her when and if you can. That is the hardest part loving your dog, loving them enough to let them go when it is time.
"If the kindest souls were rewarded with the longest lives, dogs would outlive us all."
quote by unknown
I remember Ricky Gervais saying that, a few years back — which doesn't mean that he originated it !
Sally sends her love to all and thanks you for the kind thoughts.
She's had a fentanyl patch attached for the pain and has started a course of steroids. One of the main problems now is her inability to open her mouth properly due to the loss of muscle in her jaws. She definitely perked up being back home in her own surroundings. Going through her paperwork she is 13 on the 14th Feb, valentines day. Love her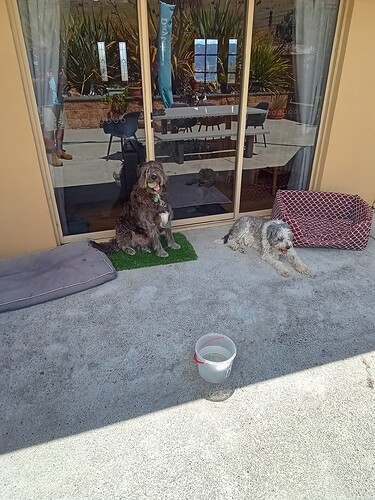 Back from the vets with Fergus looking after her. Both ' rescue' dogs. Fergus as a pup and Sally about 4 years ago. Hadn't heard of Tassie Smithfields until Fergus started to develop and we found out about them. Brilliant dogs but do need lots of exercise.
@Bessie
How is your dog settling in now?
He looks a beauty ! Enjoy mate and I hope it helps in some way heal the void that has been left by Marshall
Hi BA, he is trying hard to be a good boy. He has a separation problem still. He also thinks he is very large and takes on large dogs …or thinks he does…he is not quite 7kg and has a bark like an ambulance siren. But is slowly improving, other than those two things, he is excellent, great little watchdog, and a good companion. Loves his food, and loves the cat…a bit. So all good, still have to crate him when I nick out, but not for long… he gets so demented when I leave that I worry he will get out if I just leave him not in the crate. Tx for asking.
I would send a pic but having trouble again doing so. I only use an older iPad.
I'm so glad that things are working out for you. He's a dear little boy.