Lol. They have to be kidding.
Oral sex app will get tongues wagging, but gives no guide to the feminine south
New Lick This app claims to help improve your ■■■■■■■■■■■ technique but slobbering on a phone might not hit the spot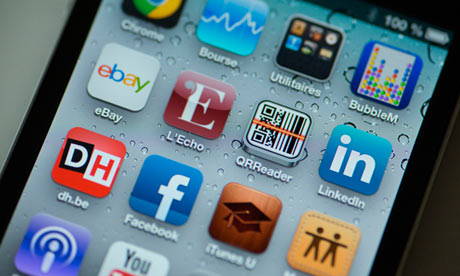 'There's no reason our phones shouldn't train us as lovers'. Photograph: Isopix/Rex Features
Designed by Pablo Rochat and the suitably named Chris Allick, Lick This is an app that helps you to improve your ■■■■■■■■■■■ technique by slobbering on your touchscreen. Rochat and Allick want to make people laugh and get them talking about technology and the human body. Success: tongues are wagging! But I feel the coverage of this landmark new invention is sorely lacking some critical evaluation: is Lick This indeed likely to make you the host(ess) with the most(est) at the party in your lover's pants? Or will you simply have spent half an hour on your own in your bedroom licking your phone?
For those who fetishise the "natural", Lick This might seem an uncomfortable technological development. After all, if kids are now learning about sex from ■■■■ and ■■■■■■■■■■■ techniques from Siri, what happens to the reality of the body and the intimacy of sexual discovery?
However, as feminist writer Donna Haraway has pointed out, humans are already cyborgs.
We attach technologies, like spectacles or shoes, to our "natural" bodies, and they become essential parts of how we navigate the world. Our iPhones guide us through urban jungles, they help us hunt and gather our food, they even choose mates for us: there's no reason they shouldn't train us as lovers too.
So can they? Lick This provides three exercises – flicking a light switch, boinging a beach ball, and rotating the handle of a pencil sharpener – to train your soft palate in the arts of licky love. Flicking the switch helps you build an up-and-down rhythm, boinging the ball teaches you to work with a wriggling target, and I don't really know what rotating the handle of a pencil sharpener is supposed to do other than cover your phone in saliva, but I'm not terribly good at it.
I found myself craving feedback. OK, I knew how many times I could flick the switch (467!), but was that enough? I wanted the app to start beeping when it was satisfied. I was putting in so much effort – I needed validation. Would an "Oh My ■■■■■■■ God!" or an "Emer, your tongue is a pleasure machine!" have been too much to ask for?
On reflection, however, the ■■■■■■■■ is not an abacus, and it's probably best that Allick et al did not create an app encouraging its trainees to believe that ■■■■■■ is the guaranteed result of repetitive beach ball boinging. I mean, the representation of female sexual pleasure in ■■■■ already teaches consumers that women's bodies are dysfunctional if they don't replicate male patterns of ■■■■■■. We don't need an app that creates ■■■■■■■■■■■ hubris, with all the attendant blame of flesh and blood vaginas should they fail to respond to computer-generated sexual expertise.
A more pressing critique, then, is that euphemistic switch flicking, ball bouncing and pencil sharpening don't exactly stand one in good stead for dealing with the geography of the feminine south. The most challenging thing about giving head is probably not flicking your tongue up and down 467 times, but, rather, finding the funbump amid the fleshfolds. And mightn't the replacement of female sexual anatomy with cutesy animations simply reinforce the squickiness or intimidation that some feel when face to face with the beautiful beast?
I think we need a Lick This in which the "This" is a vagina rather than a pencil sharpener. The conundrum then becomes, what should "This" vagina look like?
Female genitalia manifests in all sizes and shapes, from the minimalist to the baroque: it's aesthetically infinite down there.
Different levels are obviously needed. Allow me to make some suggestions: Level one might lack anatomical complexity: a clamshell vagina, its foliage neatly trimmed to provide visual assistance for the inexperienced. Level two should require more skill: a heavily forested ■■■■■, perhaps, and a vagina with sturdy prepuce and generous ■■■■■ minora. Level three should be more anatomically ambiguous. Subtly intersex genitalia is much more common than we are led to believe, so how about a large and visually erectile ■■■■■■■■? And maybe some cool ■■■■■ tattoos. Just because. And level four? Level four should be a ■■■■■. Some women have penises. And it would be fun trying to fit the whole phone in your mouth.
http://www.theguardian.com/commentisfree/2014/mar/11/oral-sex-app-■■■■■■■■■■■-lick-this