Haha, imagine young Hird opposing Stringer. Way to throw him in the deep end.
Reading about Hird and Fletch Jr, it's times like these you just appreciate how special the father son rule is. No other professional sporting code in the world has anything like it, a sense of heritage and link to past decades. It's awesome!
I have a few more observations to add on (Joe watch is very important to me):
JoeWatch: Oval 2. From 10am - 11am he was coached through 1) repeated efforts of agility work with brief body contact and marking 2) goal-kicking (missed his first left, nailed the second, missed the third right 3) running with cones shaped in a rectangle for 10 - 20 mins and 4) marking with instructions to tap down to begley who was scooping up the loose ball. Joe didn't look particularly ginger but was running incredible pace either.
Otherwise I was impressed by Smack's efforts in the air throughout the session (he was up against Lavender and Ambrose in the final drill) , ZMerret was an absolute beast and showed incredible speed out of contested situations (Stringer crunched him after play once), Mozzie stood out with his possession of the ball and craftily dodging out of stoppages he was VERY clever in a number of drills, Tippa also crafty up forward and Jok showed serious pace throughout but his helicopter kicks also were obvious. Dea was very vocal throughout.
Shout-Out to Hirdy who looked out of his depth but has a lovely running style, left boot and I saw him in discussion with coaching consistently so shows he was learning. Players showed him no mercy putting on the hip and shoulder throughout despite looking 5 ft 6 and 70 kgs.
At one stage all first years plus Hird were doing running drills then hip and shoulder contact. Ham was a natural, Hird took on some coaching and Gown wasn't involved in any contact.
Poor Ridley got stuck doing 2 sets of 6 x 100m runs at the end. Langford also beat Zahak in a goal kicking comp (4/5 vs 2/5).
Great job MTF
I think they are not allowing him to get out of 2nd gear really. That box running would see him just barely jogging in one section, then upping pace in next, and back to barely jogging again
It's very positive to see him with the change of direction stuff on leads. I have faith he will be fine!
if you watch the video in the AFL.com.au article posted in the OP you can watch some of it…
exactly why the afl will end up completely ■■■■■■■ it up.
"hey guys, the nfl don't have a father-son rule, check out their grand final entertainment!"
Good to see his kicking is still the same.
Knows exactly how to miss 40 metres right.
Right, that's it. I want names.
Thanks for the report, the work Joe was doing in the video is a definite step up for him in what he has been doing.
While he has been running at a very good pace there has been no sudden direction changes or body contact previously. Good news.
My first training run of the year, so a few observations to add.
Firstly, I thought it was a pretty light session. It went on for nearly 2hrs but not much full paced stuff and a lot of stop and start. I didn't watch much of the rehab group so I didn't see how much or how hard they ran, but what I did see looked pretty light.
IF that is a step up for Joey, he hasn't been doing much. He wouldn't have raised a sweat today (and it was ■■■■■■ hot).
Watching Tommy Hird was a highlight for me. He walks just like his old man. How ironical that Hird's son would be a left footer. The first and most striking impression of him is how little he is. He is about Mosquito's height (maybe 175cm or so) and he is all body and short legs. An ideal build for soccer! Otherwise not much to report except that he handled the ball ok and his kicking looked ok with a nice natural action.
Francis trained with a big pad strapped to his left thigh, as if to protect a corkie. He looked a bit languid and half hearted a couple of times to me, maybe just not going hard with a sore leg.
Lavender seemed to be training as a defender, certainly in the final drill, which I will cover in a minute.
There were a lot of short drills where a kick to a congested group would be cleared with quick short handballs to release a kick. However, they are pretty unrepresentative of a game situation due to the lack of contested and tackling pressure (which is fair enough given the Mitchell experience). Guys like Mosquito, Mynott and Ham look just as good as senior players in this because there is really minimal or contrived pressure.
The last drill saw a kicker, under no pressure, kick from mid field to inside 50 to a set of 5 or 6 pairs of forwards and backs, with the forwards trying to lead, presumably trying to avoid getting in each other's way, and blocking to release a team mate. It was disappointing to me to say the least. I don't recall a single instance where the kicker hit a forward by kicking to his advantage and him taking an uncontested mark. Most kicks went to 50/50 contests where the forward had not got free, or the kick was not good enough to give him a decent advantage over his man. It pretty much summed up what I criticise us for a lot in games.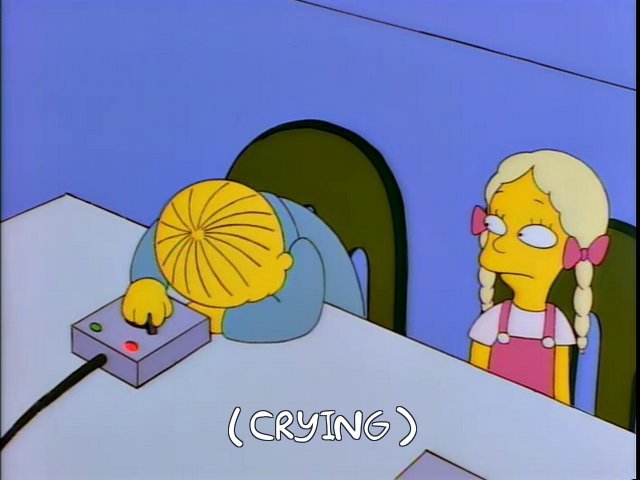 Has the hair of his Dad. Augers well.
Want.
I just see the bright side - our defence is awesome!
Jodi restricted to the Lid On thread. Do we have one of those in 2019?