Decision making improvement, consistent in effort and structures will be the catalyst for this team moving up the ladder
So Woosh will be on the bench with Rutten up in the coaches box according to Harvey. Rutten has been in charge all pre season.
Still not sold.
He's been getting involved in match play due to our lack of available kpf options. And in intraclubs there is always a position for him as two fwd lines also.
Went ok against a nobody Dees VFL defence when we were well on top in midfield also. It was Jones and Lav as our main fwd marking targets.
He might play early on if we may not have the personnel available but as soon as there is 2 kpf's + Stringer he's out IMO.
And for the record I like Lav, and think he's a good player. But does not fit in best side/structure needed.
Hahaha I know you'll be the last one on board Speedy.
Just enjoy watching him light it up and when you feel ready you are welcome
it's really hard to gauge whether heppell has had a setback or they are just managing him. because even when he's fit, he often does fk all at training (e.g, bike or handballing)
Agreed.
Probably smashes himself cross training but just keeps the running minimized out on ground or perhaps even on the alter G given the foot concerns.
At some point going to have to be into the match play though.
Yeah but that was probably due to managing his bad foot which has now hopefully been cured
Laverde lid off. Finally (i hope) this is his year to get a good run at it and show everyone how good he can be.
I only just saw this thread and was replying in the previous thread, I think I may be repeating a bit of what has already been reported, but here's what I had for today:
Training today in warm humid conditions with a slight Northerly wind. The players came out around 11am and finished just before 1pm
Modified group was Bellchambers, Joe, Hooker, Cutler, Johnson and later Stewart.
Heppell, Gown and Draper did some handball drills and Heppell short kicks on the sidelines. Heppell only kicked with his right foot and must have received a setback and be in strong doubt for the start of the season as he was kicking strongly with his left foot last week.
Draper also did very little running, he had a small bandage on his right knee but was walking OK.
As mentioned earlier all of Hooker Joe and Bellchambers were running at pretty well full pace. Joe in particular would start in a Crouch and then take off at full pace for 30-40 metres as if on a strong lead. Stewart completed about half of the session with the main group before doing running with the modified group, probably just getting extra fitness. They later went on to do a series of leading and kicking drills without anybody showing discomfort.
I heard that Cutler pulled up a bit sore from the game on Friday, I don't think it's anything to worry about. Stringer came out initially with Cutler and did their own workout but he later joined the main group. Interestingly he completed some of the match simulation as a defender
The good news from today was the strong showing of a number of players with some niggles or concerns recently - Tippa, Hibberd, McQuillan, Cahill, Shiel, Redman all completed the whole session. Shiel in particular on several occasions got into a full speed sprint.
Overall I can't recall any pure running drills today, which was a change, it was mainly some ball movement exercises along with some match simulation, marking / defending practice and quite a bit a goalkicking. The most notable part of the goalkicking was when Langford missed a snap from the pocket which landed smack on the head of young kid of 3 or 4 who was sitting on his fathers shoulders. He immediately went over to apologise which helped ease the pain somewhat.
Smack was again one of the better players in the air and Laverede chipped in as well with a few good crumbing goals, and overall the intensity is increasing the closer we get to the start of the season.
Hibberd rd 1 for Hep would make Smith captain.
Such a straight shooter is Harves.
yes, I very much enjoyed that interview. he sounds pretty optimistic that a couple of the guys (I'm guessing belly and hooker) will be right round 1, and conor will play
Seems like quite a promising session today.
I hope we don't fall into the trap of playing underdone senior guys just because they're senior guys. Neither hooker or tbell should be playing without a competitive game under their belt in which they are absolutely flying.
Both were an enormous liability last year when playing underdone.
I'll take a fit Phillips and zerk over these two please.
I agree mate. I'd want both playing against Geelong
but we know they will rush back hooker out of necessity
Hooker in defence can cope with that way
Belly not so IMO. Phillips should play ahead of. Hopefully Phillips plays well over next few Marsh games and makes it a simple decision.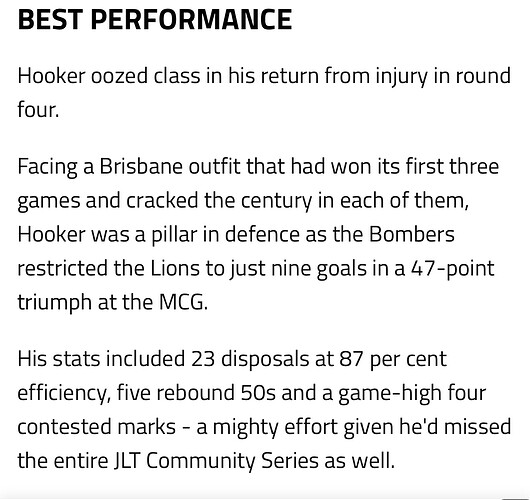 And you've just gone and ruined it.