lol to all the trump faithful that invested their cash into "Truth". Conned again.
LOL
The Republican's war on trans people continues. Because you can't have someone transgendered reading kids books to kids…
https://thehill.com/homenews/3829078-bill-to-classify-drag-shows-as-adult-oriented-businesses-clears-arkansas-senate/
The key to remember here is that as far as they're concerned, the only reason to change gender is due to prurient interest. Thus why they're so concerned about trans people assaulting people in toilets.
Arkansas has already banned hormone therapy for U18s last year. Although that has come under court challenge:
Four other states are considering similar bans by Republicans:
(I see @barry_day has already posted parts of Timothy Snyder's thread here, here is the whole thread. I posted this in the Ukraine War thread but thought it might also be relevant to repost here. Cheers)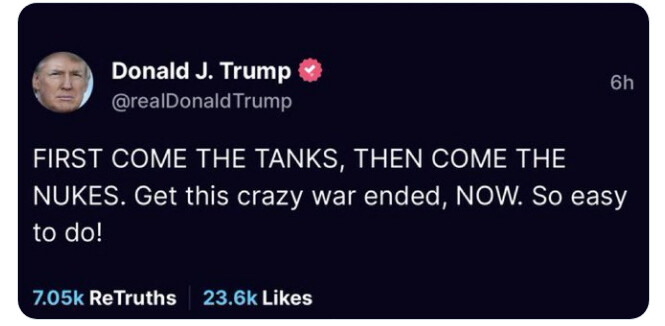 No offence, but this sounds a little bit Q.
None taken. Just putting the information out there. A russian influence operation installing a US president does sound a bit far-fetched. Like this:
Moscow-link to Koran-burning stunt that could stop Sweden joining NATO
The CIA have been operating similarly since its inception.
Not to say such allegations should be believed without substantial evidence, especially allegations that are so significant and grandiose, but we shouldn't put it past any government to act in such a way.
Well the Manafort part is not in dispute. Neither is the arrest of the FBI agent for collusion with a Russian oligarch with Putin connections.
Russian interference in the 2016 US election is hardly disputed either.
Trumps distain of Ukraine? Pretty clear too.
The rest, well, lets just say the circumstantial evidence seems reasonably strong.
Frankly those guys come across as silly because these are things we've known for years. Dem supporters were ■■■■■■ about the Russian interference back in 2016. Since then we've had Russian funding of the NRA, lots of prosecutions by Mueller, the official investigation into Russian election influencing, etc.
Anyone acting like this is new news like the guys in @Taojas links comes across as silly.
Even before Trump got a head of steam in the GOP primaries, I thought he was compromised by Russian business dealings. It had a whiff of dodgyness and desperation. There were stories and strange evidence of secretive communications that had a very mafia vibe.
Everything that happened from then on fit perfectly. The comically inept Russian attempts to gain influence. The dodgy election campaign staff. The accidentally effective Russian hacking. The private meeting with Putin with all staff out of the room and no notes kept. The active dismantling and sabotage of Congress legislation sanctioning Russia. It all fit the vibe.
Do I think Trump consciously saw himself and compromised? Probably not. Was he influenced and manipulated? Yeah, I honestly believe he was to some degree. Can I prove that? Nah.
The Snyder tweep has a fund raiser campaign for Ukraine
Agree with your post and I'll go further - Countries have tried to compromise elections in other countries for at least one hundred years, as they try to increase their sphere of influence to serve their nation's interests- In saying that, America is probably the biggest culprit of all - It's seems like some of these tweeters have just entered the world - There is a reason why countries have agencies like the CIA, ASIO, Mossad, etc,etc,etc and use spies to infiltrate other countries.
In fairness, ASIO should not be talked about in the same paragraph as CIA and Mossad. There is just no comparison with the reach or effectiveness of those agencies.
But on a serious note, Mossad is absolutely incredible at undercover work. CIA is more of an attract, negotiate, manipulate type espionage, but have limits. Mossad take the gloves off.
ASIS is the equivalent agency not ASIO.
That makes my statement even more correct.
Things that make you go hmmm (in US Politics)…
Campaigns are required by law to keep receipts or invoices for expenses greater than $200.

Santos has reported 40 campaign charges of $199.90, just under this limit.

…included eight charges of exactly $199.99 at an Italian restaurant in Queens and another $199.99 charge at a Miami-area hotel where rooms do not usually go for less than $600 per night.

he also recorded $700,000 ostensibly loaned to his campaign despite questions about his personal finances.