i wonder who kicked the goal
We should roll out the VFLW team to tighten things up
The scores, or the fact we're relying on the Coburg twitter account for updates?
Hey all, I've posted the list that played tonight below for those interested. Obviously no AFL listed players and several of our VFL leaders not playing meant we were pretty inexperienced and lacking a little leadership, but that was to be expected. The first taste of VFL footy for several of our guys while a welcome return from injury for a few others, so despite the scoreline we took a bit out of it.
If anyone has any questions I'll do my best to answer them when I get home in a few hours or over the weekend.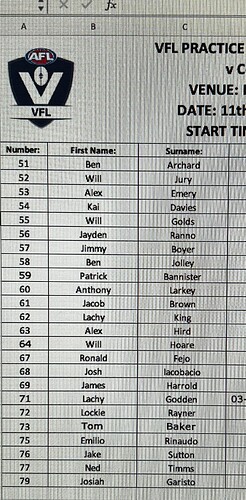 Only watched the first half but I liked the big unit in 51! I liked his rucking. Will Jury did a couple of nice things in the second quarter too.
Did any players stand up to make you think they could be a regular (maybe someone you didnt expect)
To be honest it wasn't very impressive by our boys. It looked like Coburg were fitter and were pretty well set up. But given who we had playing this probably always going to happen!
So glad that Ronnie Fejo is back out there.
Can't wait to see him tear apart the VFL
Meh on the result. Practice match. No AFL listed players and it seems like some experienced VFL listers were not playing.
What would be really good news is if someone saw Harry Jones there walking around crutches or moonboot free. Over to you @Paul_Cousins (sadly, I think I i will be disappointed).
I don't like to single too many out but among others was impressed with 3 Lachy's last night - Godden who's had a super preseason and looks like being one of our first picked, Rayner who played his first game and took some terrific marks forward and back, and King who likewise played his first game at the level and worked his way into it well with some nice use off the wing/half back - a few names that might not have been talked about much for you.
how many of the lads who played last night are on the covid top up list?
Actually went really well, started to find more footy as the game went on, did a few lovely things with ball in hand and finished with a huge grin on his face, told me he really loved the experience.
That one I don't know sorry mate, guess we'll find out Monday!
Nah didn't see Harry last night sorry mate.
I also thought Larkey, brother of Nick, looked really solid in defence. There's some great depth options to accompany our AFL guys playing 2's.
Who scored Essendons goals