But Brown is in the right position after their kickout fails.
131-13, 1080% ish
Gleeson's field kicking has been very good.
Putting your balls on the line there.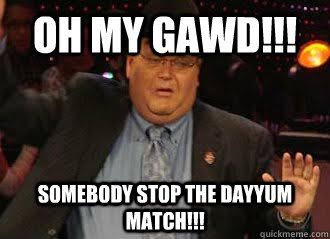 Procession down the wing after Aylett stop.
Younan set shot… miss.
132-13
Sensible progression through the middle leads to hitting up Younan on 50. Goes back and just misses
Stewart must be on managed minutes. Has been injured and I can't see him coming straight into the seniors with just a half of VFL footy under his belt (even if he dominated).
Moz starting to cramp up a bit.
Probably. So Brown in for Mckernan.
McNeice kills a guy waiting for the mark. Good stuff.
The corpse is finally taken off the ground.
Shiiiiiiiiit. Set shot coming up for them.
They've got s shot from the pocket
First inside 50 for Frankston for about an hour.
Score ticks over to 14 which loses us about 100%
132-14
They score!
A behind. Their fans are still happy