and he does right on the siren
Younan has a chance!
Goals on the siren!
12.12.84 defeats 6.7.43
At one stage we were 5.10
Thankfully cleaned that up to finish 12.12
Solid win.Kept increasing the margin all the way through.
yep, kicked 3.1 and one that hit the behind post, so 5 shots
Younan 1.5, if he had kicked straight it would have been a pretty decent day for him.
I do like the way Snelling spreads from the contest to get into a second position for an opportunity
I liked what I saw of Snelling. Made good position a couple of times for the outlet kick. Butchered a couple of passes, but not in positions to hurt.
Myers 26 disposals
14 contested
11 clearances
2 goals
he has been very good since going back down to the VFL, very good.
Reckon myers been dropped to afl to give him a taste of finals football.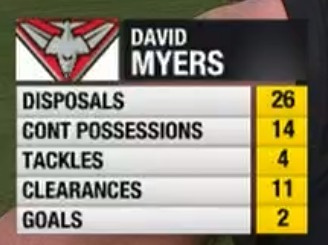 Wish we could see that at AFL level
Did Myers just say he's at the end of his career?
I'd love to see Mynott and Zerk-Thatcher debut in the seniors before the year is out.
Only 5 tackles Snelling
23 disposals
Played ok on debut.
No mozzie today?