VFL boys following the VFLW girls recounting their born/lived/played status in the lead-up to Sir Doug Nicholls round.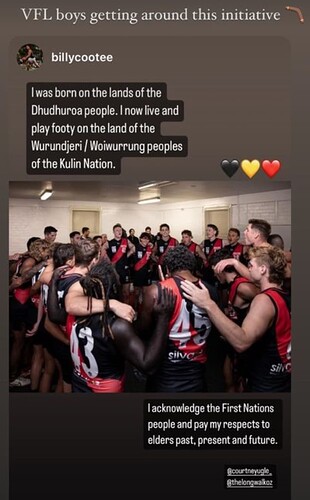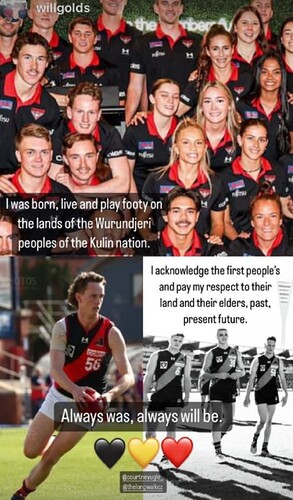 I hope Munkara plays half-back for the full game.
are teams up anywhere yet?
VFL and VFLW teams typically get announced Friday arvo (sometimes directly from clubs as early as noon, otherwise as late as six-ish on vfl.com.au).
VFL tend towards the latter; VFLW tend earlier, especially thanks to our media overlord @PH_WARFRadio
Got the VFLW team already, including a non-automatic article posted on the EFC site. The rest of you can wait a few more hours

Guelfi playing VFL tomorrow, says Cal Twomey
ESSENDON
B: R. Montgomerie (38), H. Minton-Connell (76), C. McBride (41)
HB: A. Lord (28), L. Hayes (18), M. D'Ambrosio (42)
C: T. Phillips (55), B. Cootee (57), S. Conforti (53)
HF: W. Snelling (11), P. Voss (39), M. Guelfi (35)
F: T. Wanganeen (40), J. Jorgensen (56), A. Munkara (45)
R: N. Bryan (24), B. Bernacki (59), Q. Narkle (67)
INT: S. Rasinac (58), C. McCarty (79), J. Cleaver (60), J. Moorhead (75), A. Harris (71)*
EMG: R. Loton (70), M Foley (73), W. Hoare (51), J. Brown (63), B. Lynch (50), J. Fitzgerald (77)
IN: J. Cleaver, M. Guelfi, C. McCarty, J. Moorhead
OUT: J. Brown, J. Hotchkin, B. Laguda, B. Lynch
NEW: Callum McCarty, 22, Strathfieldsaye; Jake Moorhead, 25, Strathfieldsaye
All 4 emergencies named. At least 1 won't play as they need to be AFL sub. Guessing 2 will probably be pulled out
Good to have guelfi back. He should be pressuring Menzie and Davey for a spot pretty quickly
As a curtain raiser, they could have started this game an hour later…
They moved it back 20 mins.
Munkara lining up for goal
Genuinely think Hayes is going to be a ripper
We really miss this man, onya Guelf
Super play by Voss and Guelfi there!