Don't be ridiculous! He'll be tried as a defender for a little bit too and THEN delisted.
He offers more than Weideman even when he's injured. At least he gives supporters some future hope whilst kicking no goals.
Surely the pick in the msd would roughly translate to someone likely to be drafted at the end of the year. Surely we persist given the extremely promising form he had in the games he played and our traditionally good quality msd decisions. Unless they have good reason to suspect he's cooked for the long long term I'd be astounded if he wasn't around next year.
Based on the way he got his goals in that last game, ie - with genuine forward craft and game sense and not just athleticism, he should certainly get another season. The way he played, he looked like a footballer who was too good for the VFL, and that's usually a good indicator that he could make a go of the AFL. I really think this bloke has something.
The revolution will not be televised.
I would be disappointed if we do not give him another season.
That is, unless we get a chance to trade in a top tall forward, like a King.
Yeah he's a keeper,Kid is going to be a star
Definitely see the need to keep this kid on our list. Give him a pre season and see what he can do.
His back again?
j/k
Hopefully j/k anyway…
Does the Long Term Injury List count?
Essendon should be granted a special list category - the LTI!
If Hunter can get fit and back on the park he could be enormous for this club. I see massive potential in him.
The excitement in this thread based on a bloke who's played 2 VFL games, is a clear sign as to where our biggest list gap is.
Agreed
Excitement was for good reason.
Had a cracker game as a kpf in a loss. Gave off a few also.
If hadn't got injured would have already been in senior team IMO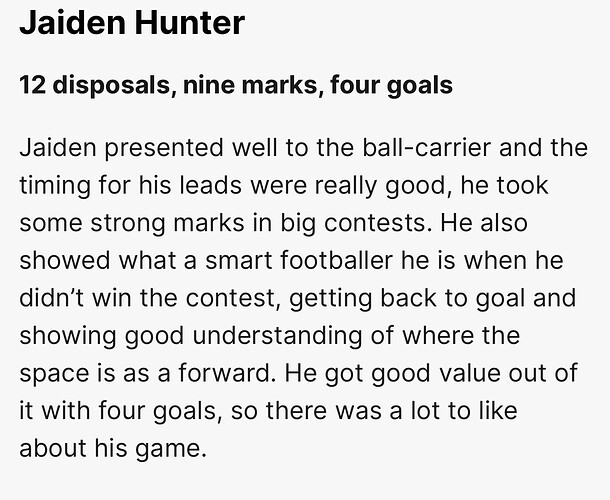 Yeah I watched the game and I liked his performance also. Hopefully we find a list spot for him.
Well worth another year, needs a good pre season.
Hope we don't break him again.
Are you kidding? He's got plenty of breaking to go yet. Reid and Jones are the pinnacle for our Dr Death squad. He's got a lot of catching up to do young Jaiden!
True.
He's busted his back.
Ahead of him is a broken foot and a serious hamstring injury.
Also being a big boi, OP is a possibility…
We'll see him in 2 yrs……
Had me excited as he's the one of the very few on our list that has forward nous, timing of he's leads was proper full forward behaviour