He's been a great pick up. He building.
Going to be good seeing 2MP and weid plying together next year.
We haven't had genuine twin target forwards since Lloyd and Lucas its going to be great.
When 2MP comes back he'll get the 2nd defender. Will really free him up.
We will see it this year when 2MP comes back, possibly for the Carlton game
More like after the bye.
Young Sam is starting to believe, and his clunking against the Tiges was a good sign of things to come. He was on track to kick 4 and should have nailed those goals from directly in front, they were not difficult kicks. Had he kicked them, he would changed the course of the entire match. Fortunately we got the win and we are not left to ruminate on what might have been. A loss would have damaged his confidence and put him a bit further back.
The easy misses at goal are frustrating though.
Seems to lack consistency. In the previous game against Brisbane he had only 5 possessions and kicked no goals. Hopefully this will improve with more confidence.
Actually excited for this bloke if 2MP comes in this week because it will take the pressure off him moving to second banana.
Would be nice to see him kick 3-4 goals this week and for him to find he's groove with 2mp.
And don't get me started on Langford getting the third defender
Weed, 2 meter and langford is a nice mix. Pretty keen to see it
2021: Hooker, Wright & Jones?
2017: Hooker, JD & Stewart?
Hooker, JD and Stew was actually super effective.
Was and insanely potent fwd line 2019
RIP
career best numbers. can't really ask for more in his first year. I think he's going to have to increase his productivity long term to hold his spot or he'll come under pressure (from Voss, hopefully)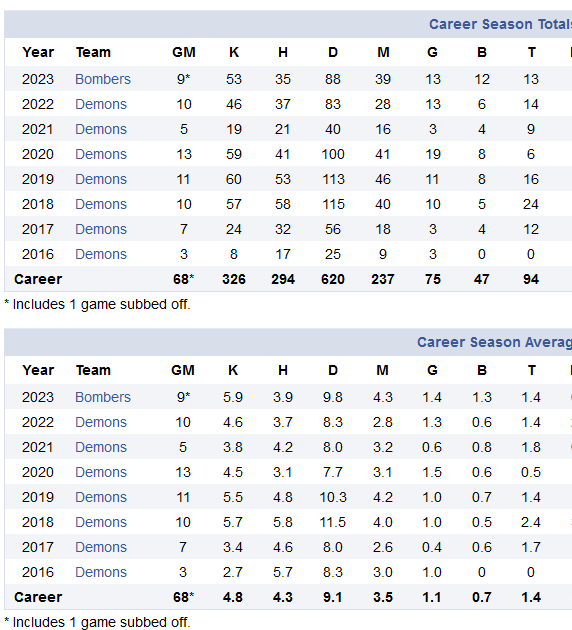 Having Wright back will ease the burden on the other forwards, no doubt, but the group finding rhythm may take some time.
Weideman has been improving week on week without the support, though.
Converting his opportunities over the last couple of games and all of a sudden he's got a run of multiple goal performances.
I think he's been quietly impressive. Every facet of his game, bar accuracy, has come along since the beginning of the season. He's not getting moved off the line as easily, he's finding ways to stay involved, gaining more and more belief…
We couldn't tap the potential of two budget underperforming key forwards in the space of a few seasons, could we?
wonder what the Dees fans think of how he's going?
They have Van Rooyan to console them with their loss of Weed.
I don't reckon they'd give it much thought. He's playing acceptable footy but it's not as though it's been head turning stuff just yet.
i love it when you two speak amongst yourselves
That's right guys, just in case you all hadn't noticed, we have very similar looking usernames.