We have done a deal. Welcome Tom.
Think he is a good get. Wingers are super important in modern footy.
Yep really please to get him
Drivin' home this evening
I coulda sworn we had it all worked out
You had this boy believin'
Way beyond the shadow of a doubt, yeah
Well I heard it on the street
I heard you mighta found somebody new, yeah
Well who is he baby, who is he
And tell me what he means to you, oh yeah
I took it all for granted
But how was I to know
That you'd be letting go
Now it cuts like a knife
But it feels so right
Yeah, it cuts like a knife
Oh, but it feels so right
There's times I've been mistaken
There's times I thought I'd been misunderstood, ooo yeah
So wait a minute darlin'
Can't you see we did the best we could, ooo we could
Wouldn't be the first time
That things have gone astray
Now you've thrown it all away
Now it cuts like a knife
Yeah but it feels so right
Oh it…
Welcome

Hope he has a good career with us.
I was not thrilled about it a few weeks back but now I think he is something shiny, not the worst signing and I suspect probably another bargain by Dodoro. His best was pretty consistent at the lyings but did not get a lot of games as they got better but that might have been because of injuries. Welcome to Essendon Tom, all the best for your time as a Bomber.
Is he any good? Where does he play?
The positive is he will kick goals as a wing, has good endurance and provides a point of difference to most in the midfield as he can kick it 50m.
He won't help the speed profile though, is very outside and for someone who was originally a defender, his defensive side is very mediocre - which is why Brisbane booted him to the wing.
Poor foot skills.
Waste.
Why not get Bonar? North got him for similar price
Giants twitter has photo of Bonar coming to use for future 3rd round so must have been close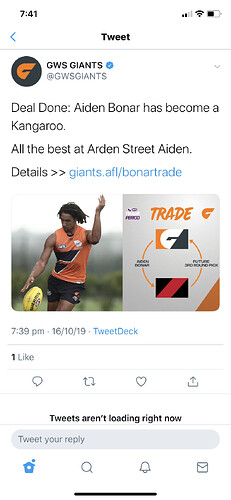 Can't believe we didn't do it
This isn't the Bonar thread
Getting in early before he shanks his first kick.
I 'ate you Cutler!!