that's MS Dos.
it's some new computer thingy.
just hit the return button.
Yep, see @Houli_Dooley response above.
It's every bit a complicated and convoluted as the nicknames we gave each other in high school.
Nik Cox gives me massive Jarrad Grant vibes. I'm surprised BT hasn't run with it yet:
BT: "BOY, Nik Cox reminds me of MICROPHONE HEAD JB!!! Reeeeeallll sort of spindly type operator!"
Richo: "Yeah, he looks like he's been on JB's gym program Bristle!"
BT: "Ol' Linguini Arms!!"
JB: "That's real crisp Brian!!"
Doesn't matter much where Flipper is on the ground, he isn't marking the ball anyway.
Am I correct in saying Cox is likely to make is VFL debut this weekend?
Yes, he did play a vfl stratch match last year mid season vs Sydney when we had a vfl official bye.
Your post before highlighted his precise long kicking. I remember him also being a pretty decent overhead mark and with strength he should get better at that.
His actual role should be, and drumroll, the Joe Daniher 2017.
A marking target down the line who can also gather a loose ball with athleticism and send it long to a target.
Flipper oscillates between peak Carey and David Loats on his worst day, often within the space of a quarter.
I believe they played him in this match and he came home on crutches.
Only saw the first half of the VFL but thought he looked pretty clean on return, with some good tackles in there as well.
Not sure how much game time he ended up with but his stats look ok: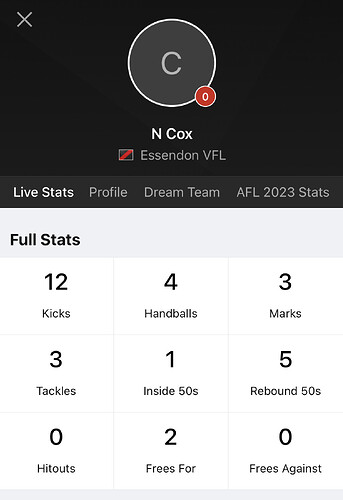 Think he played 3/4.
You'd think another 1 or 2 VFL games before being available for senior selection
Nice return game for him.
I'm not sold on us developing 3 200+ cm defenders but we'll see what happens.
I'd definitely leave him in the VFL the next 2 weeks and if they think he's ready, then in after the bye. But no idea who he's in for.
If Tsatas does play VFL next weekend, there will be a few selection queries coming up.
He was solid, will need a few more games back.
He still looks stick thin, after three season of AFL one would have hoped for a bit more physical development.
May be able to play on a back flank, nowhere near KPD strength.
As a guess, how many of Cox's kicks were play ons from kick outs?
About 4 kicks from full back