Pick 9.
Really like this pick.
Welcome aboard.
Aaaaaaaaarrrrrrrchhhhiiiie
Midfield bound!
Welcome Archie!
He's got a good build. Welcome Archie - have a great future with us.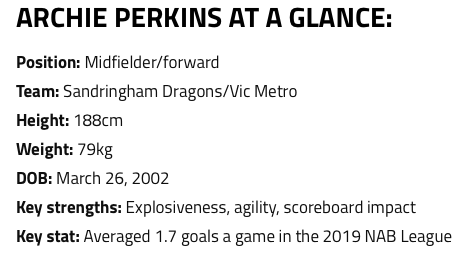 A half forward who might be able to move into the midfield.
Well I don't see what could possibly go wrong with this
You can only really afford to carry two or three pure mids in your side so players like Archie are the future. Utilities with pace and marking can have a huge impact.
We'd probably need to go back to 1920 to find the last Archie to play for us.
Not surprised that they didn't mention that Reid is from the same town as Hep.
look forward to your thoughts on how the two Archies compare
finally we've found a new royal hotness.
Why are you not surprised?
Would Love to hear from @Bishop
You must be stoked!
His name is Archie.
what's not to like?
Shiel, Merrett, Parish, Heppell? How effective is it when they aren't playing in their traditional on ball role?
They are ineffective in other roles and its poor for balance.
People like to say that our forwards don't kick goals but neither do our mids.
No way.
Guelfi is still numero uno.
Favourite musician is Roy Orbison.
Interesting unit this kid.
Welcome Archie.
Absolutely stoked we got Archie, has talent, good looks and great hair.