Who cares what other clubs are doing… fact is, it sucks.
Sounds unusual that you'd get slugged $300 for forgetting to cancel? You weren't on monthly payments?
You're on an internet forum, so you have access to a digital calendar. Setting a reminder to cancel in 12 months should alleviate your panic. Works a treat.
Also…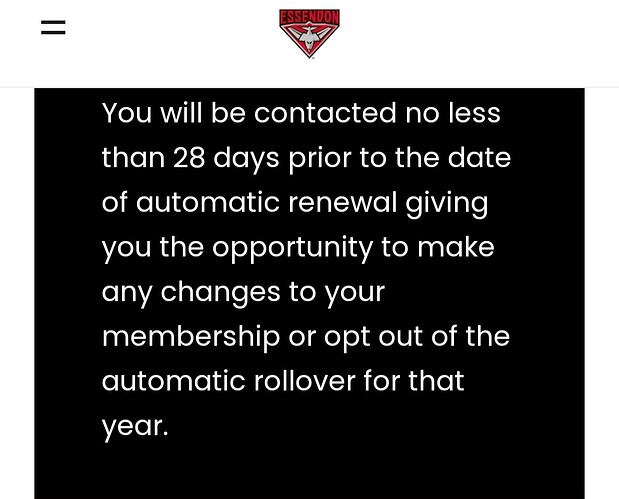 Never been contacted by the EFC re renewing my membership. Just get the notification through the bank that it's been debited.
For me, I am aware and I know I can cancel it. Doesn't mean I can't disagree with the concept of it though
The only time the club has contacted me directly is when the head of marketing called me to ask why I was ■■■■■■ off that xav got extended as CEO and then challenged me on my frustration.
It's funny how it's only the pissy and disgruntled people who never get communication from the Club. I mean the coincidence is out of this world.
Yeah because the smooth brain people like yourself just lap up whatever filth the club feeds you so why would they bother engage with a supplicant who will hand over their hard earned without hesitation. Youre a no effort required cash cow for them. I'm sure they are thrilled to have you continually feed them cash each year without having to work at all for it. Great job. You should be proud.
I certainly did get contacted this year, at least. Otherwise i wouldn't have been as ■■■■■■ that they tried to sneak in an unwanted upgrade on me,
And is the person responsible still on the board?
No excuse but EFC Membership seem to have had an issue with emails. I get notified every year about renewal, but Mrs Fox doesn't and so I took that up with Memebership by phone and they could not explain it. After about 4 phone callls and a few emails Mrs Fox now get club emails. Funny though when you log into the Ticketmaster site for payment, her email seems all good.
In your example of Head of Marketing contacting you, was that in response to venting at the Club by some method ?
For some reason every now and then, Essendon emails go into my junk folder.
No idea why, but before clearing it, I just quickly check to make it's not got any sitting in there.
Win one and the next season it auto renews yeah?
Not great is it. It should at least be an opt in or out when you sign up. My bank details changed so I got text saying we tried to debit you for auto renewal but couldn't. I assume they brought auto renewal at some point and for existing members they defaulted them to opt in, but you had to contact club to opt out? Do new members get option to opt in / out? There should always be upfront option.
We should be due to hear about the voting process soon hidden away amongst all the drafting articles.
I get lots of emails from the club and most of them ought to go to Junk. About 10% contain news. The other 90% are marketing junk — Bomber Shop deals etc.
Doesn't it mimic the same way any AGM voting for a share company goes?
The voting pack will be sent via mail (most companies now offer email to go paperless) and there is plenty of information in there on how to vote. There's also the area online to vote which makes it pretty clear who you're voting for.
Might interest some, the club confirmed Reserved Seat members can sell their seats to every home game in 2024.
Was that confirmed publicly or by phone?
Email response to a question I asked the membership dept.
2023 has seen a significant reshaping at the Essendon Football Club, as the Bombers committed more to our Football Programs and Membership benefits, both key pillars of our Club purpose.
This has led to the Club announcing an operating loss of $579,777 for the financial year ending October 31, 2023.
The main factors contributing to the 2023 result were a significant net increase in Football Department expenditure of $0.76 million and a membership price freeze for the 2023 season, which when combined with escalating costs, resulted in a reduction of the Club's net financial contribution from our membership program by $0.77 million.
Pleasingly, the club's cash profit of $3.52 million is consistent with the prior year's result, once adjusted for 'fundraising, grants, depreciation and amortisation' and is reflective of the significant change the Club has undertaken in the past 12 months.
The Club saw more than a million fans attend Essendon games in 2023, underpinned by record membership and club engagement which resulted in an increase in match receipts and stadium revenues of $0.86 million.
The Club would like to thank its incredible members for their loyalty and support despite a challenging economic environment. The strength of the Essendon Football Club is founded on the loyalty of our members.
The Club would also like to acknowledge the important contribution of the 2023 commercial partners including its AFL co-major partners - Amart Furniture, Fujitsu General Australia and its AFLW co-major partner, Toyota Material Handling Australia.
Importantly, Essendon remains in a strong financial position and is budgeting for healthy growth across the business in 2024.
Essendon CEO Craig Vozzo thanked the Essendon Community for its unwavering support over the past 12 months.
"The Club has gone through a significant reset, and we are well placed for growth as a business. Importantly, we remain financially independent and bank-debt free," Vozzo said.
"On behalf of the entire Club, I would like to thank our dedicated and committed members, supporters, commercial partners, corporate groups, staff, volunteers and the broader Essendon Community for their support this year.
"The economic environment has been challenging, with inflationary pressure increasing our Club expenditure. Positively, the strength of our members and supporters saw record crowds at our games in 2023, which lead to a significant increase in match receipts.
"The Club implemented a membership prize freeze off the back of the 2022 season which was both appropriate and has financially benefitted members during the year, but this price freeze did negatively impact our net financial membership position from a year-on-year perspective.
"Our next period of growth must be built on the foundations of stability and alignment and our drive to bring success back to Essendon. This extends across the whole Club, and we are excited about the hard work and opportunity ahead of us."
The 2023 Essendon Football Club Annual General Meeting (AGM) will be held at the Essendonians Function Centre, The NEC Hangar, 32 Watson Drive, Melbourne Airport on Monday 18 December 2023 at 6.30 pm.zz